Doogee has years of experience in the rugged phone industry with a commitment to creating the best smartphones. V20 is a culmination of all these years of expertise. It is the successor of the successful V10. Both share a lot of similarities and differences but both devices boost strength in certain areas over the other.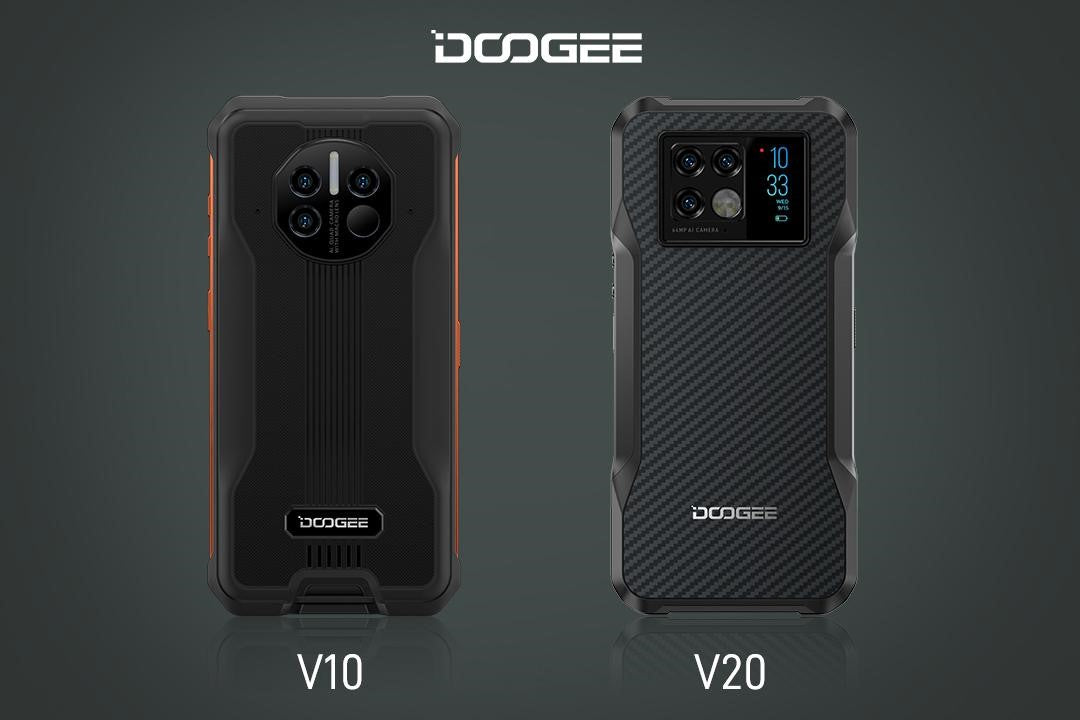 Before we begin, Let's discuss the similarities between the 2 smartphones because you know how the saying goes "It ain't broke, dont fix it". Both models rely on octa-core processors for their performance. They also have side-mounted finger scanners, a 16MP selfie camera, a 33W fast charger, NFC, and support the same number of frequencies. They are both IP68, IP69K & MIL-STD-810 certified. 
For the difference, we are going to discuss them in sections and explain the benefits of the upgrades.
Special Features
Doogee's rugged phones are characterized by their special features, from laser rangefinder to thermal imaging, they have it all.
V10 came with an inbuilt infrared thermometer which comes in handy in this special time we are facing in the world. V20 decides to go flashy with a rear display. The display is 1.05'' in size and is great for keeping up when your phone is on its face
Display
The most marketed feature of the V20 is the 6.43'' AMOLED display from Samsung.  In my experience, this is the first AMOLED display on a rugged phone. It has a 2k resolution with an aspect ratio of 20:9, 16million colors, and an 80000: 1 contrast ratio. 
V10 on the other hand comes with a 6.39" LCD Corning Gorilla Glass protected display. It has an aspect ratio of 19:9, 720x1560 resolution, and a peak brightness of 500nit.
Battery
At first glance, V10's 8500mAh sounds more impressive than V20's 6000mAh battery. But considering V20 uses an AMOLED display and has a more advanced power management system built into it, you get about the same amount of time usage from both devices. The lower battery capacity also makes V20 lighter and easier to handle.
Both phones support fast charging and come with 33W fast charging bricks. V10 supports 10W wireless charging whiles V20 supports up to 15W.
Camera Setup
V20's 64MP main camera unequivocally beats V10 48MP. V20 is flanged on both sides by a 20MP night vision camera and an 8MP wide-angle camera to form a tri-camera setup mode. 
V10 also has a tri camera set up but the main camera is joined by an 8MP wide-angle and 2MP macro camera.
Memory.
V20 retained the 8GB RAM from the V10, on the storage front, opted for 256GB UFS2.2 fast storage. The extra 128GB internal storage gives V20 a bigger storage option for your pictures, videos, and games.