DOOGEE S89 Pro 8+256GB 12000mAh 65W Fast Charge Super Power Toughest Rugged Phone
EU countries start shipping from EU warehouse.
In stock
· Tricolour breathing light
· Helio P90 / Octa Core / 2.1GHz / 12nm
· 6.3" LCD FHD+ DotDisplay
· AI Triple camera (64MP+20MP+8MP)
· SONY® IMX350 20MP Night vision camera
· 12000mAh Large battery / Support 65W fast charging
· Samsung® 16MP Front Camera
· 8GB RAM+256GB ROM / UMCP
· IP68 / IP69K / MIL-STD-810H
· Side Fingerprint Recognition
· NFC Supports Google Pay
· Corning Gorilla Glass
· Android 12.0
| | |
| --- | --- |
| Brand | DOOGEE |
| Model Name | S89PRO |
| Wireless Carrier | Unlocked for All Carriers |
| Operating System | Android 12.0 |
| Cellular Technology | 4G |
| Memory Storage Capacity | 256 GB |
| Connectivity Technology | Bluetooth, Wi-Fi, USB, NFC |
| Color | Black |
| Screen Size | 6.3 Inches |
| SIM card slot count | Dual SIM |
| | |
| --- | --- |
| Navigation | GPS | Glonass | Galileo | Beidou |
| Durability Ratings | IP68/IP69K/MIL-STD-810H |
| SIM Card | Dual nano 4G sim card + TF card(Up to 512GB) |
| Features | Fingerprint ID, OTG, NFC, Bluetooth BT5.1, WIFI: 2.4G/5G (802.11ac/a/b/g/n) |
| 4G Band | FDD: B1/2/3/4/5/7/8/12/13/17/18/19/20/25/26/28A/28B/66, TDD: B34/38/39/40/41 |
| 3G Band | WCDMA: B1/2/4/5/6/8/19, CDMA: BC0/BC1/BC10 |
| 2G Band | GSM: B2/3/5/8 (Support EDGE/GPRS) |
| Carrier | DOOGEE S89PRO rugged phone compatible with GSM T-mobile WCDMA and LTE, not work with AT&T and new Cricket, Verizon. (Please check the compatibility with your local frequency band before purchasing) |
| Note | If the DOOGEE S89PRO network can't work please let us know to assist your business. |
| Light Effect Mode | Incoming Call / Call / Notice / Screen-off / Charge / Multimedia |
The Next-Gen Power Soldier
Multicolour breathing Light | 12000mAh MonsterBattery | 65W Fast Charging
Multicolour Breathing | Light 12000mAh Large battery | Support 65W Fast Charging
Helio P90 | 6.3" LCD FHD+ Dot Display | 64MP Triple AI Camera | SONY® IMX350 20MP Night Vision Camera
Samsung® 16MP Front Camera | 8GB RAM+256GB ROM | IP68 / IP69K / MIL-STD-810H | Side Fingerprint Recognition
NFC Supports Google Pay | Corning Gorilla Glass | Android 12.0
The S89 Pro is already durable, but it also comes with a case that has reinforced edges, making it virtually indestructible.
And it just so happens that doing so takes the whole appearance to an entirely new degree of sophistication.
Stunning Doogee Eye Glowing Notification Light
The S89 Pro stands out with its glowing "Doogee Eye". A message notification or incoming call illuminates the eyes.
When synced with music, it displays different predetermined colourful patterns as you dance.

Break away from seeing the same light pattern by defining your own. Stand out by defining your personal design patterns.

The S89 Pro allows you to personalize the light colours, display order, and display speed.

With a 12000mAh battery, the S89 Pro empowers you to reach for the skies. The capability to supply power for several
days takes away your anxiety, allowing you to focus on your job. If you are an avid camper, long road trucker, or someone
who is away from home for a long time, the S89 Pro is designed for you.
The 65W ultra-fast charger is built for one job, to power the gigantic 12000mAh battery.

It will refill 15% of the battery in 20 minutes.

The P90 Octa-Core Processing Speed
The MediaTek P90 combines a pair of powerful Arm Cortex-A75 CPUs with six Cortex-A55 in a single octa-core cluster,

which is connected to a large L3 cache accessible by all cores. The SoC combines this CPU complex with the

performance-leading APU 2.0, a powerful IMG PowerVR GM 9446 GPU and a fast LPDDR4X memory controller.

Bigger Storage, Faster Memory
Stay ahead of the competition with a fast 8GB LPDRR4X RAM  while comfortably saving all your photos

on the massive 256GB internal storage.

The storage can be expanded up to 512GB using a TF card.

Powerful 64MP AI Triple Camera System
The rear triple camera setup can help you to take a variety of exciting photos no matter where you are.

Capture gorgeous landscapes, extraordinary close-ups and artistic portraits.

64MP AI Main Camera
F/1.8 Aperture
SONY® 20MP Night vision camera

SONY® IMX350 Sensor | F/1.8 Aperture
8MP Wide Angle

Samsung® S5K4H7 Sensor | F/2.2 Aperture | 130° FOV
8MP Macro Camera

Samsung® S5K4H7 Sensor | F/2.2 Aperture
Capture Fun Unexpected Details Near and Far
64MP Main Camera

See the world in high definition and save memories in full detail.

Light up your shoots
Turn on the night scene mode, the night can be so beautiful.

Excellent HDR
More Nature Backlighting
With HDR mode on, even if you take a photo in a backlit scene, you can still get a photo

that reflects the details of the light and dark parts.

Smarter Photography
To improve the clarity and realism of photos, our AI camera can optimize photos according to 13 different scenes.
Portrait  Beauty
The S89 Pro can effortlessly capture personality and moods with powerful AI-backed background blurring tech.
130° Panoramic View In One Camera
Say goodbye to carrying around wide-angle lens attachments.

This 130° wide-angle lens allows you to capture whole landscapes in a single shot.

Explore The World Up Close
Get close to the object, zoom in the lens, S89 Pro will take you to see the world you have never seen before.

Samsung® 16MP Front Camera
The real you is the best you. Fully optimized and more capable AI ensures every selfie comes out perfect.
SONY® IMX350 20MP Night Vision Camera

The S89 Pro comes with the SONY IMX350 night vision camera with four powerful infrared emitters.
The infrared lights emitted creates a field of view around objects that are only visible to the camera,
making it perfect for taking pictures and videos in low light.
Full Waterproof Protection
The S89 Pro is IP68 and IP69K rated, which means it can withstand high water pressure and

full submersion in water. It is also completely sealed against water and dust ingress.

Military Standard Compliant
According to the MIL-STD-810H standard, the S89 Pro can be dropped from a height of 1.5m unto concrete without and

keep working. High pressure, high altitudes, and extreme weather do not have any effect on the S89 Pro's performance.

Runs Android 12 OS out of the box with a newly rethought user interface, from shapes, light,

and motion while allowing you greater freedom of personalization. The OS feels more alive, dynamic, and personal.

Faster More Convenient Way To Pay For Services
Features NFC with support for Google Pay

Dimensions:
Height: 172 mm
Width: 86 mm
Thickness: 19.4 mm
Phone Weight (including battery): 400 g
Include Package weight: 757 g
Basic Information:
Model: S89 Pro
Battery: 12000mAh / 65W fast charging
Operating system: Android 12.0
Memory: 8GB RAM+256GB ROM / UMCP
External Storage: T-Flash Card up to 512GB
Charger interface: Type-C port / 65W Charger
Battery & Charging:
12000mAh Large battery
Support 15W wireless charging
65W Type-C fast charge
Normal use 4-6 days
Standby 36 days
Calling 56H
4.4V Voltage
Package content:
1 x Cellphone
1 x Type-C to Type-C Cable
1 x Charger (65W)
1 x Anti-explosion film(pre-applied)
1 x Anti-explosion film
1 x Card Slot Opener
1 x Packing Box
1 x Manual
1 x Warranty Card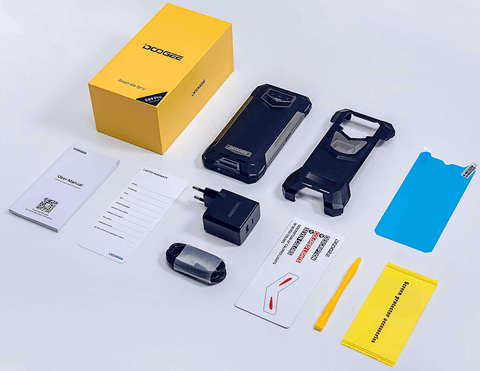 Supported network bands
FDD:
B1/2/3/4/5/7/8/12/13/17/18/19/20/25/26/28A/28B/66
TDD: B34/38/39/40/41 WCDMA: B1/2/4/5/6/8/19
CDMA: BC0/BC1/BC10 GSM: B2/3/5/8
Support EDGE/GPRS
Wireless network
WIFI: 2.4G/5G (802.11ac/a/b/g/n)
Bluetooth: BT5.1
FM: Support
NFC: Support
OTG: Support Navigation GPS | Glonass | Galileo | Beidou
*FM: Plug in headphones to support external playback
*NFC: It depends on whether the local country supports it
Grande, pero muy completo y se le ve solido y resistente.
Es un móvil de una dimensiones considerables y de una grosor a tener en cuenta es que al ser un móvil rugerizado, con una pantalla de casi 6,5 pulgadas y una batería de 8500mah, el móvil se hace demasiado grande y por lo tanto pesado.
El móvil pesa 322 gramos y al tenerlo de la mano, lo notamos una barbaridad.
Pero todo esto es normal y le pasa a todos los móviles que hay de las características de este. Si buscas antes de comprarlo para comparar, como es lógico, se puede ver que todos andan parecidos de peso cuando tenemos baterías de este tamaño.
El móvil tiene una diseño y aspecto industrial, con ángulos muy marcados y rectos, que hacen que estéticamente no sea muy agraciado, pero a la vez es bonito. Este tipo de móviles te tiene que gustar. A te encantan o no los puedes ni ver de lejos.
Las impresiones que me ha dado este teléfono han sido buenas y lo he estado usando ya durante unas semanas y estoy contento con el. Ya es el tercero que tengo rugerizado y los uso mucho cuando voy a la montaña y mis salidas.
Por ir un poco por partes os puedo contar que la pantalla es LCD, se ve muy bien y tiene buena definición. El brillo es bueno cuando hace mucho sol, pero el brillo bajo es una poco fuerte para mi gusto, si lo estas usando en la cama por la noche, molesta un poco.
Las transiciones y el tacto de funcionamiento y respuesta es muy bueno. O se nota retardo en las pulsaciones y lo colores y ángulos de visión son buenos. Tiene 270 pixeles por pulgada y aunque no es una cantidad muy elevada, si que esta muy bien.
Al ser un móvil rugerizado, es capaz de soportar rayones y es corningorila glas 5. Esto nos asegura que es capaz de soportar grandes impactos, pero yo personalmente le voy a poner un protector de cristal templado por asegurar.
El procesador va muy fluido y nos da una puntuación en Antutu elevada, aunque esto a día de hoy corresponde mas con un gama media que un gama alta. Aun así es un procesador rápido que no se calienta mucho y que rinde de maravilla para el uso que yo le doy. No soy mucho de jugar, pero si que le suelo meter a los móviles muchas aplicaciones de Gps y trabajo y responde sin problemas.
Es un MediaTek Helio G95, 2x Cortex A76 2.05 GHz + 6x Cortex•A55 1.95 GHz Octacore acompañado de una gráfica mali G76 3EEMC4720 MHz y 8 gb de memoria ram y 128gb de almacenamiento. No va mal montado.
Luego tenemos todo lo que suelen tener todos los móviles, acelerómetro, gps, sensor de huellas, giroscopio, brújula etc y cuenta con barómetro, muy practico cuando estamos en la montaña para saber que tiempo nos podemos encontrar y telémetro laser que nos permite calcular distancias, alturas, volúmenes.
Este telémetro es muy practico si nos gusta la escalada porque nos permite saber con seguridad la altura de la pared que tenemos delante. No he encontrado datos sobre las distancias máximas, pero he llegado a medir con algún que otro problemas distancias de hasta 50 metros (insistiendo) aunque el rango de medición sin problemas es de unos 30 metros.
La batería es de 8500 miliamperios, es una pasada lo que dura acostumbrado a teléfonos que hay que cargar a diario. Con este y en 3g en el pueblo he llegado a casi los 4 días con un uso de pantalla de unas 2 horas.
Lo del 3g es porque en mi pueblo la cobertura 4b no es muy buena y prefiero usar la red 3g para que el teléfono no este todo el rato intentando enganchar en 4g y me gaste la batería. No es problema del teléfono porque tenemos todas las redes 3g y 4g, es problema de que mi compañía pasa deponer un repetidor por mi zona.
Las cámaras tienen buenas cifras, pero las imágenes no son las que podríamos llegara sacar con móviles top. Tiene buena definición y colores, pero les falta ese plus o ese pequeño empujón para llegar a ser buenas. Con un programa de edición y subiendo el contraste podremos llegar a tener muy buenas fotos.
Las cámaras que tiene son de Samsung y la principal es de 48mp y la gran angular que yo uso mucho es de 8mp y 130 grados de amplitud. Luego tenemos zoom y macro para las fotos, pero no los uso mucho la verdad.
Por la noche las fotos pierden calidad y se ve un poco de ruido a pesar de que el sensor principal tiene una apertura de 1,8f.
En cuanto al video me gusta porque tiene un enfoque rápido y preciso y el sonido se capta bien y sin hacer cosas raras.
Podemos poner una cámara de fotos como la de google si queremos mejorar un poco la calidad.
La frontal esta bien y con buena calidad, es de Samsung también y de 16mp.
El Android que viene es Android 11 con una capa de personalización muy sencilla que se podría decir que es más que nada un tema que podremos cambiar cuando lo deseemos. No viene muy recargado de aplicaciones y las que no son propias de google, las podremos desinstalar sin problemas.
Awesome Phone
This is a great phone.
We picked it up for my mom because it is indestructible and will stay charged for days.
We are using it with Mint mobile and have had no issues.
The screen is crisp and clear, which makes it easy for mom to see.
The phone is heavy but she is using a bluetooth handset with it for extended calls.
I am happy with it and I think she is too.
This is the Ultimate Rugged Phone!
Ok, so I have had this phone for a couple of weeks now. I bought this after getting the Doogee S98 Pro. I am using that as my everyday phone, but wanted to try this one due to the description online. So, this phone is absolutely fantastic for its purpose. It is designed as a rugged phone that will, not only take a beating, but also have battery to spare. I mean that. The battery life on this thing is like no other phone i have seen. It came with a battery charged to about 90%. I have not charged it yet and have been playing around with the phone, on and off since it arrived. I have not kept it on the entire time, mind you, but it is still at 80% life. This is the phone you want if going someplace remote.
Aside from the battery and durability, it also has life to wake, it has customizable LED's, fingerprint sensor, face recognition, etc.
It has Night Vision! NOT thermal as the s98 pro has. That phone actually has both. This has night vision. And it is fantastic. Works in pitch black darkness. The camera in general is very good on this phone, if you care about that. Has a host of functions to take very nice pictures, including modes like panoramic. If this phone had a thermal camera for my work, it would be my pick, hands down for everyday use. Love this thing!
Now, for anyone wondering if there is anything I found to be bad. I honestly have not. Do keep in mind that for the battery life to be what it is, the battery required must be large. So, this phone is not light, by any stretch. It's a heavy phone, made for durability and long battery life. That's exactly what you get. It's well worth the price. Doogee has another winner!