DOOGEE® S96 GT 8GB+256GB AI Quad Camera & 20MP Night Vision Powerful 4K UHD Rugged Phone
EU/UK countries ship from EU/UK warehouses.
EU/US/UK delivery time 2-7
In stock
64MP Main Camera

20MP Night Vision Camera
8MP Front Camera
MTK Helio G95 + Android 12
8 GB RAM + 256 GB ROM storage
❄️IP68/IP69K Waterproof Phone + Custom Button
9600mAh Battery
Dual SIM 4G Global Network
One-Year Warranty
| | |
| --- | --- |
| Brand | DOOGEE |
| Model Name | DOOGEE S96 GT |
| Wireless Carrier | Unlocked for All Carriers |
| Operating System | Android 12.0 |
| Memory Storage Capacity | 256 GB |
| Connectivity Technology | USB |
| Color | Gold/Black/Orange |
| Wireless network technology | GSM, LTE |
| Connector Type | USB Type C |
Make the mighty DOOGEE S96 Pro even more powerful -- DOOGEE S96 GT
DOOGEE S96 GT smart rugged phone supports 29 global bands. Regardless of your place of residence or your destination for a journey, you can connect to the local mobile networks with your S96 GT anywhere in the world. It also supports 4G in both slots simultaneously - enjoy faster.
DOOGEE S96 Pro Does NOT work with AT&T OR Cricket OR CDMA Carriers such as Verizon, Sprint, Boost Mobile, Straight Talk or U.S.Cellular, Xfinity and TracFone!
It CAN work with GSM Carriers like T-Mobile, Metro PCS, MVNO and Others!
GSM:2/3/5/8
WCDMA:1/2/4/5/8
TDD:B38/40
FDD:B1/2/3/4/5/7/8/12/13/17/18/19/20/25/26/28A/28B/66
Please Confirm Your SIM Bands Compatibility Before Purchasing!
If your DOOGEE smartphone can't connect to data, please input the APN setting by manually, first input Operator SIM and go to settings--->Network&internet--->Mobile network--->Advanced--->Access point Names--->here can be added APN(the'+' icon) or change the APN (Edit any access point to change). To find APN parameters you need to manual input, you may ask the shop / website of those Operators, or you can find another handset with a correct working sim card inserted, then use the same path same approach, you can find and read the APN characters of this Operator, and then copy the same character into your phone.
DOOGEE S96 GT
Clearer, Faster, More Rugged
8GB RAM + 256GB Storage
SONY® 32MP Front Camera
IP68 / IP69K / MIL-STD-810H
SONY® 20MP Enhanced Night Vision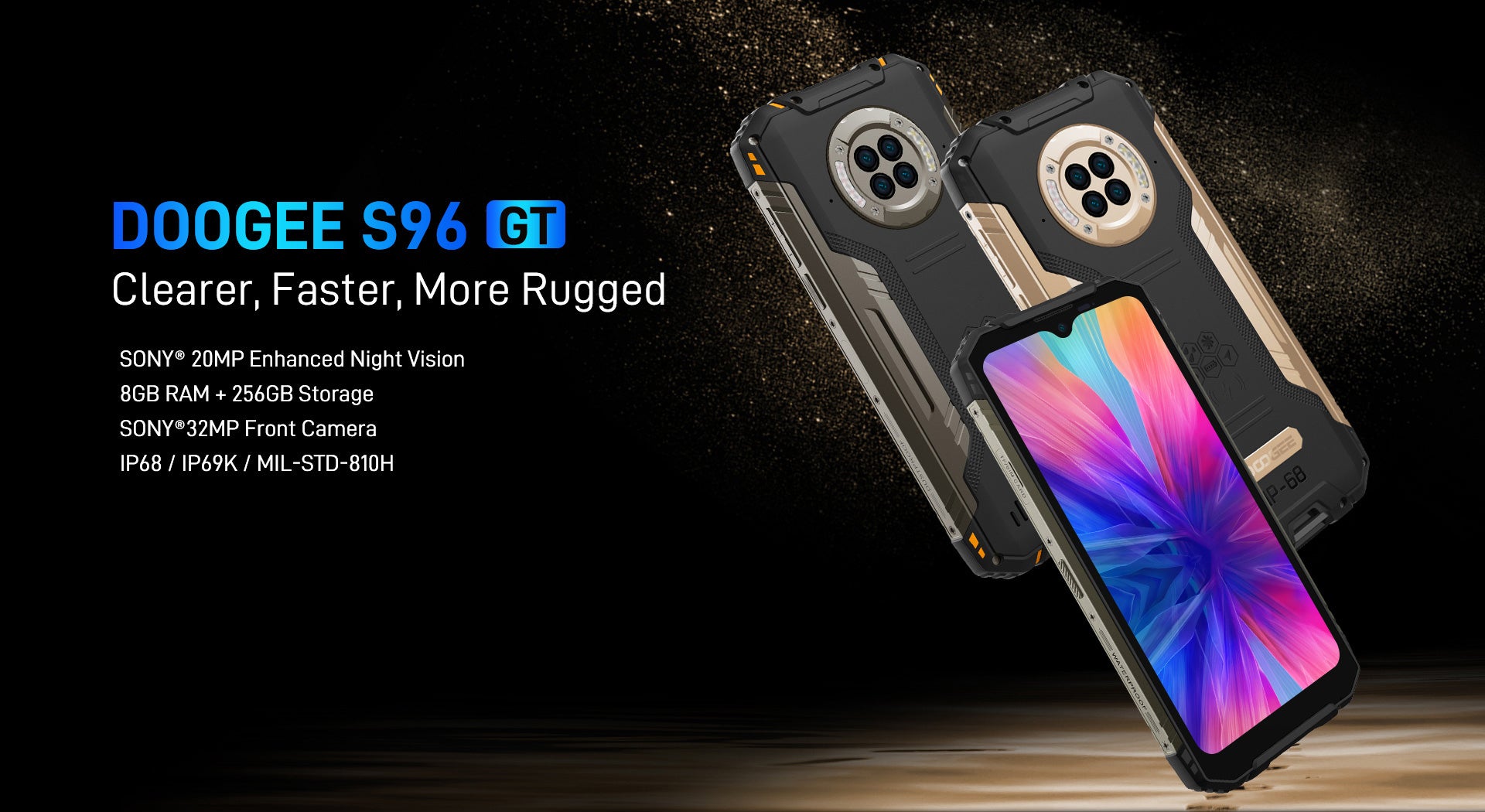 Helio G95 | 6.22" Waterdrop Screen
48MP AI Quad Camera (48MP+20MP+8MP+2MP)
SONY® 20MP Night Vision Camera
6350mAh Large Battery
Support 24W Fast Charging / 15w Wireless Charging
SONY® 32MP Front Camera
8GB RAM+256GB ROM
IP68 / IP69K / MIL-STD-810H
Side Fingerprint Recognition
NFC | Android 12.0 | Custome Button
Corning Gorilla Glass
GPS | Glonass | Galileo | Beidou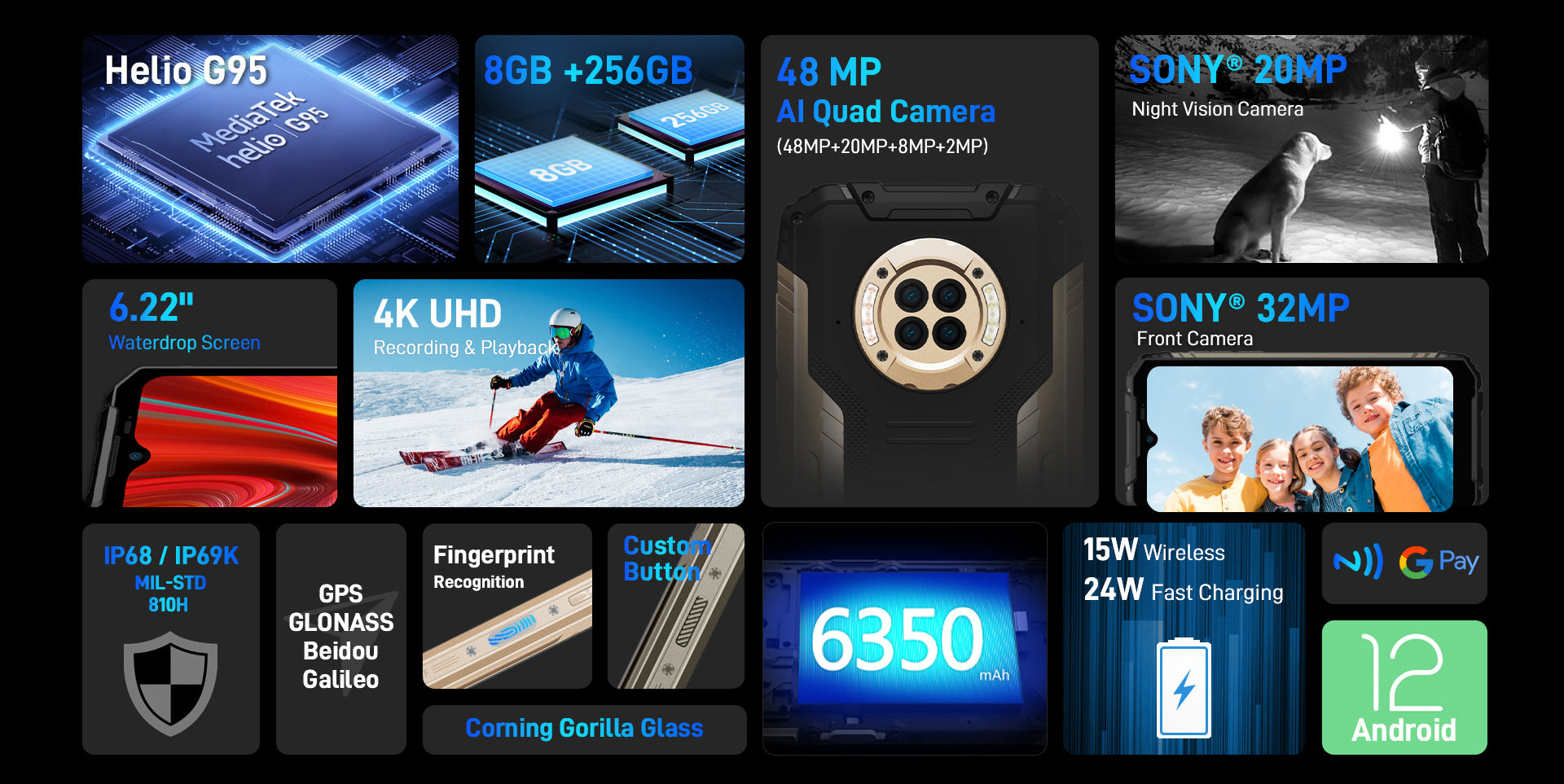 The Legend Continues, Configuration Upgrades
Surprise Upgrade, Far Beyond Your Expectations.
Doogee S96 GT is engineered to carry on the legacy of the S96 Pro (the first smartphone with a night vision camera).
The new S96 GT is equipped with a more powerful chip,
a clearer night vision camera and stronger protection,
and the trustworthy quality allows you to do whatever you want.
S96 GT Optimization
S96 GT    CPU Performance 125 %    
Camera performance 150%     
Storage Space 256GB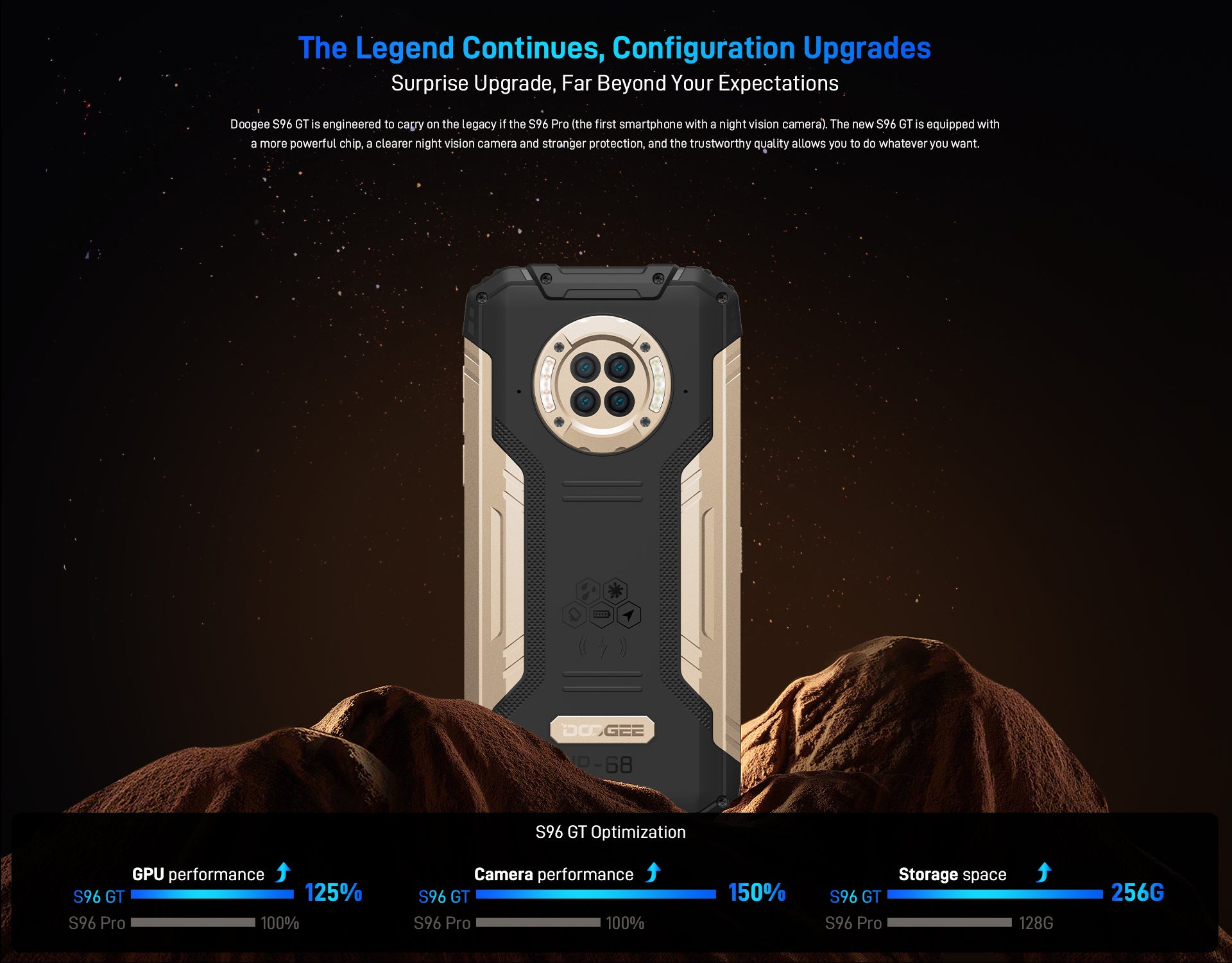 Classic Gold-Black Color Combo
Limited Sunshine Gold Edition
A stunning color combination in a noble gold tone with a black body,
bringing a vibrant, unique element of life to a rugged phone.
Volcano Orange 
Volcano orange symbolizes passion, can withstand the experience of water and fire, and  it  is as solid as a rock.
Classic Black 
Full of textured black, Atmospheric in its calmness, and with an extraordinary magnanimity of mind.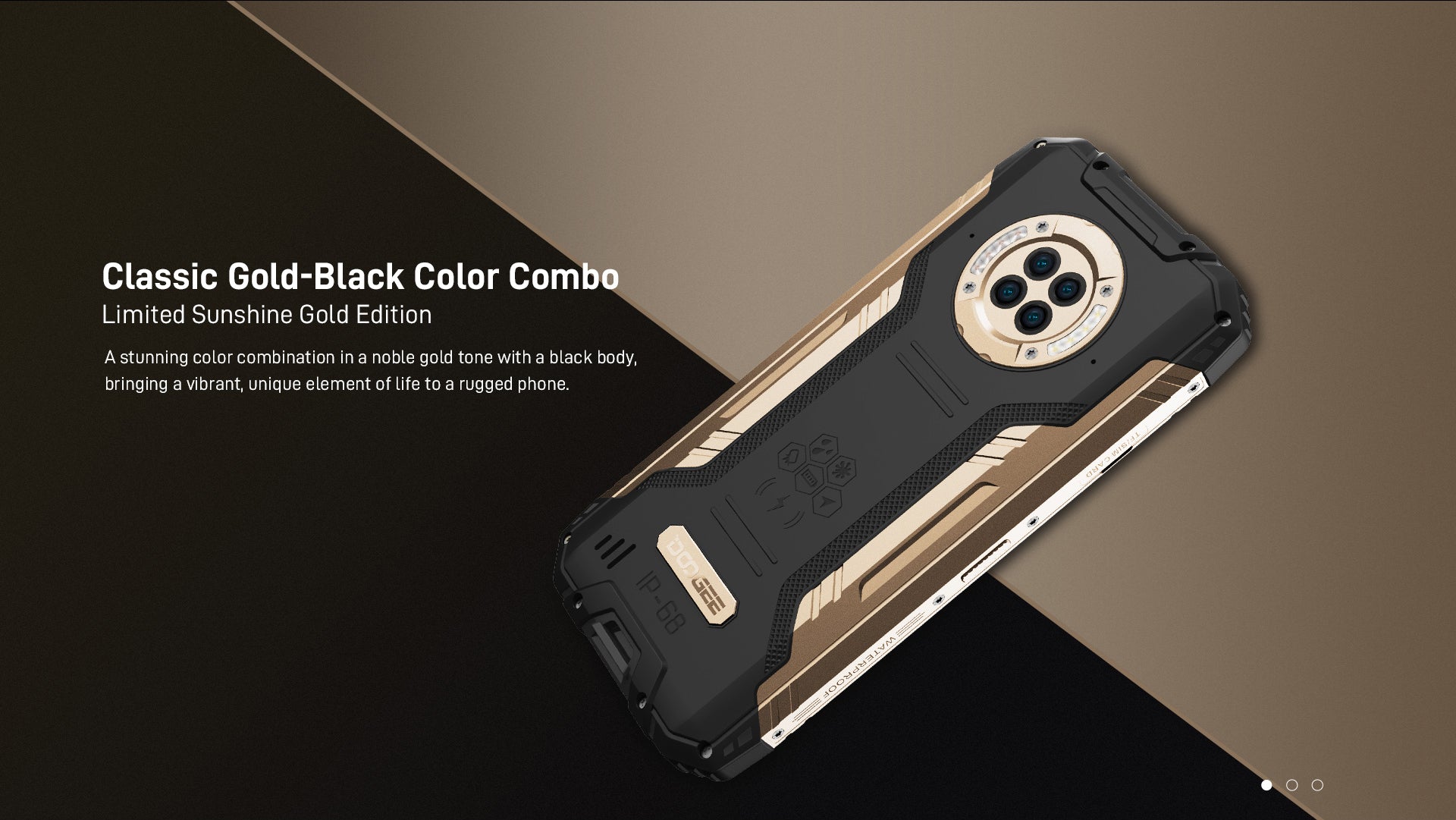 Really Powerful Fighter
More Than 50% of the Metal Body Ratio on the Back of the S96 GT
More than 50% of the body is made of metal including the area around the camera completely protecting
from damages resulting from sudden drops.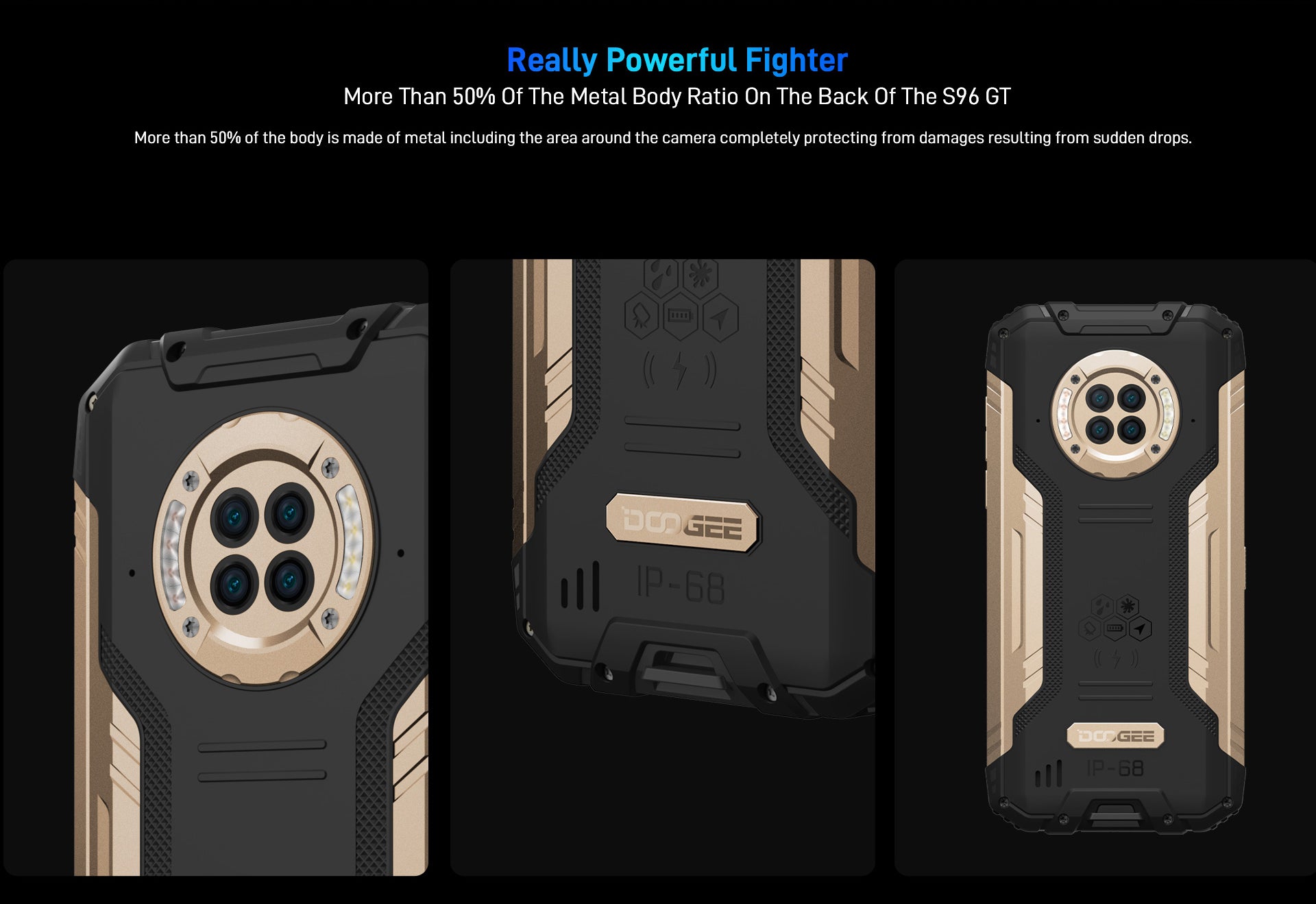 More Advanced Algorithm, More HD Quality
48MP AI Quad Camera
The Doogee S96 GT uses advanced camera algorithms from leading algorithm
and imaging technology providers Morpho and BST to help users make full use of its photography capabilities,
making night shots brighter, clearer, and AI smarter.
F/1.8, 4 Rear Flashes
48MP AI Main Camera 
F/1.8,4 Infrared Night Vision Lights
SONY® 20MP Night Vision Camera
F/2.2, 130°  Ultra-wide Angle
8MP Wide Angle Camera
F/2.8, 90° Ultra-wide Angle
2MP Portrait Camera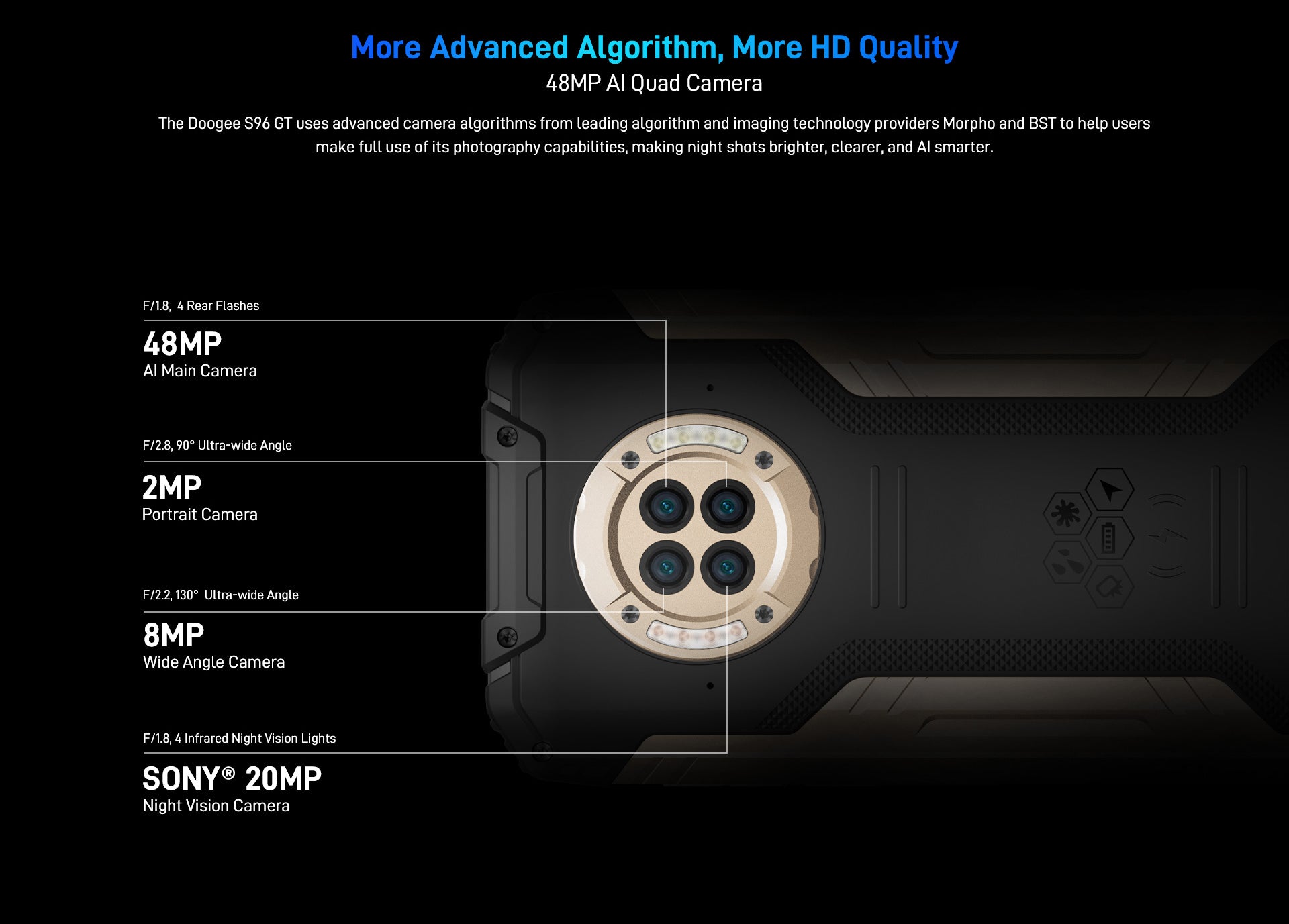 The Enhanced 20MP Night Vision Camera
Clearer Sony® IMX350 Ultra-light Sensitive Sensor
Compared with the night vision camera of the S96 Pro,
the S96 GT continues to upgrade the configuration,
equipped with 4 enhanced infrared lights and 4 LED lights,
so that the night vision camera of the S96GT can capture clearer images at 2 times the distance.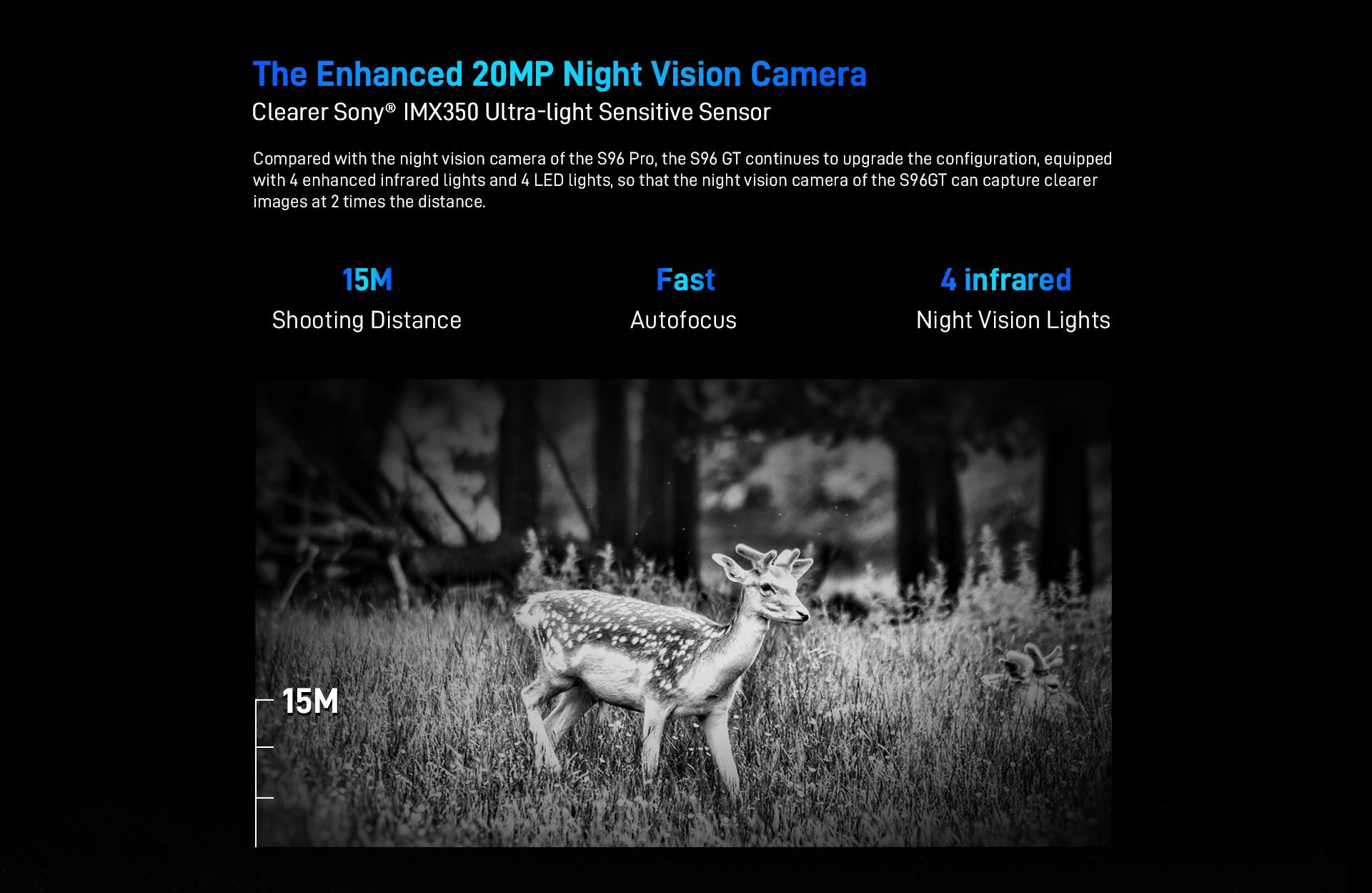 Every Part Tells Another Great Story
Never stop exploring life and creating stories.
Working as a highly unified system,
the Samsung® AI Quad Camera always backs you up to shoot any day or night,
whether the subject is up close or at a distance.
Effortlessly capture what you see and let it speak for what you feel.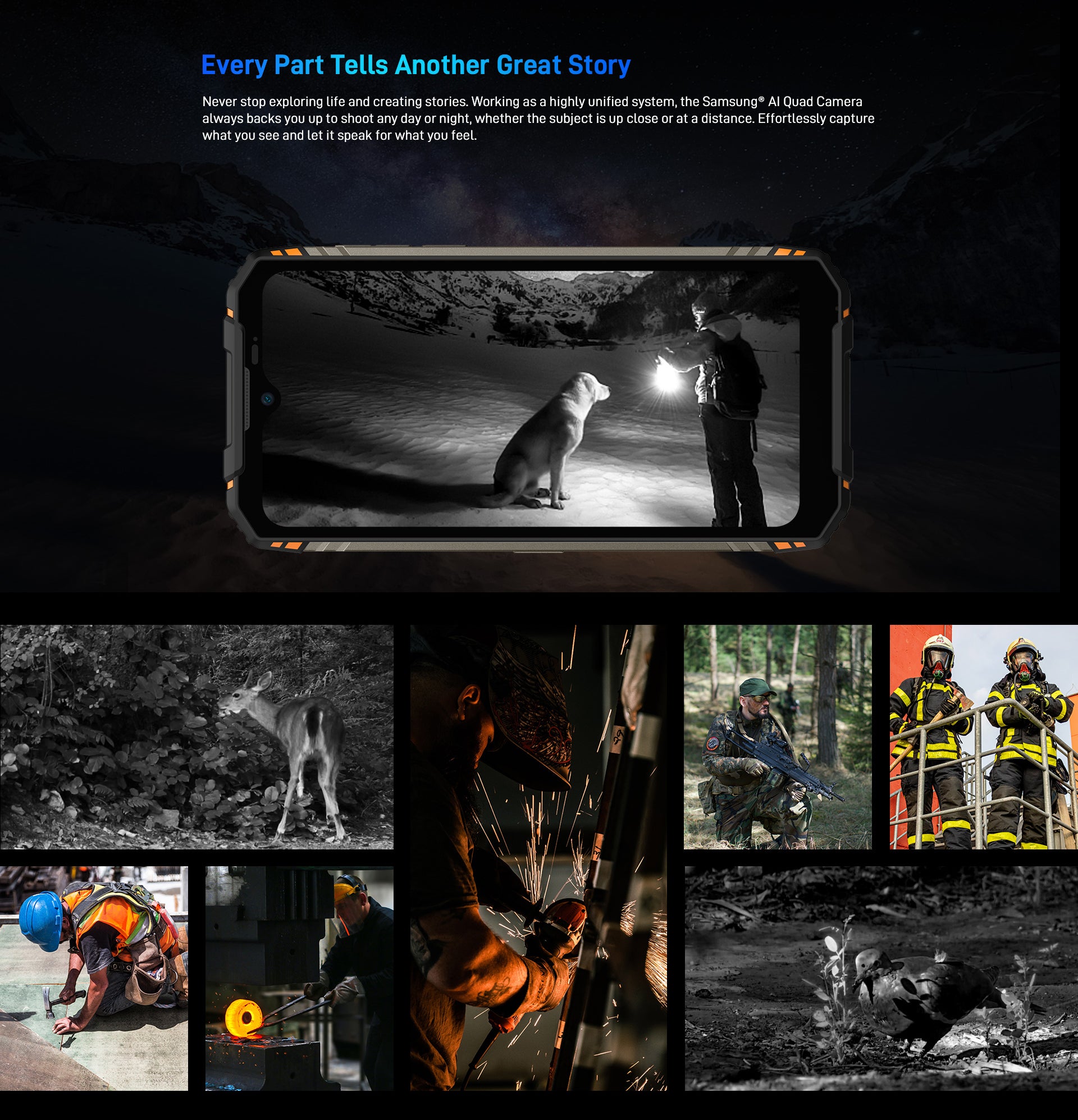 32MP Front Professional Camera
Doogee the Highest Pixel Selfie Camera Ever
The new set of upgraded high definition 32 MP front camera,
capture more accurate and natural bokeh,
whether it is a crowded street or a jam-packed party, press the selfie button, and you'll be the star.
AF Autofocus | F/2.0 Large Aperture | 90° Ultra -wide Angle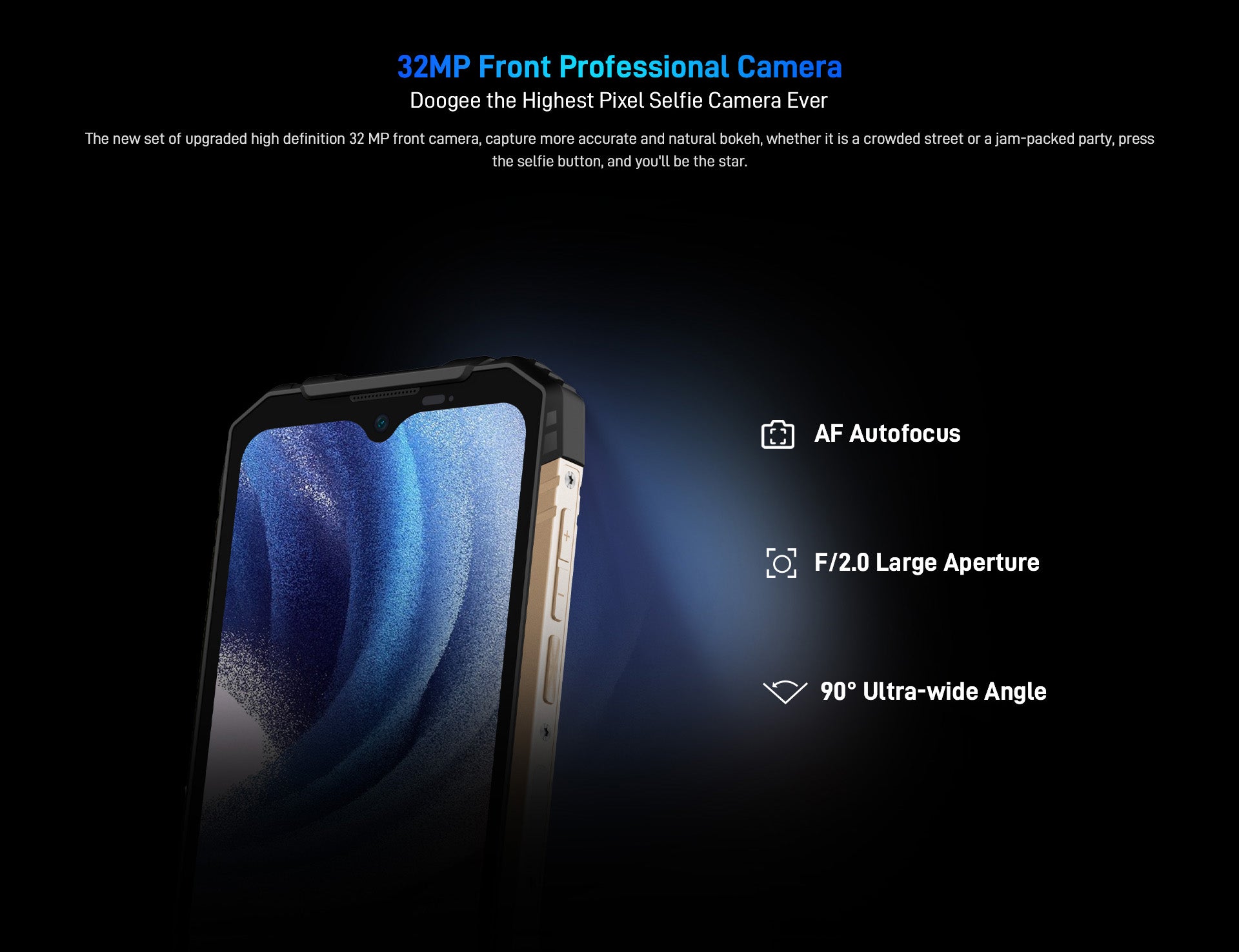 90°  Front Ultra-wide Angle Camera
The 90° ultra-wide angle and BST's advanced beauty algorithm make you still beautiful even in the crowd.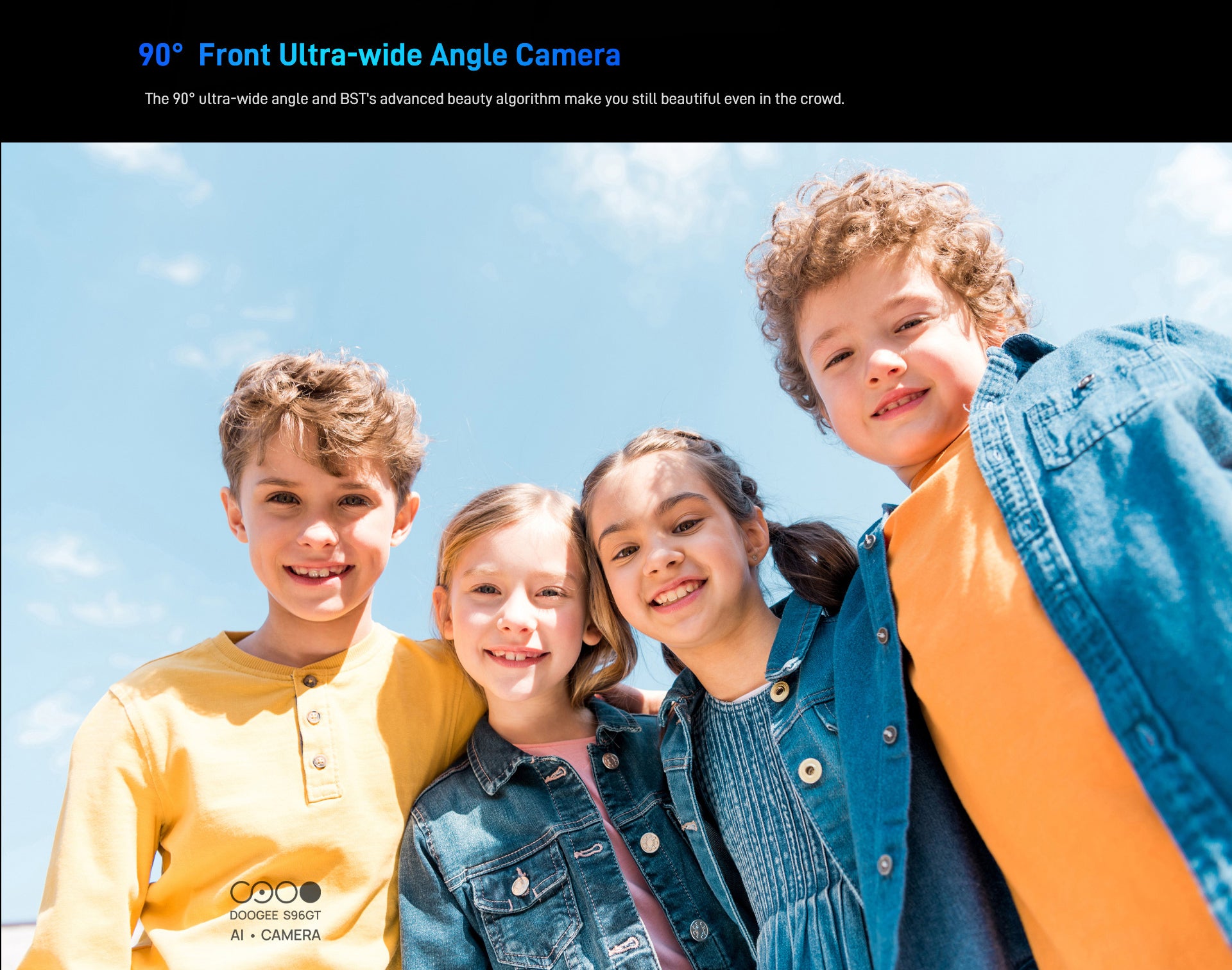 Samsung® 48MP AI Quad Camera
Capture Every Moment
The 48 MP Samsung® main lens captures great details in everyday photos.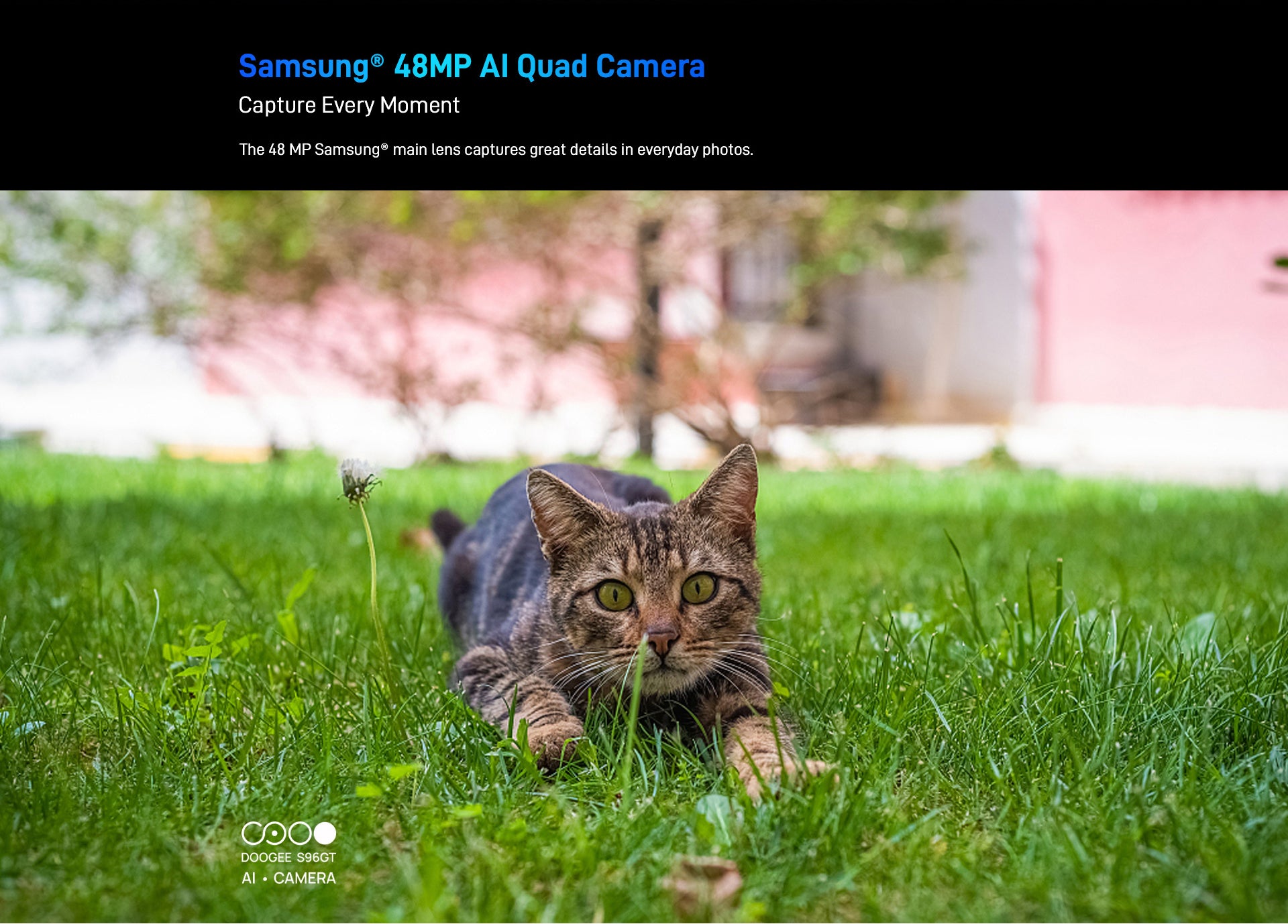 A Portable Camera for Making 4K Movies
Flagship Level Ultra-clear Camera
The extraordinary Samsung® S5KGM1ST sensor and
integrated 3D HDR technology can capture clear and detailed video in 4K ultra-high resolution.
You can easily create stunning 4K videos with one tap on your S96 GT at all times and wherever you go.
Normal Shooting | 4K UHD
130° Ultra-wide Angle Camera Meets Night Mode
Easily capture expansive nighttime scenes.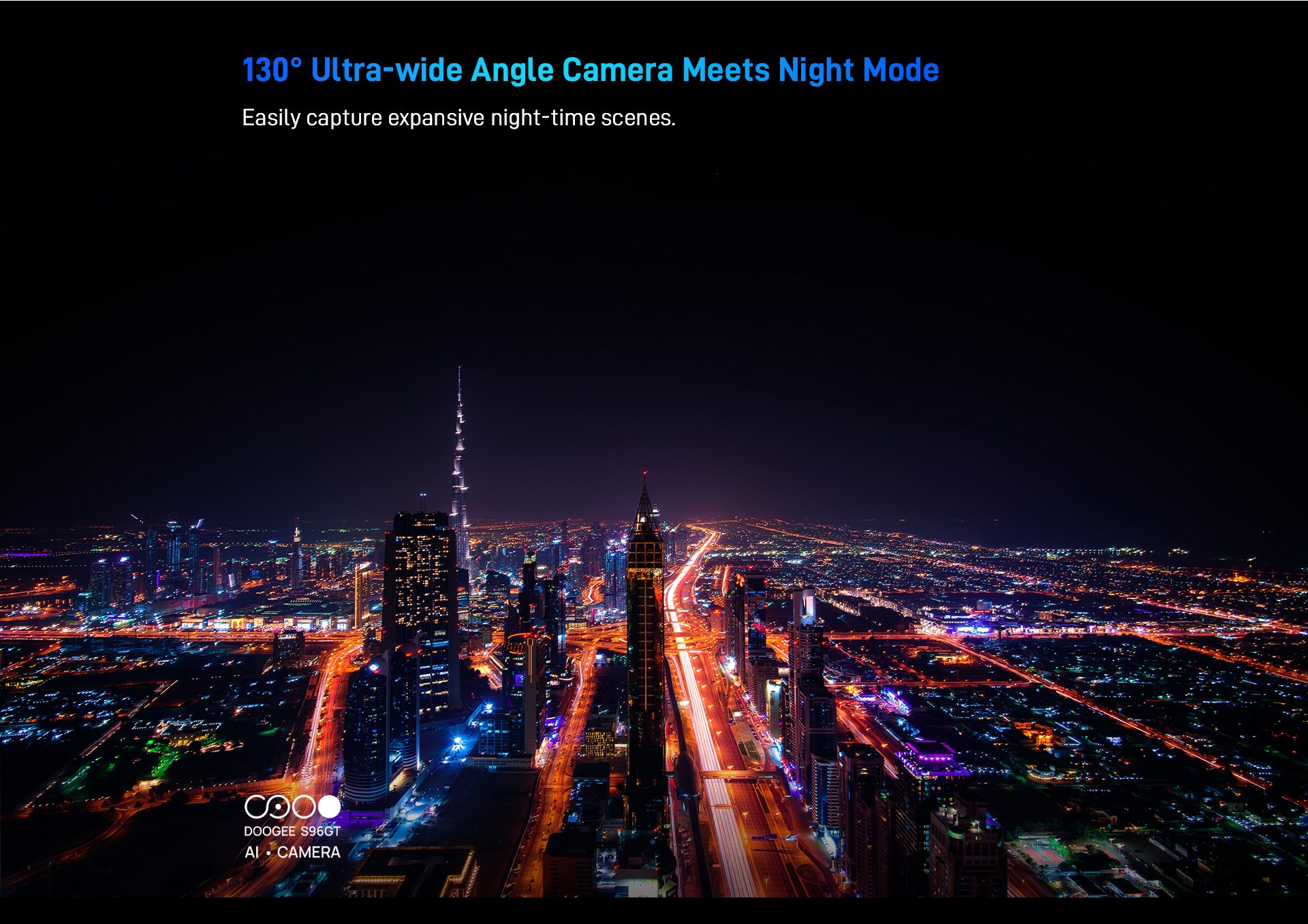 Portrait Mode | HDR | Macro Camera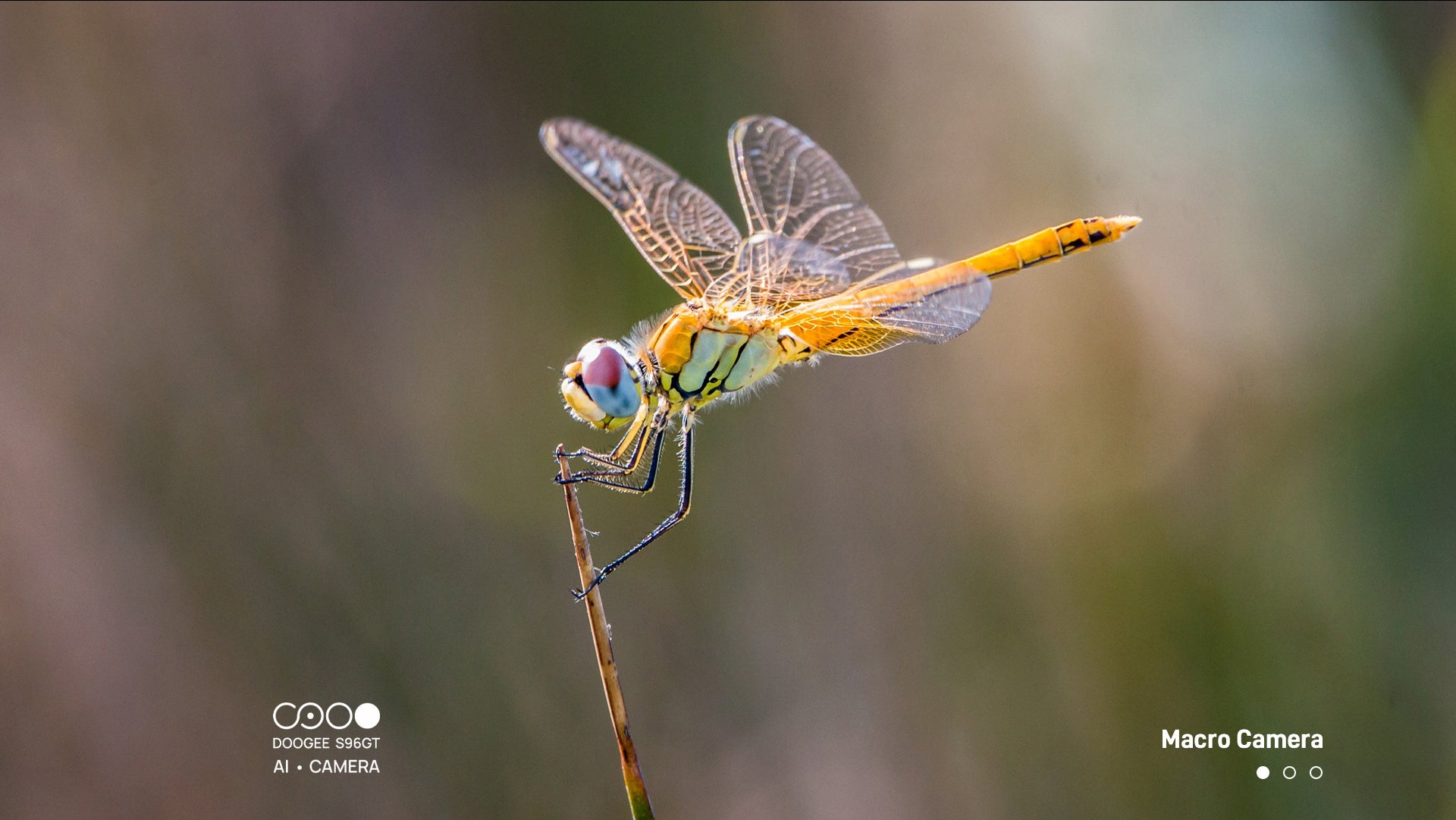 Go Beyond Rugged
Waterproof, Dustproof and Drop-proof
The S96 GT is a truly rugged phone.
Its tough credentials include MIL-STD-810H and IP68 & IP69K water
and dust resistant certified, scratch-resistant screen with Corning®Gorilla® Glass.
-30 Min  1.5M Water Deep 
-24 Hrs  1M Concrete Deep 
-1.8 M  Drop Resistance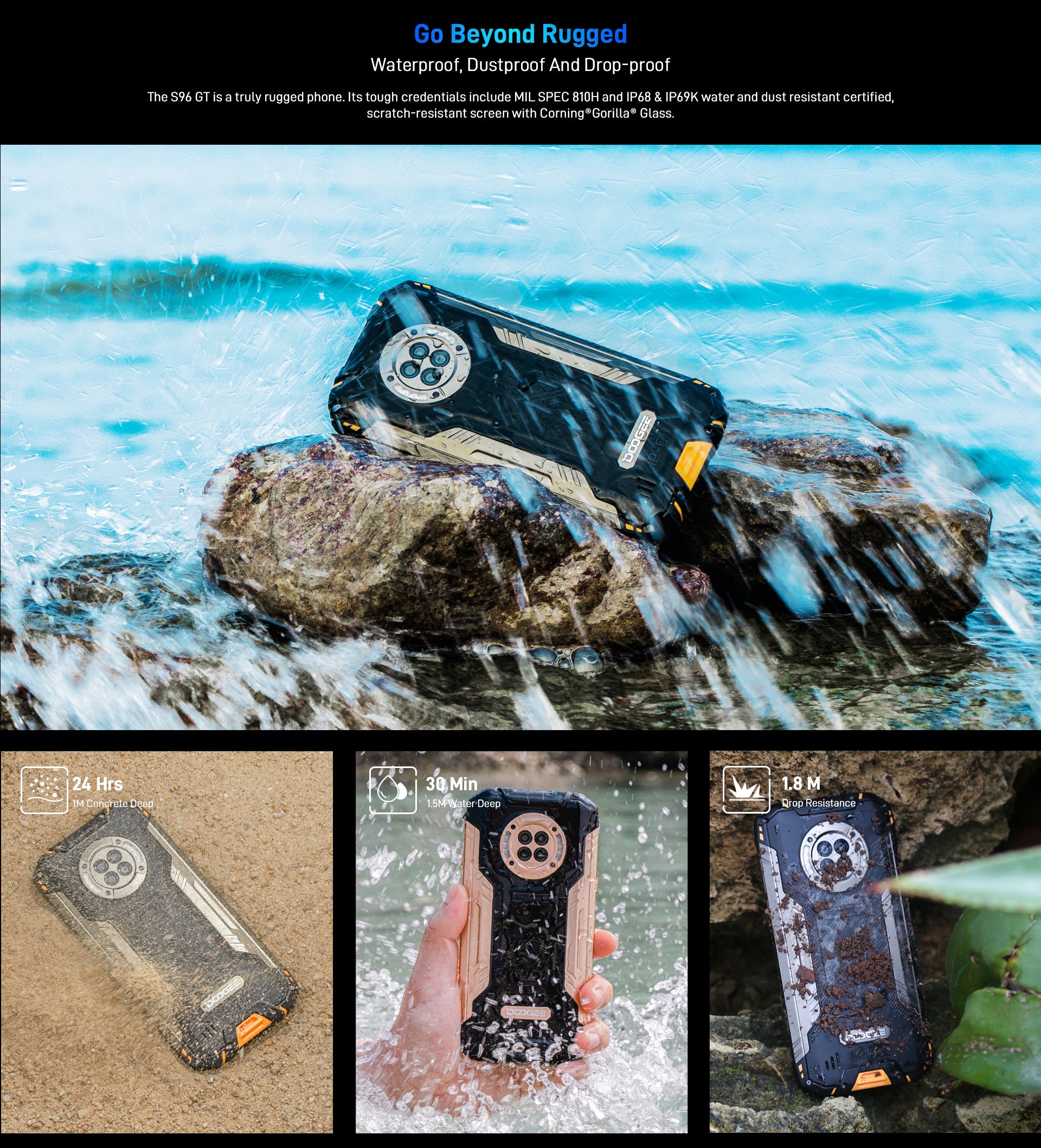 MIL-STD-810H Compliant
More Robust Military Grade Craftsmanship & Durability
Built from the durable TPU paired with reinforced aluminum-alloy,
Doogee S96 GT is built to be sturdy and to survive all form of violent drops, rolling and torsion.
Waterproof Structure & Components
Provides Effective Insulation From Water/Dust
The advanced sealing technology and solid structure make the DOOGEE S96 GT more than simply a splash-proof function.
Components that are exposed to the outside also have a high density macro-molecule coating for waterproofness.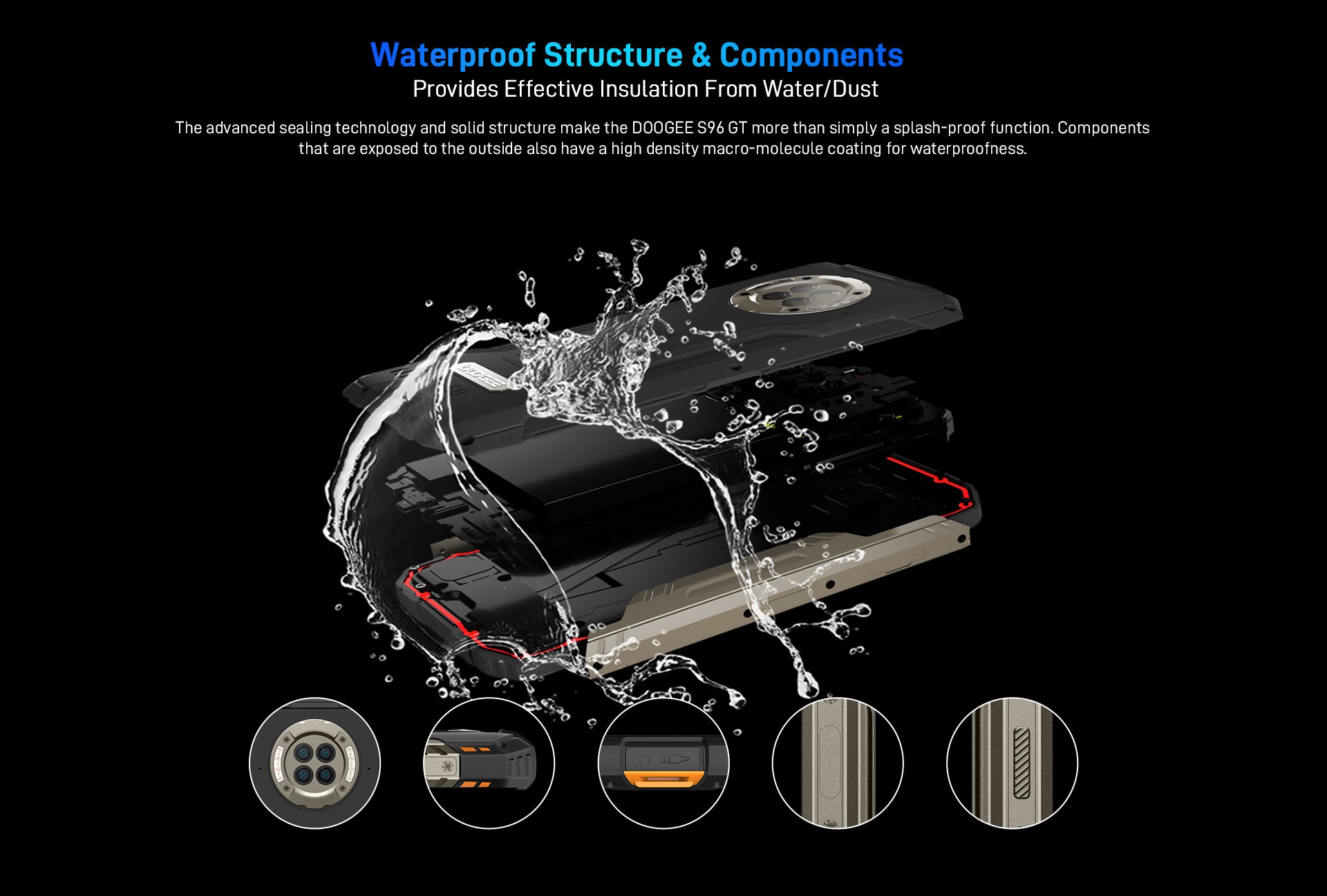 Underwater Mode
Capture Wonderful Underwater Experience
With the Underwater mode available, 
make awesome snaps for the splendid scenes or other wonderful life moments anywhere.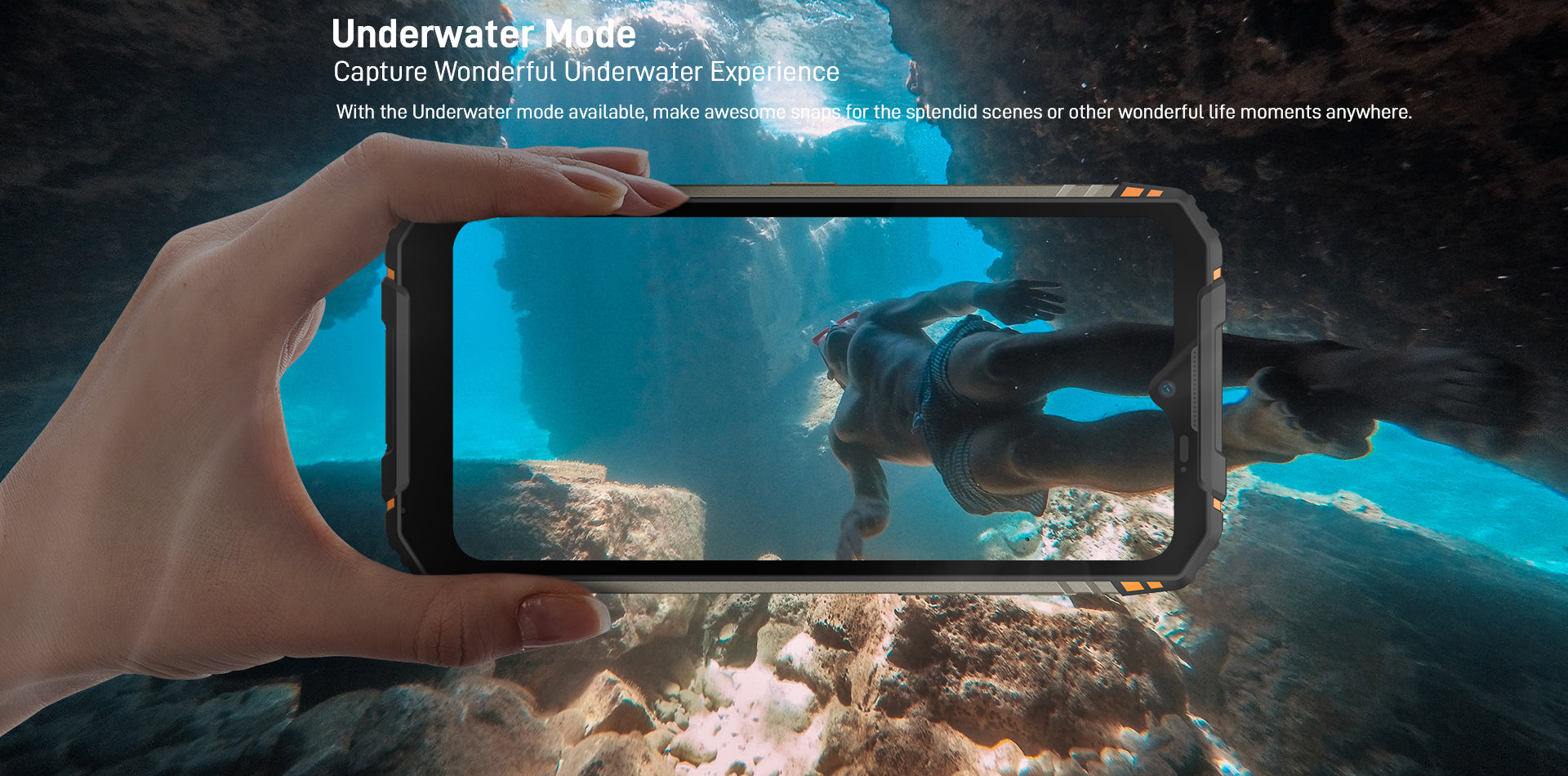 Even Faster, High-performance Processor
Revolutionize your experience of speed and power with the cutting-edge MediaTek Helio G95 Chipset.
With 8GB RAM and 256GB of Samsung® UFS storage, the S96 GT excels at multitasking.
-2.01GHz    GPU Frequency
-Cortex-A76  Next-Gen Architecture
-4K  Video Recording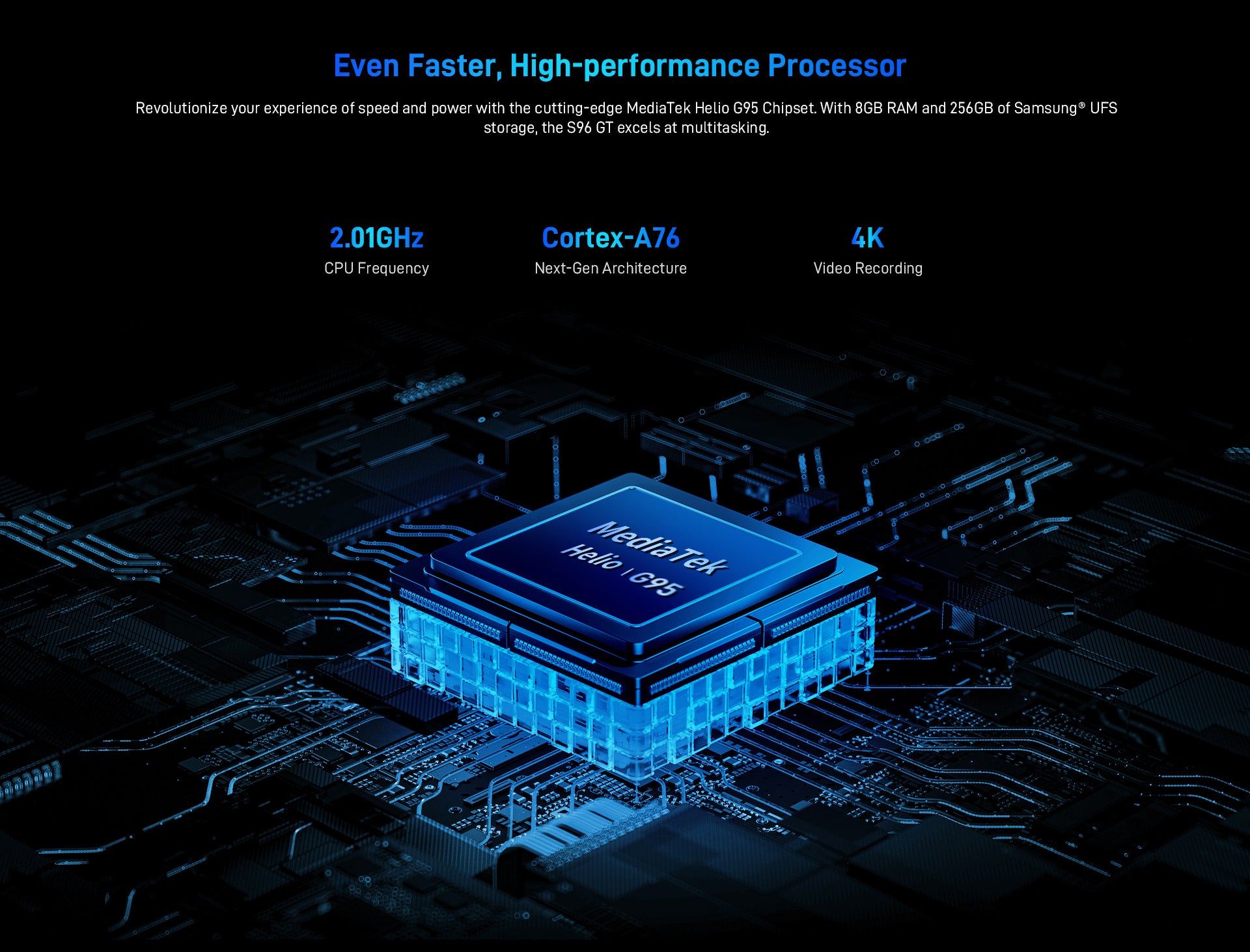 8GB RAM+256GB Samsung® UFS Memory
More Storage, More Done
8GB RAM keeps Doogee S96 GT running smoothly and reliably fast for multitasking such as gaming and listening to music,
while 256GB ROM allows you to keep more things than you expect.
The phone also supports 512GB expandable storage for containing the information you want.
130000+ photos
1300+ music
2500+ apps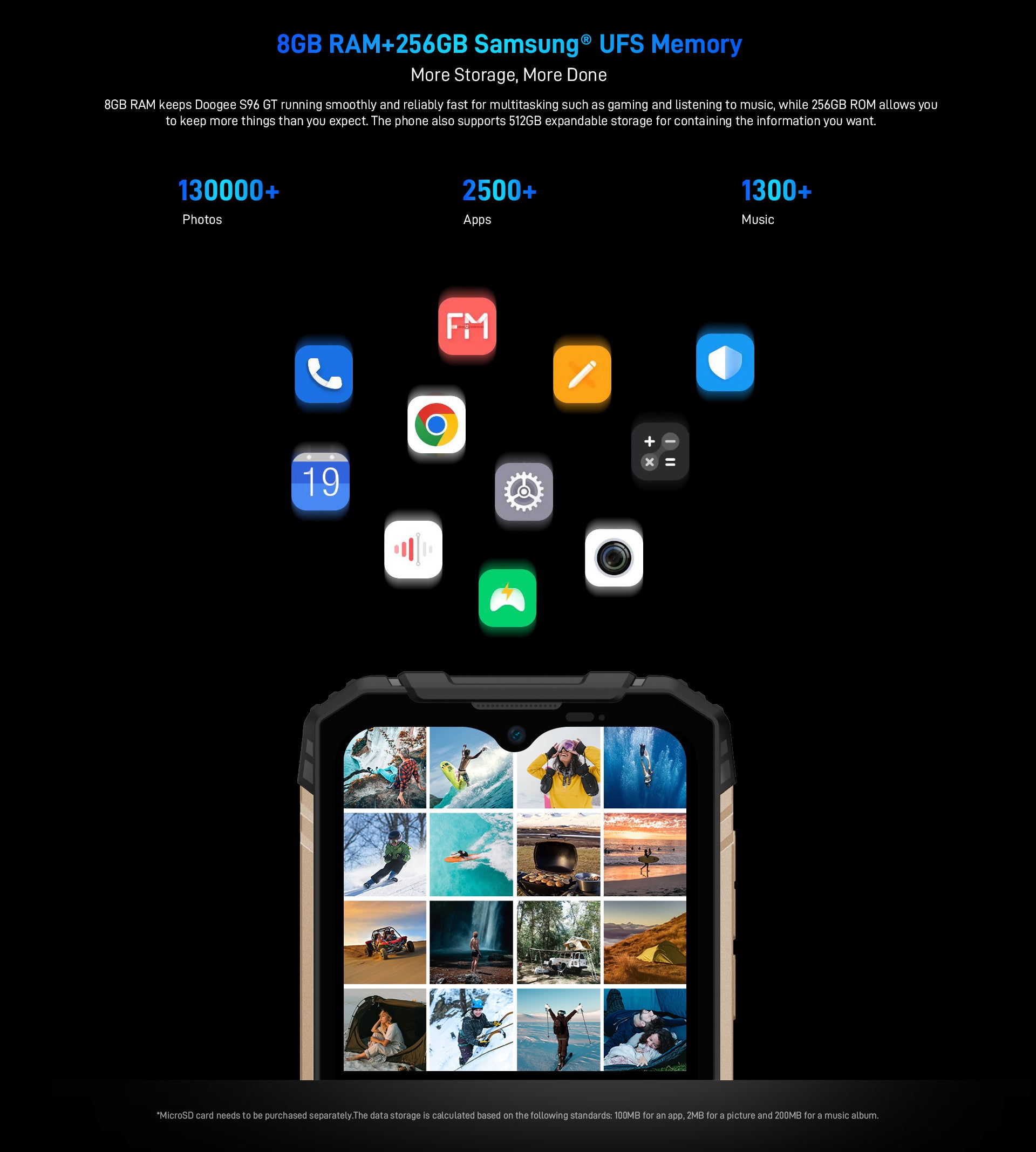 6.22'' Immersive Waterdrop Screen
All-Round Superior View
Doogee S96 GT is equipped with a sharp and vivid 6.22" waterdrop display.
Stretch your horizon and immerse in your game and video like never before.
Along with a 720*1520 resolution and wide color gamut, it also offers you an outstanding optical performance.
Everything you see and interact with on the screen is as clear as it can be.
-720*1520  Resolution
-270 PPI  Pixel Density 
-16.7  Million Colors
-19:9  Aspect Ratio 
-1000:1  Contrast
True Multi-point (10-Finger) Touch Controller
Play your favourite games faster and more effectively with a true multitouch controller
Built-in 360° recognition sensor, DOOGEE S96 GT supports omnidirectional recognition of 10 fingers.
Whether it is playing games or browsing files, it can be recognized quickly, giving you a more accurate and smooth experience.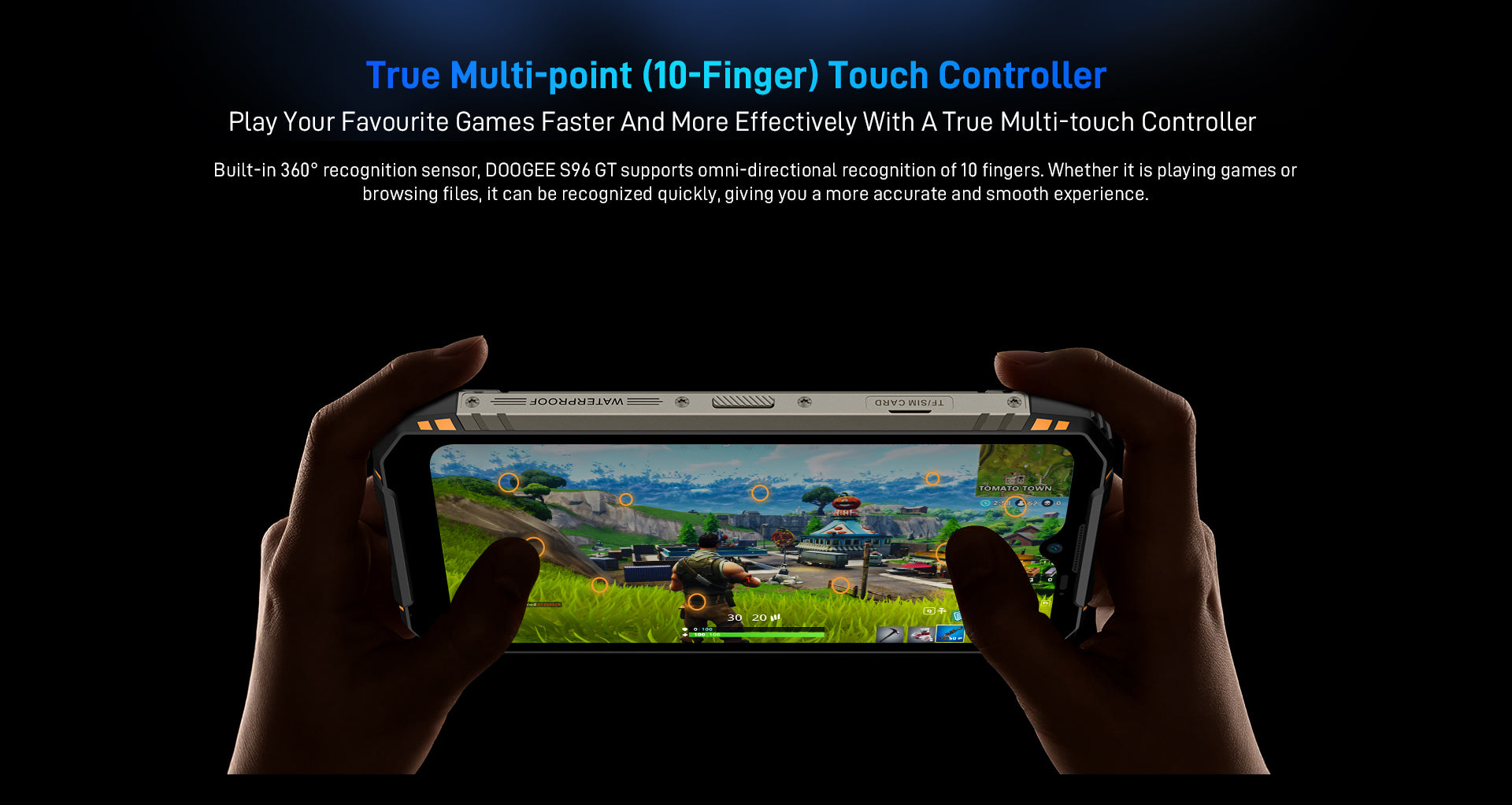 Massive Capacity Battery
Longer, Safer, Faster
An unceasing power source for a thrilling gaming experience and non-stop entertainment.
6350mAh large battery with smarter AI power management fuels your daily work and entertainment needs.
The battery can last up to two days.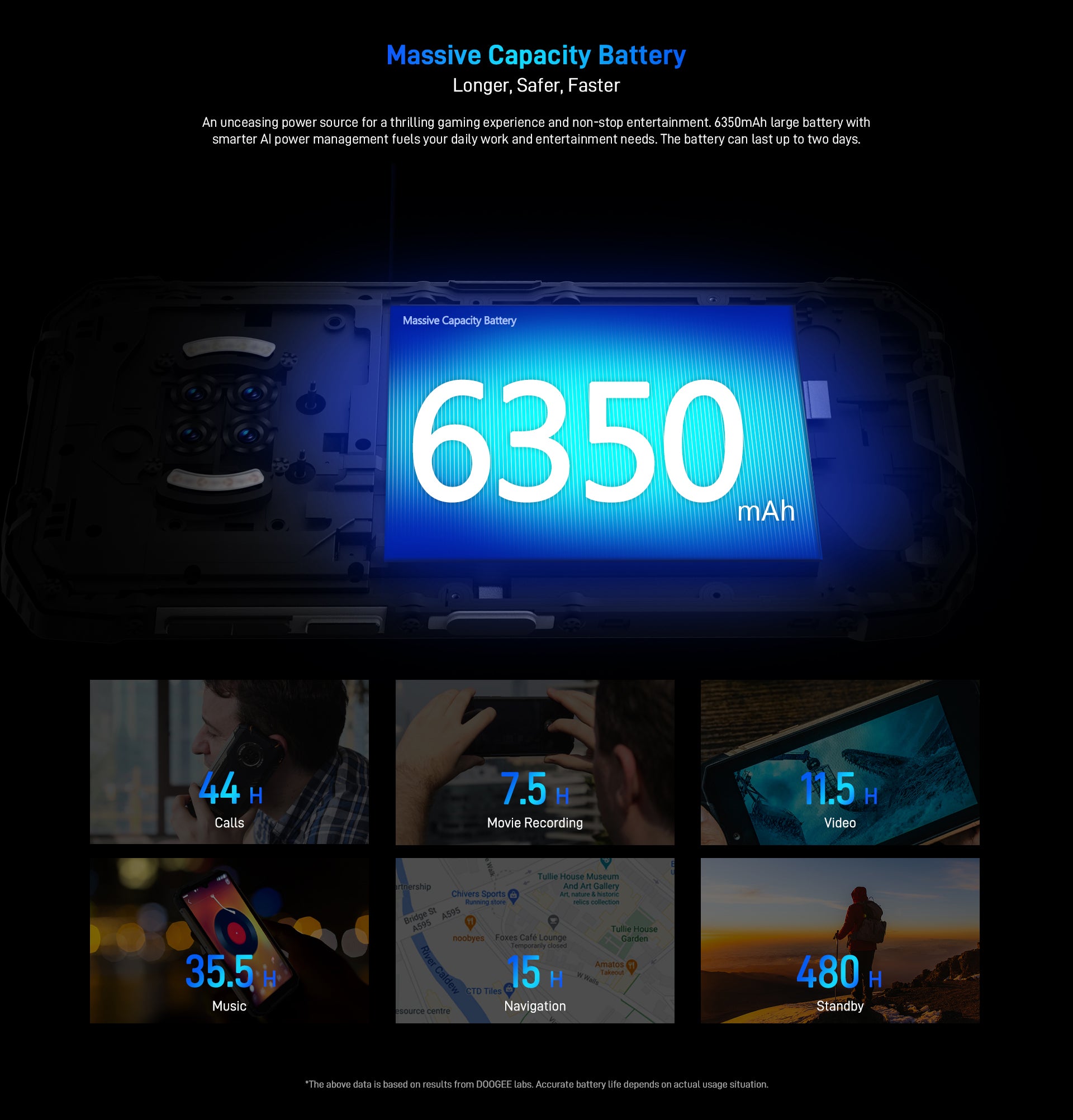 *The above data is based on results from DOOGEE labs. Accurate battery life depends on actual usage situation.
Refuel Easily and Instantly
15W Wireless Charging
The 12V/2A Charger system makes DOOGEE S96 GT your powerful mate to trust.
Within an hour, you can refuel the battery up to 50%.
-24W Fast Charging
-15W Wireless Charging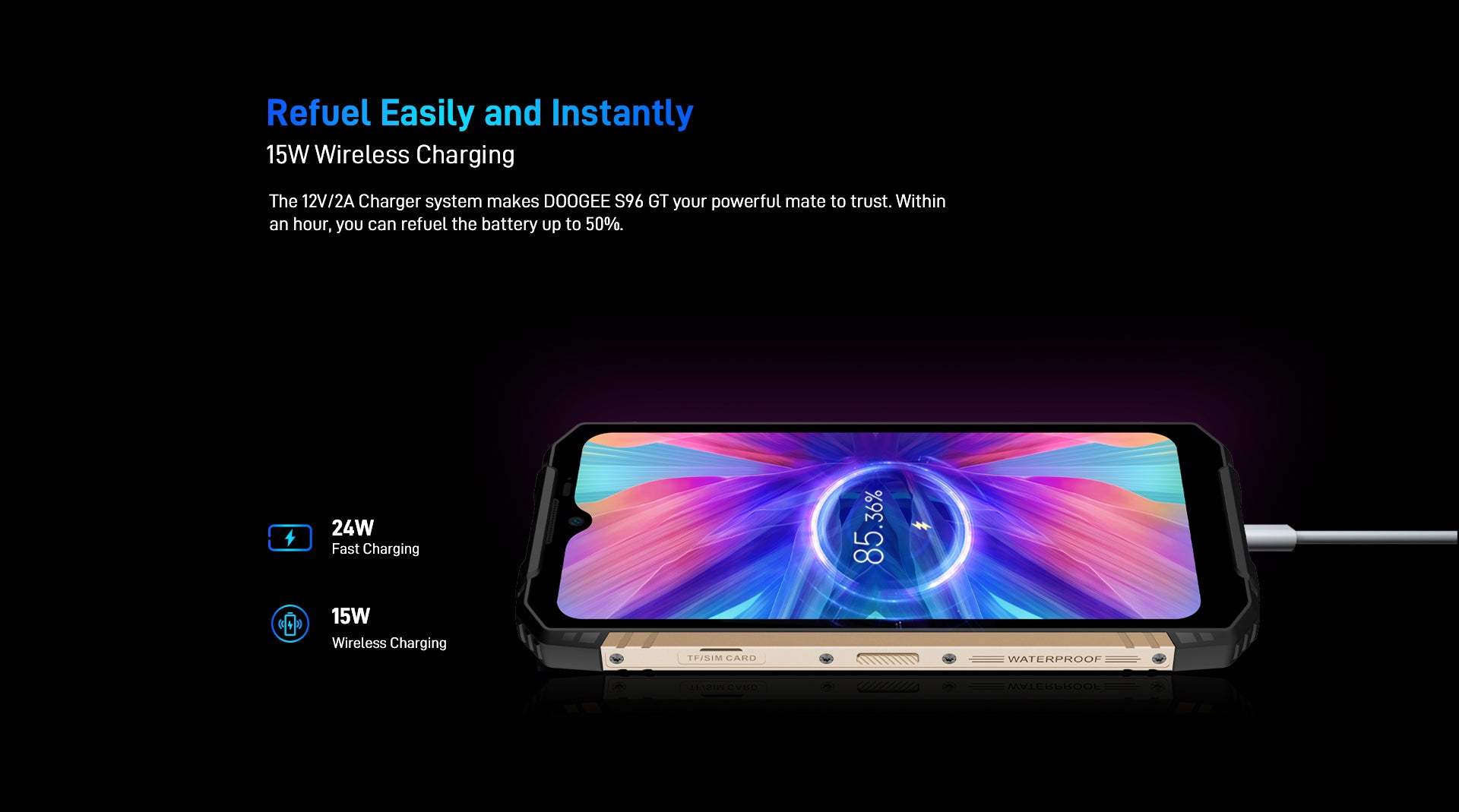 Convenient Custom Key
Quick Access to Different Functions
The custom key on the left side of DOOGEE S96 GT can be optionally set
as quick access to recording, flashlight, screenshot, SOS or your regularly used apps,
you can easily run them with a single press.
Screenshots
Recording
Flashlight
Emergency call "SOS"
Underwater camera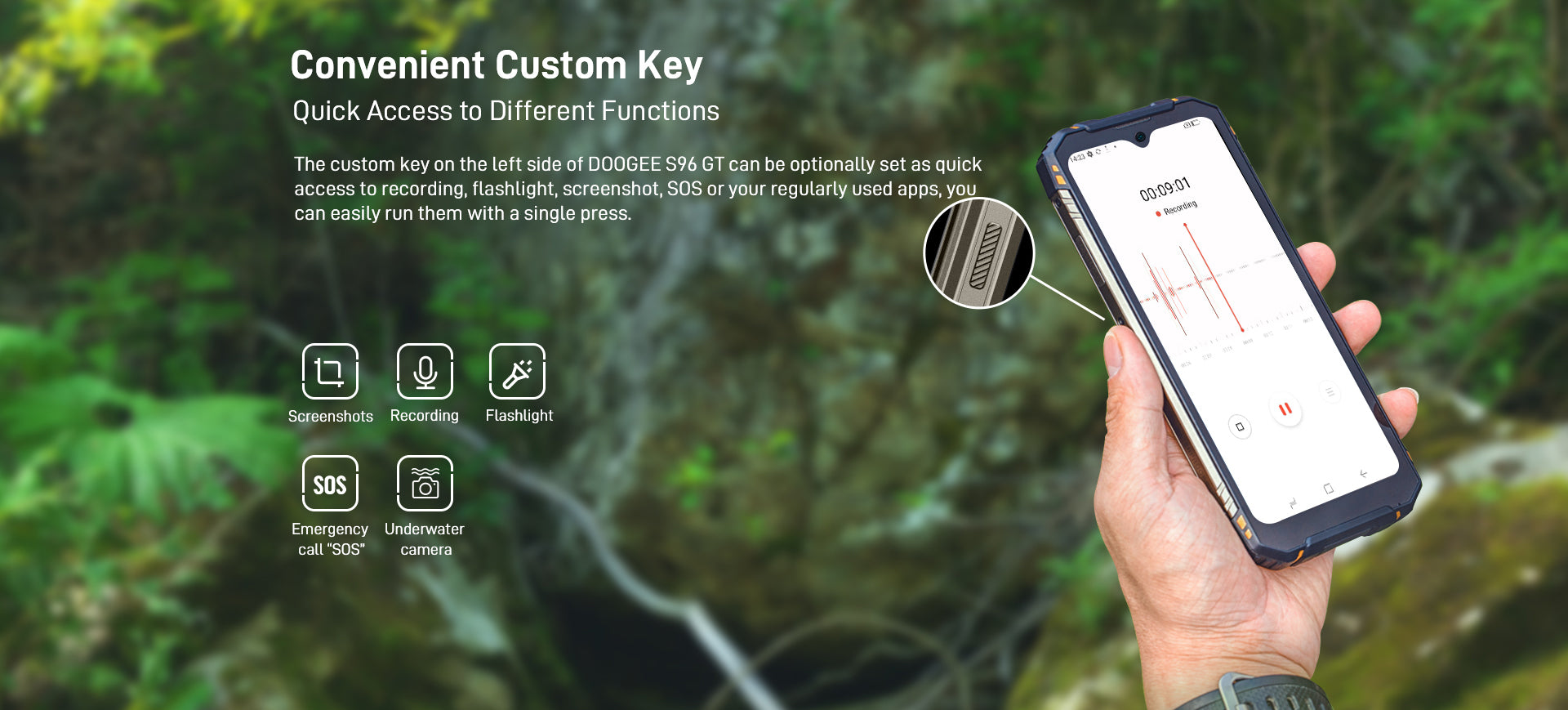 Digital Toolkit
The Versatile Companion for Your Adventure
There is also an app toolbox on the S96 GT which comes with a vast array of apps that
you might find useful for construction, hiking, and other outdoor activities.
Compass   Gradienter   Flashlight  
Height Meter   Magnifier   Alarm Bell
Plumb Bob   Protractor   Sound Meter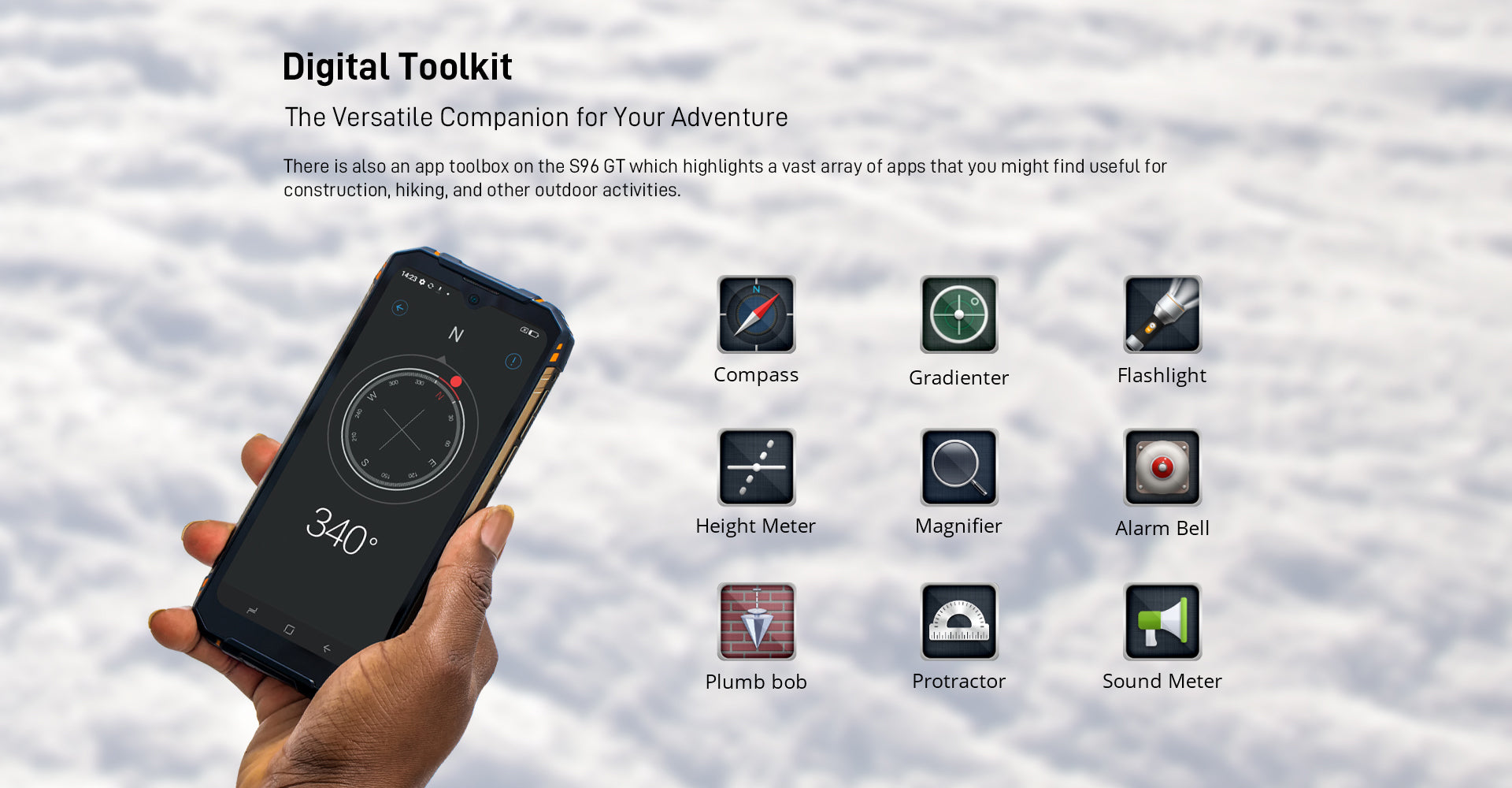 Precise Navigation System
GPS | Galileo | Glonass | Beidou
By leveraging 4 satellite navigation systems simultaneously,
DOOGEE S96 GT allows you to always find the destination with great accuracy even in city centers surrounded
by skyscrapers or highway interchanges.
Working Temperatures Range
The Equilibrium Between Ice and Fire
The DOOGEE S96 GT is made to stand up to extreme temperatures due to its structure, components, and metal frame.
The phone can work normally between -55°C -70°C.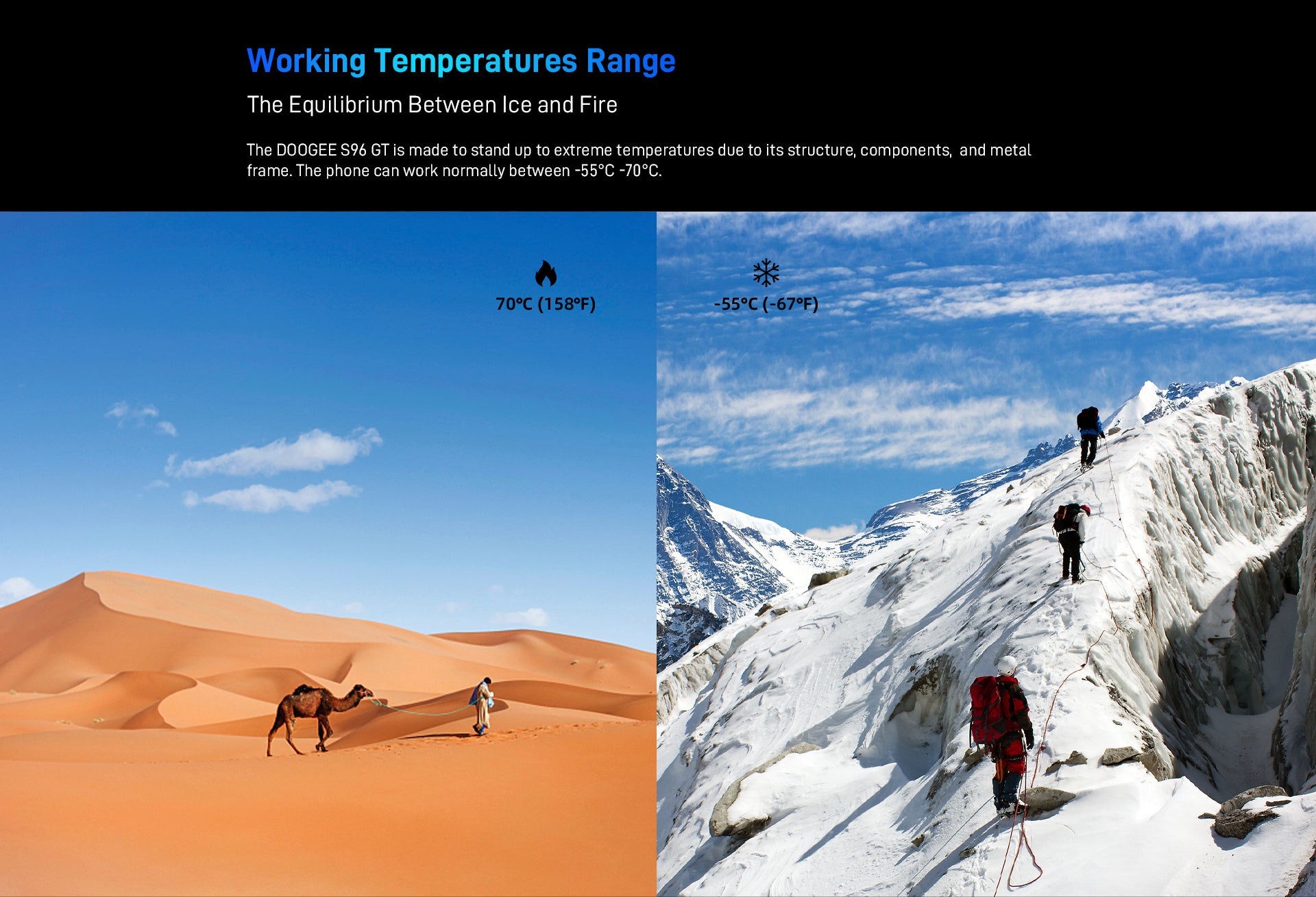 Side Fingerprint Recognition & Face Unlock
With the ergonomic design and Dynamic Pressure Sensing technology,
a face glimpse or a slight fingertip press, unlock your phone immediately.
-0.19s response speed
-Capacitance touch sensor
-360°  identification angle
-508DPI scanning resolution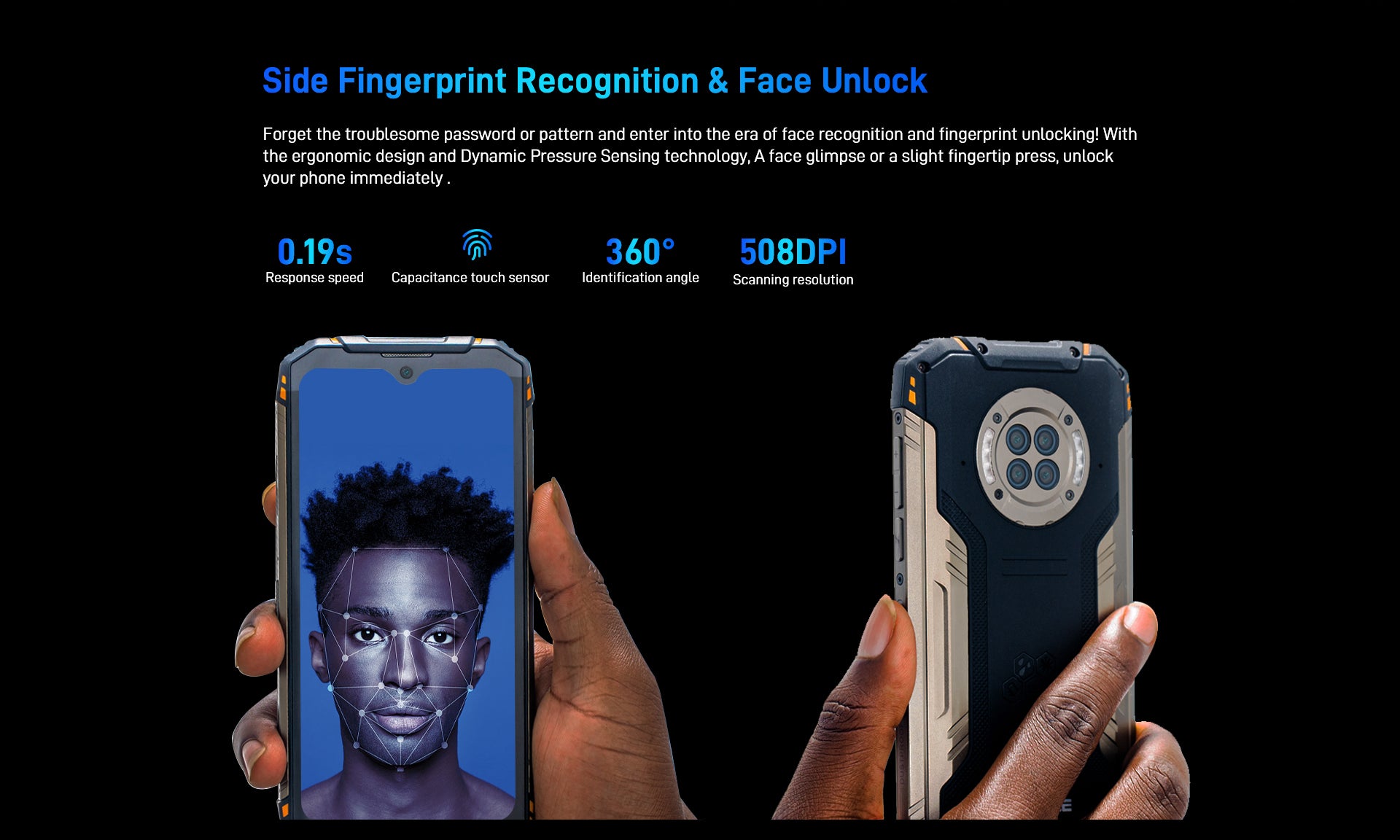 Global Frequency Bands
Your Perfect Global Travel Companion
With global frequency bands supported, the DOOGEE S96 GT becomes a true global phone,
which means you can use global areas over the world.
Supported network bands
FDD: 1/2/3/4/5/7/8/12/17/18/19/20/25/26/28AB/66
TDD: B38/40/41
WCDMA: B1/2/4/5/6/8/19
CDMA: BC0/BC1/BC10
GSM: B2/3/5/8
Support EDGE/GPRS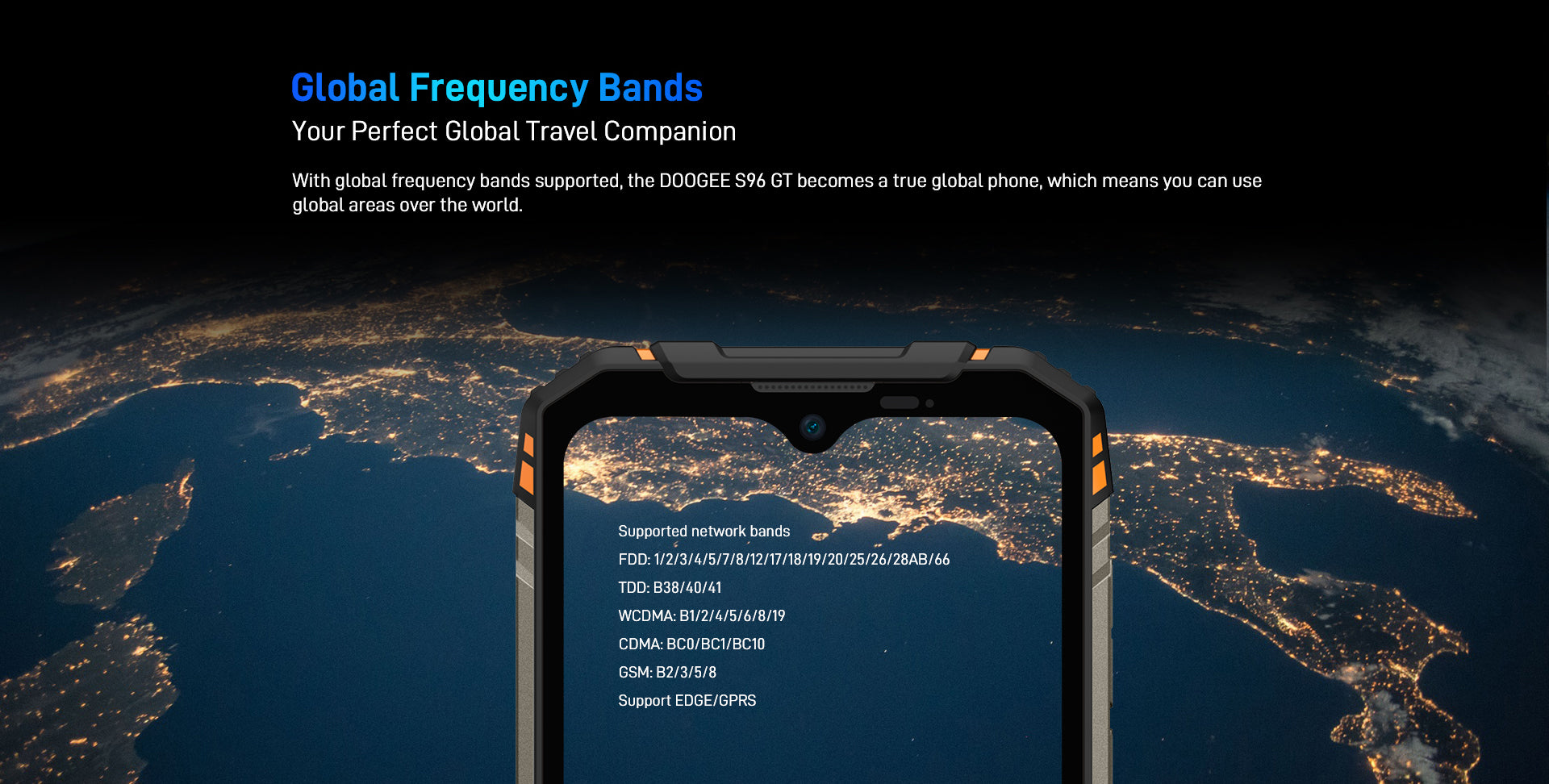 Facilitate Your Life
NFC+Google Pay
With NFC, all you need is just taking one phone, shopping, accessing, paying and the NFC.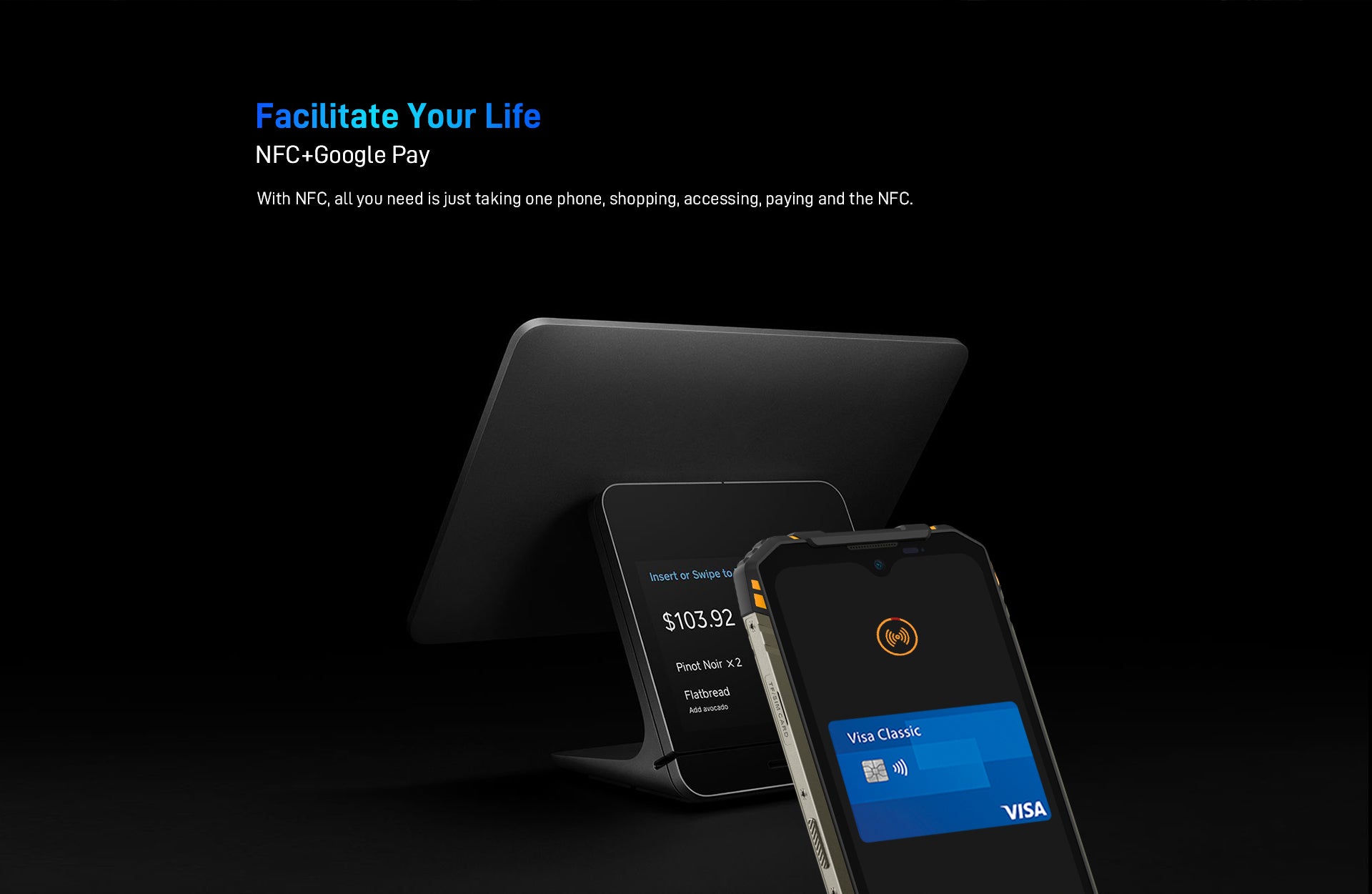 Android 12.0
More Personal, Safe, & Effortless
DOOGEE S96 GT runs Android 12.0 out of the box. Android 12 comes
with the most up-to-date security patches and protects your data from prying eyes.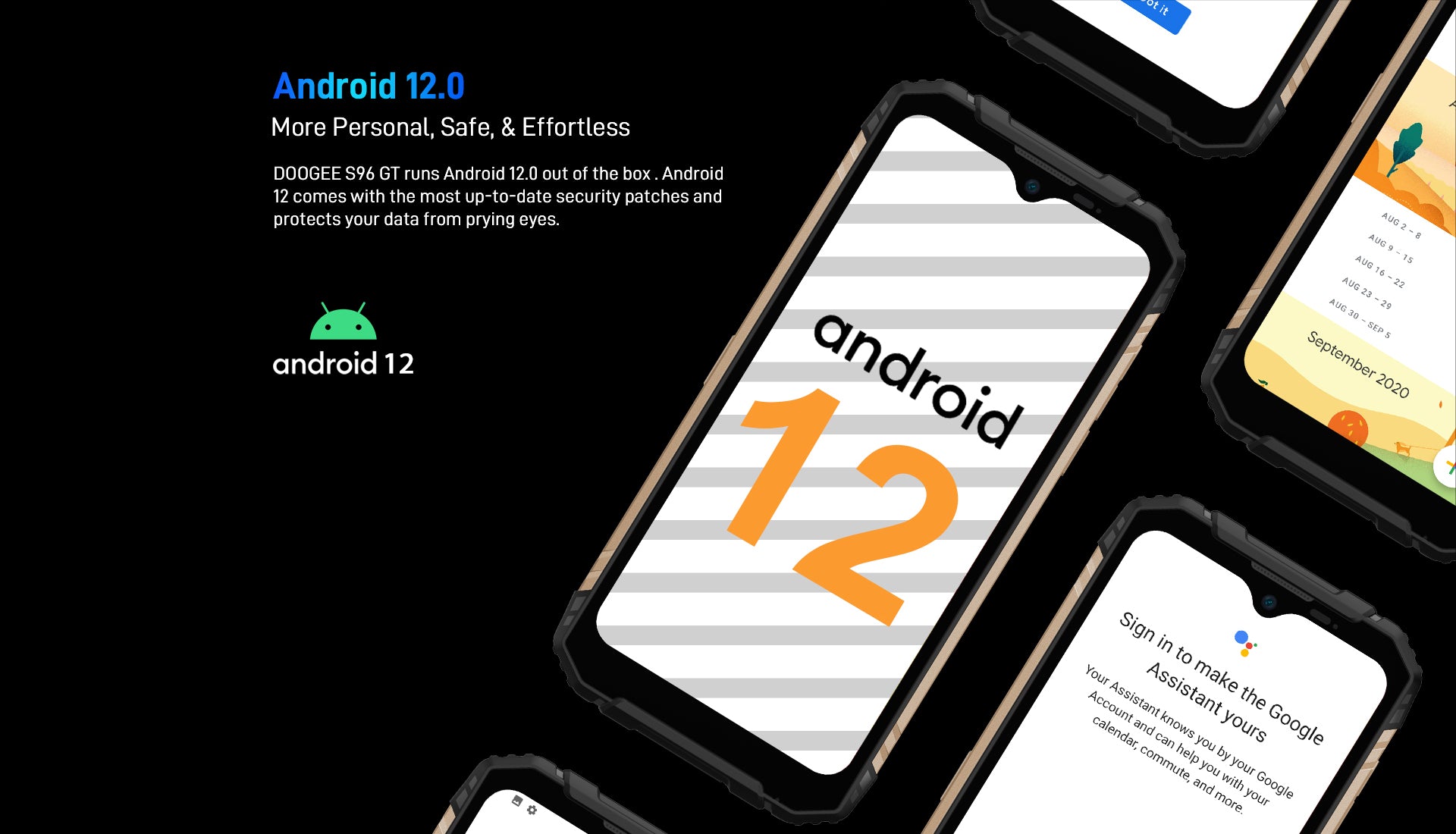 Rugged Design
Sunshine Gold
Volcano Orange
Classic Black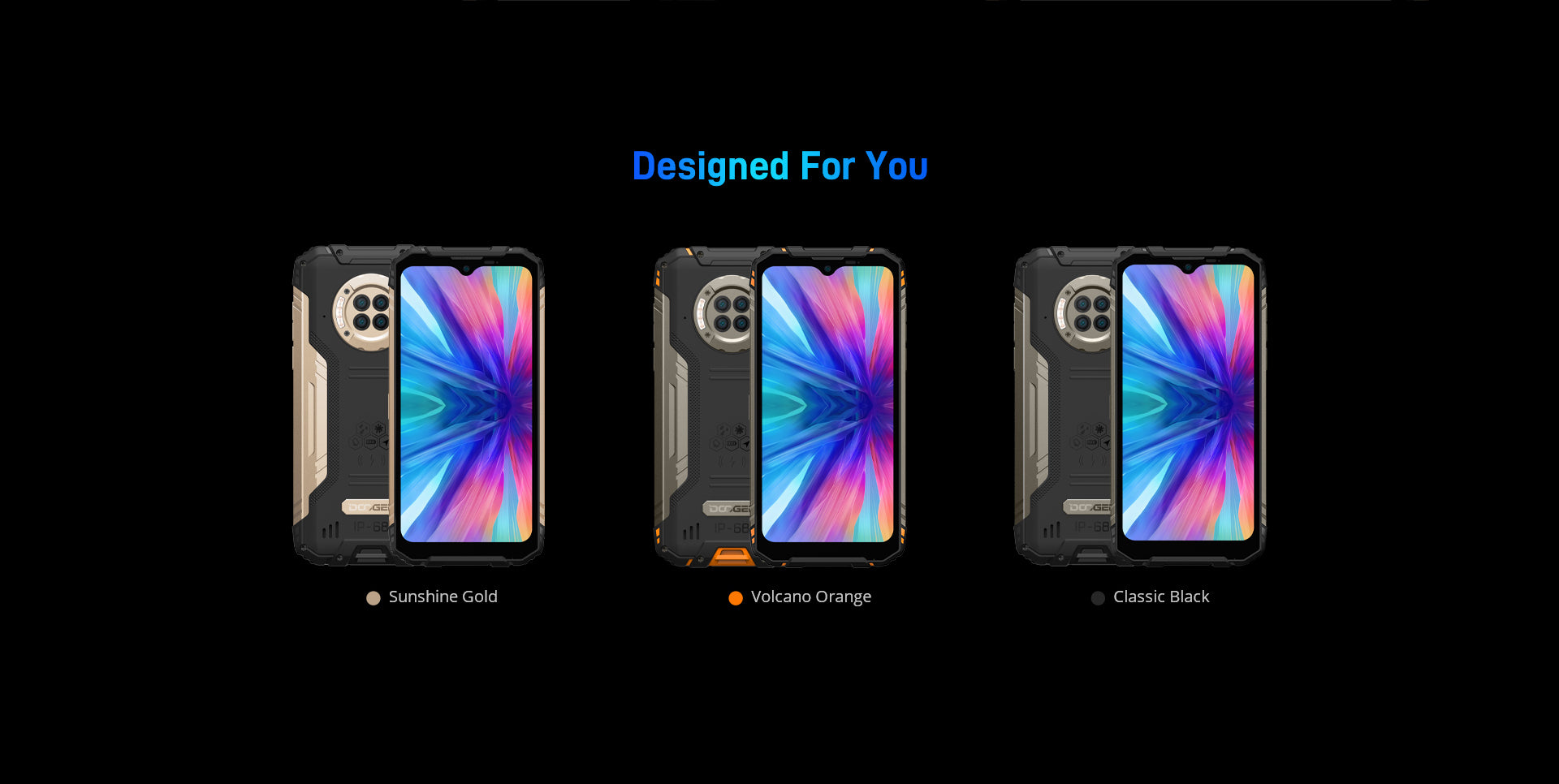 DOOGEE® S96 GT 8GB+256GB AI Quad Camera & 20MP Night Vision Powerful 4K UHD Rugged Phone
Long wait and at last I received my phone.
Thank you DOOGEE for the awesome phone. Only used it for 3days now but I love it. Amazing stuff!!!
Minor issues
It seems like the phone that I received has a problem with the microphone if I'm on a call the person on the other side can't hear me that well, and with the speaker on HD and high volume it sounds like it's blown out. The rest of the futures are great
Excelente producto
Ampliamente recomendado. Solo como observación, podrían vender individualmente las micas portectoras para no batallar en buscar con proveedores externos
So far so good
Solid, easy to use, nice pictures. Happy overall.
Downside. Battery does not last as long as I hoped, still have to charge every night. I think it's because of android auto. Color is odd, like there's a blue light filter you can't turn off. Speaker phone not as loud as I would like.
Otherwise happy