DOOGEE S98 8GB+256GB 20MP Night Vision Camera 4G Rugged Smart Phone
EU countries ship from European warehouses.
EU/US delivery time 2-7
Shipping From:
US Warehouse
In stock
🚀 First Dual Screen Rugged Phone
🚀 MTK Helio G96 Chipset, 8 GB + 256 GB, Android 12
📷 20MP Night Vision Camera+ 64MP Main Camera +16MP Front Camera
❄️IP68/IP69K Waterproof Phone
❄️ Underwater Mode + Custom Button
🔋 6000mAh Big Battery, 33W Fast Charging
🔋 15W Wireless Charging, OTG Support
📶 Dual SIM 4G US Network & One-Year Warranty
DOOGEE S98

OS:Android 12

CPU: Helio G96 / Octa Core / 2.1GHz / 12nm

SIM Card:

nano SIM+nano SIM+TF card

Display:6.3" LCD FHD+ Waterdrop Screen

RAM:8GB/UFS 2.2

Front camera:16.0MP

ROM:256GB

Rear camera:64.0MP+8.0MP+20MP

Battery:6000mAh

Feature:OTG, FM, NFC,Google play
Accessroies:
1 x Cellphone 1 x Type-C to Type-C Cable
1 x Charger (11V/3A) 1 x Anti-explosion film(pre-applied)
1 x Anti-explosion film 1 x Card Slot Opener
1 x Packing Box 1 x Manual
1 x Warranty Card
Network:
FDD: B1/2/3/4/5/7/8/12/13/17/18/19/20/25/26/28A/28B/66
TDD: B34/38/39/40/41
WCDMA: B1/2/4/5/6/8/19
CDMA: BC0/BC1/BC10
GSM: B2/3/5/8
Support EDGE/GPRS
Click Here to check whether the phone can be used in your country. https://www.frequencycheck.com
For US region Compatible Carrier:
T-mobile,Sprinting,CTExcel,FreedomPop,Boost Mobile,Verizon Wireless,U.S.Cellular etc.
Not compatible: Verizon,AT&T CRICKET,GCI.

Camera ------AI Triple camera (64MP+20MP+8MP)
Battery ------6000mAh Large battery / Support 33W fast charging
Grade------- IP68 / IP69K / MIL-STD-810G
OS-----------Android 12.0, Support NFC,Multi-Language and Google Play
Other --------Wi-FI, Bluetooth 5.1, GPS, AI Face Unlock
Network---Three-in-two card slot(Support Nano SIM+Nano SIM Or TF card)
Wireless network
WIFI: 2.4G/5G (802.11ac/a/b/g/n)
Bluetooth: BT5.1
Navigation
GPS | Glonass | Galileo | Beidou
Vodafone users and other operators not on the list need to check:
https://www.worldtimezone.com/gsm.
htmlhttps://willmyphonework.net/
Doogee S98 Ruuged phone waterproof phone Specs
Please select the US Warehouse for the United States, Germany Warehouse / EU Warehouse for Europe, and others for other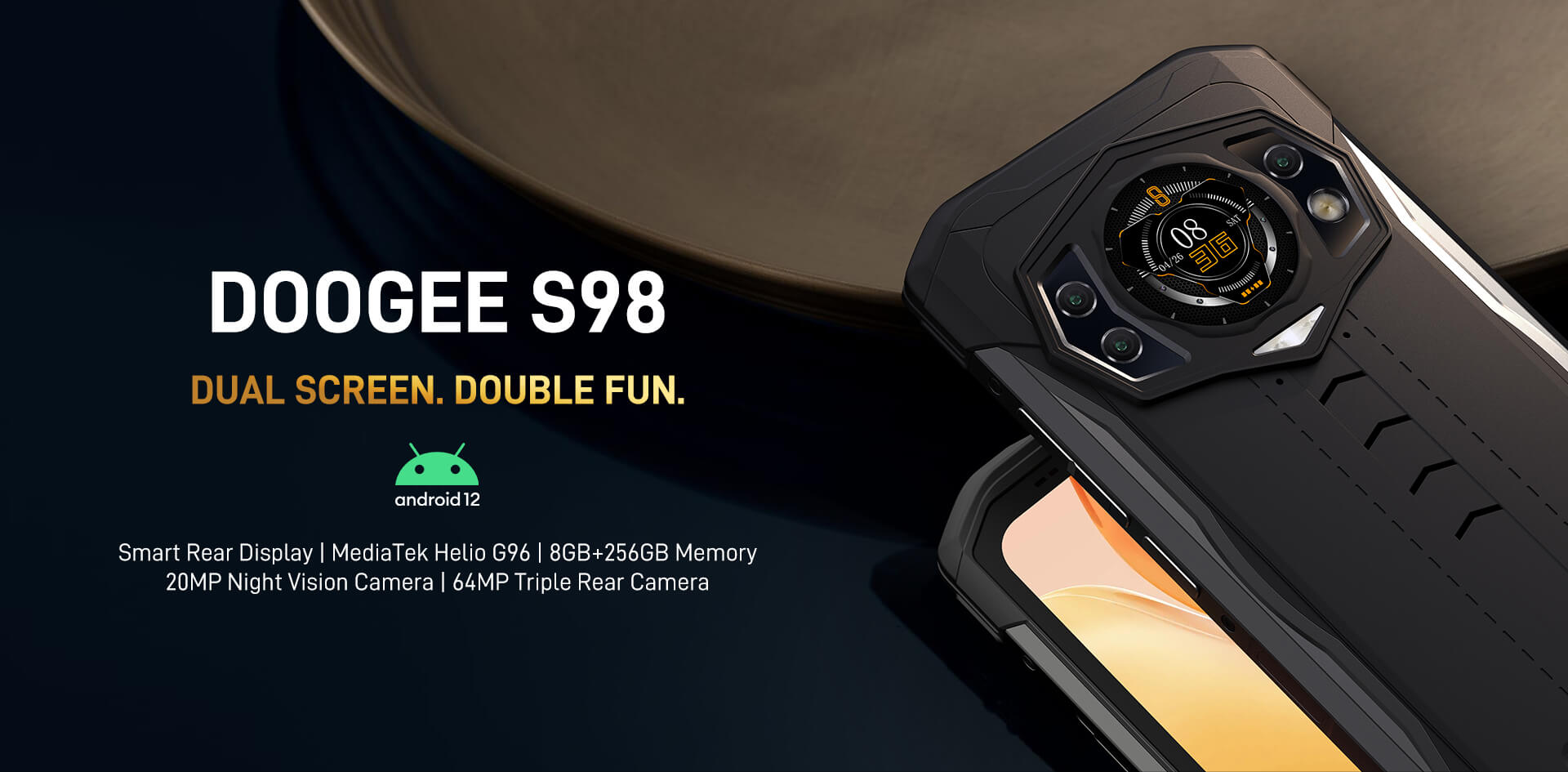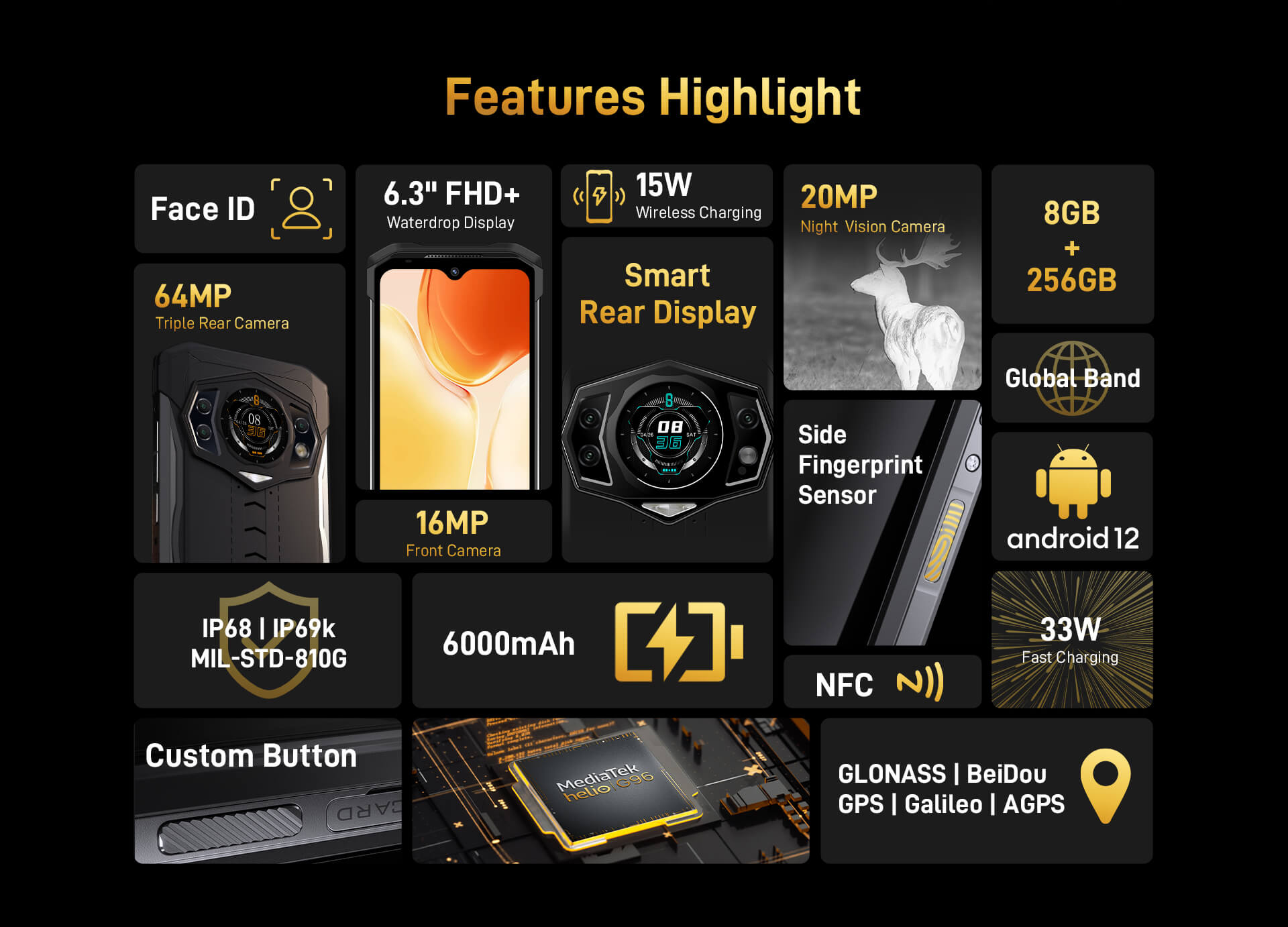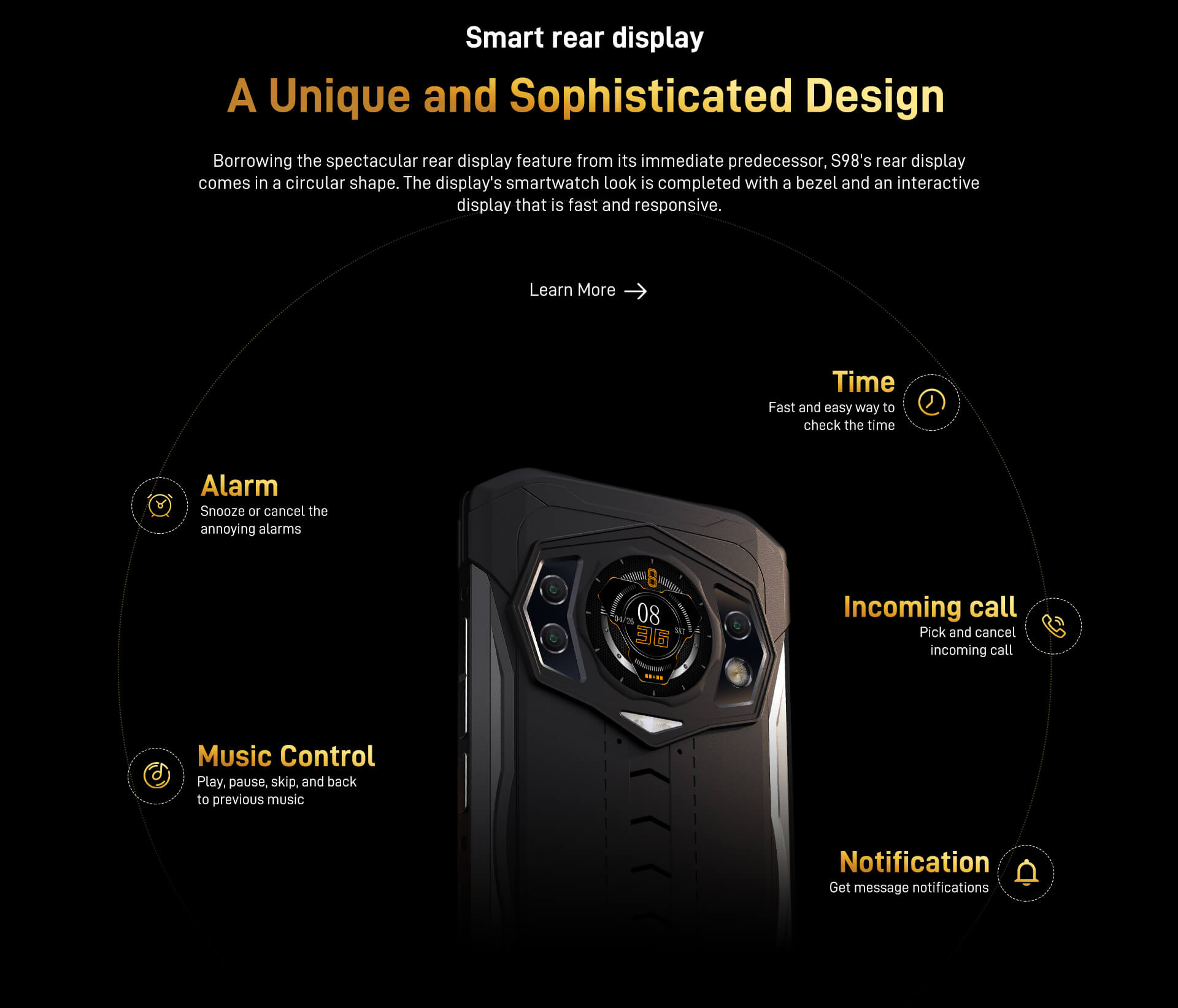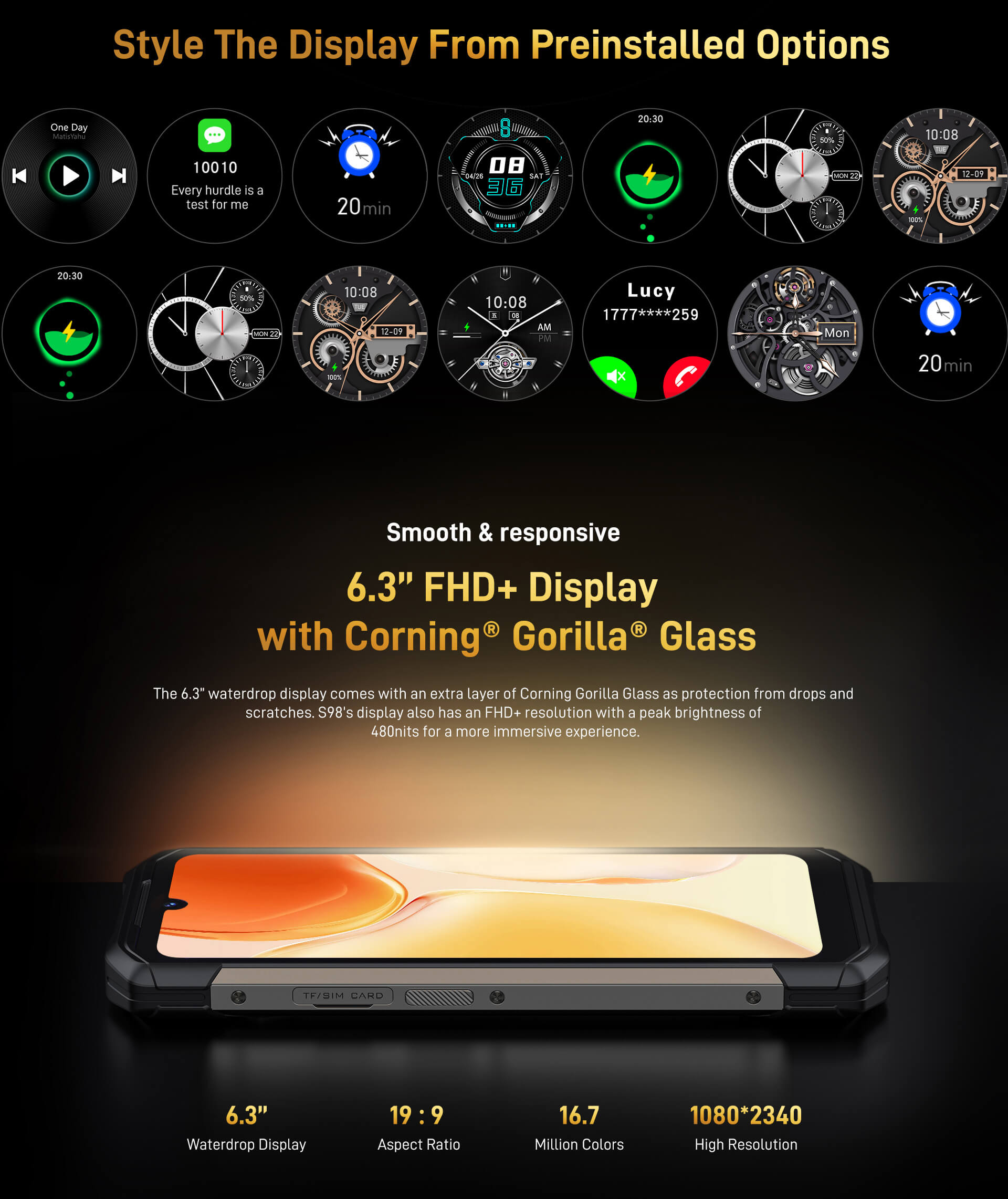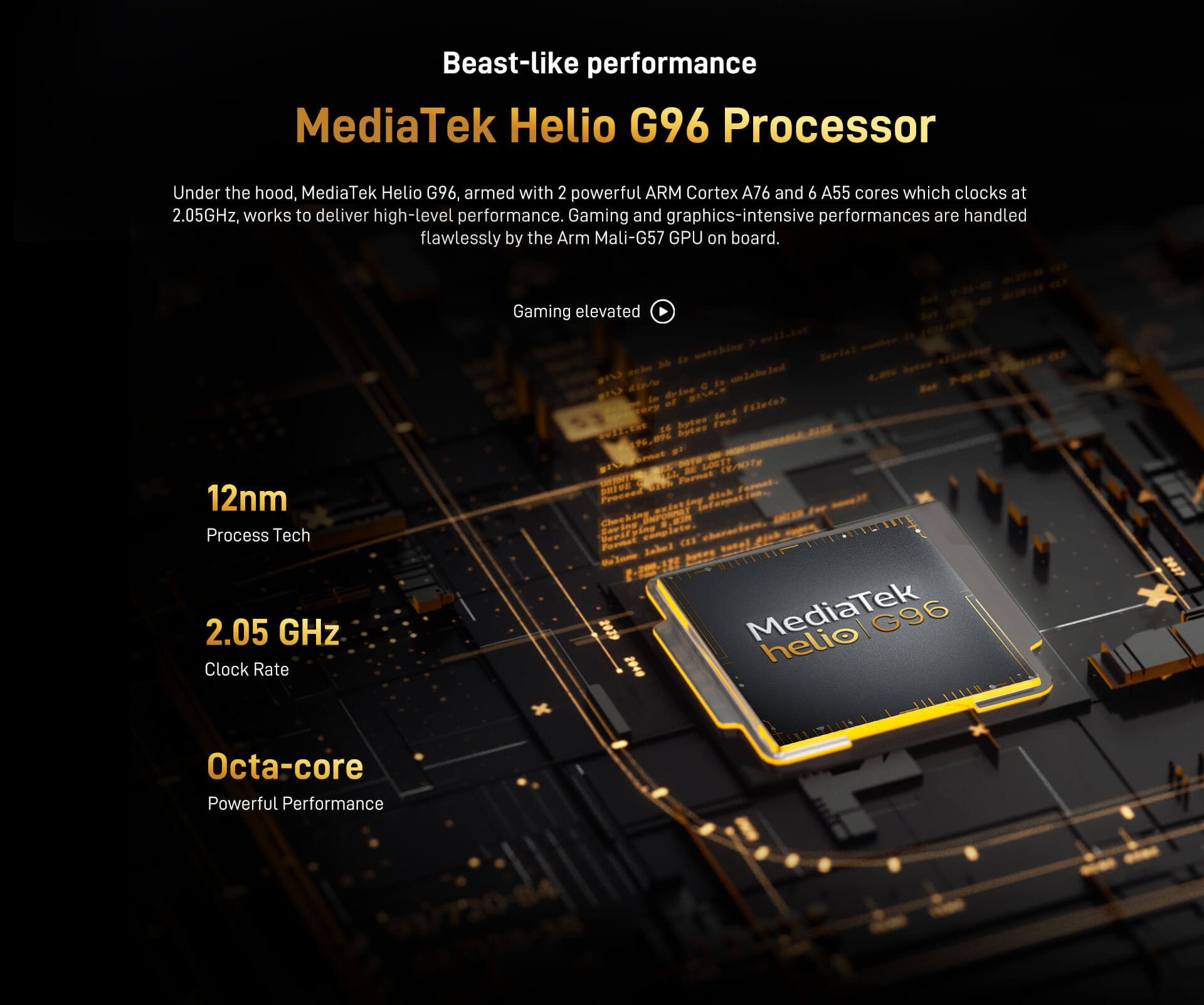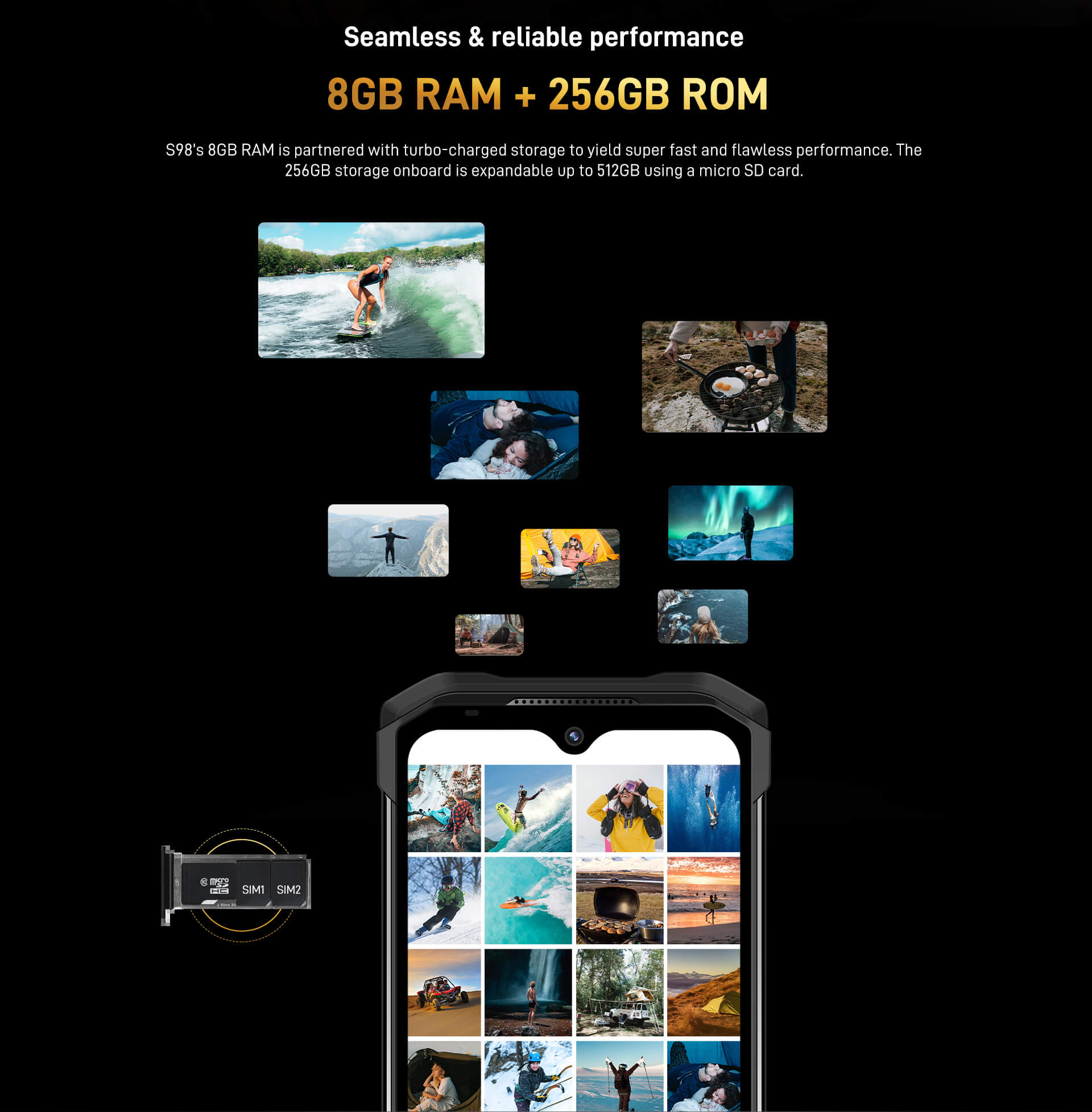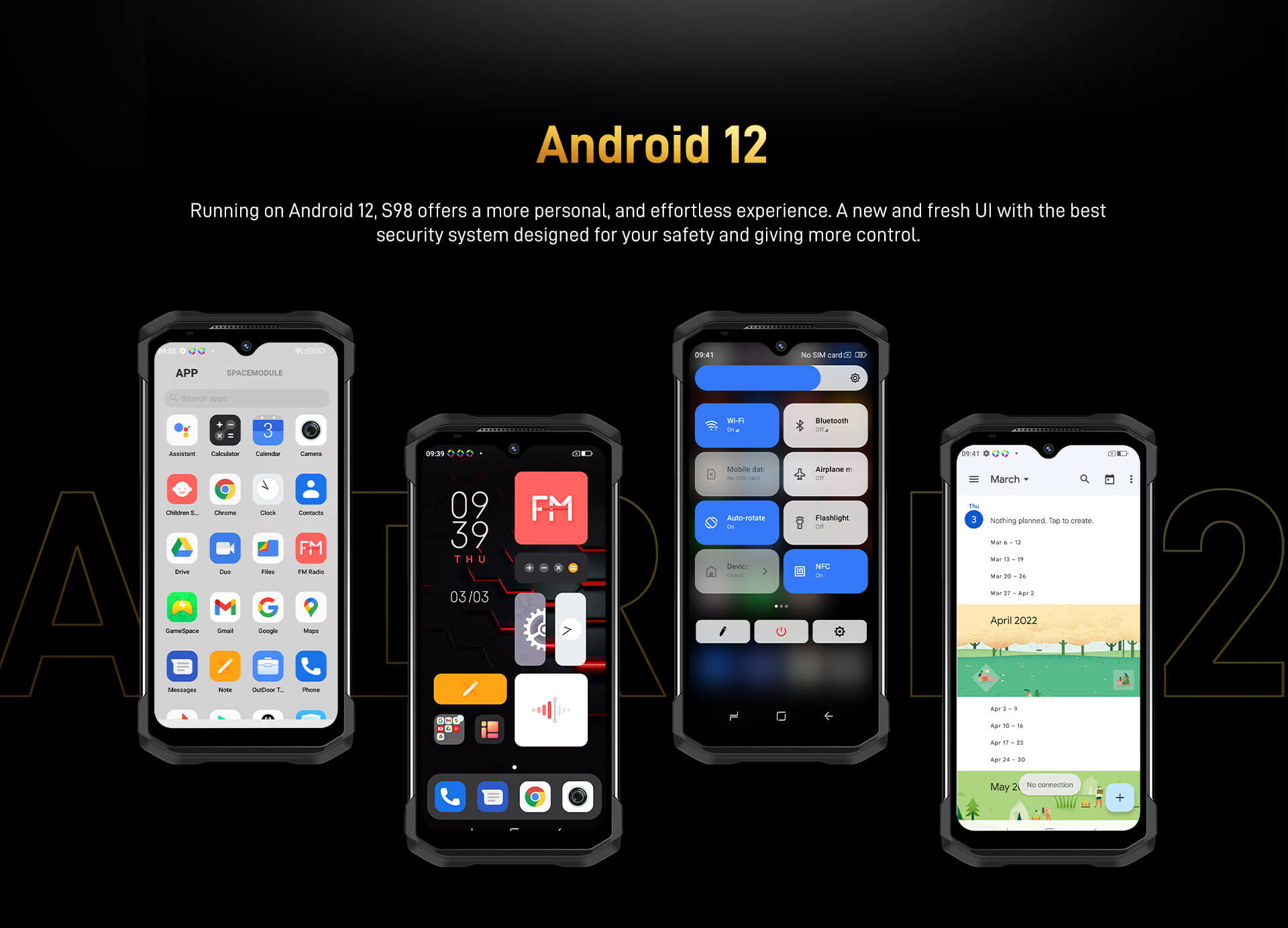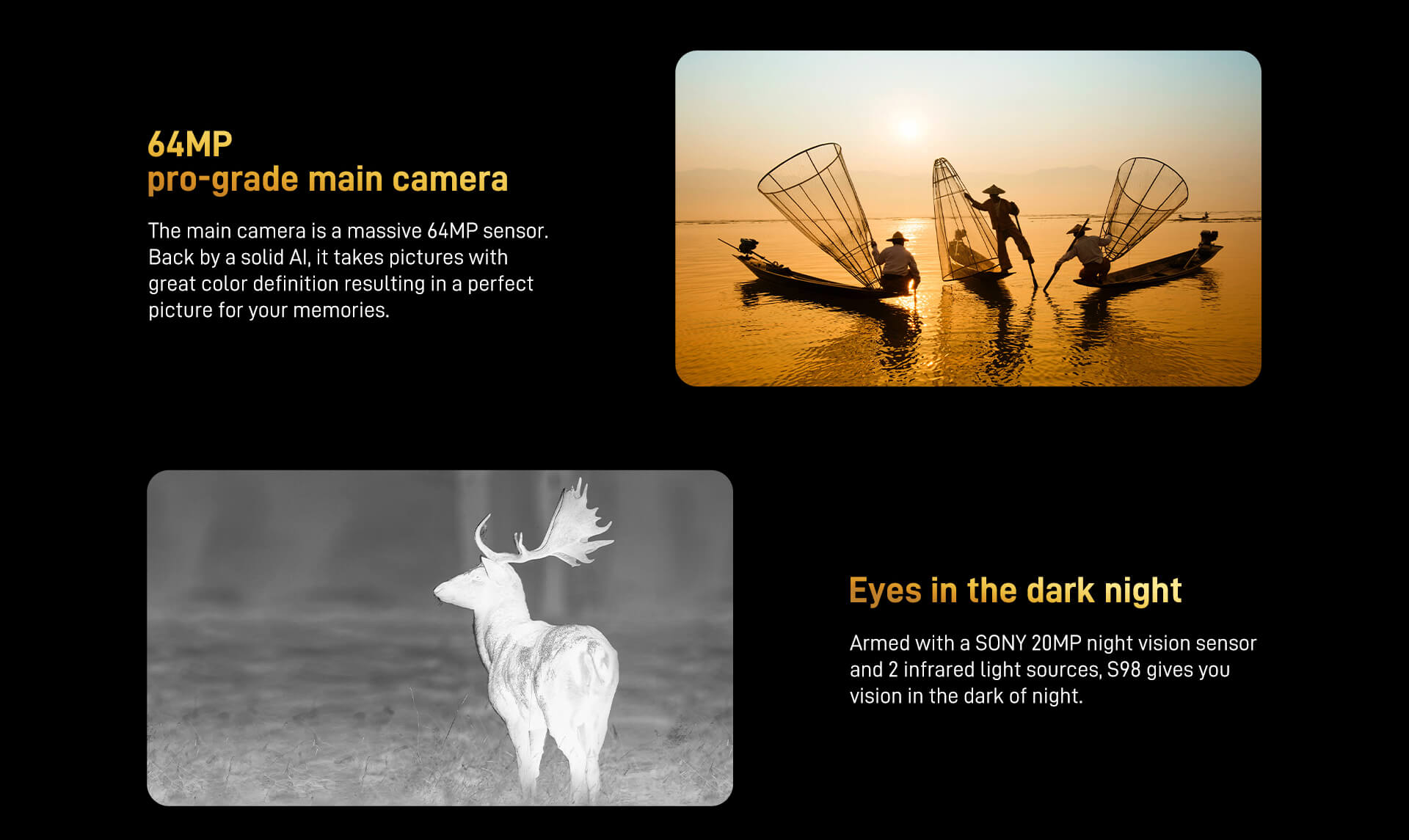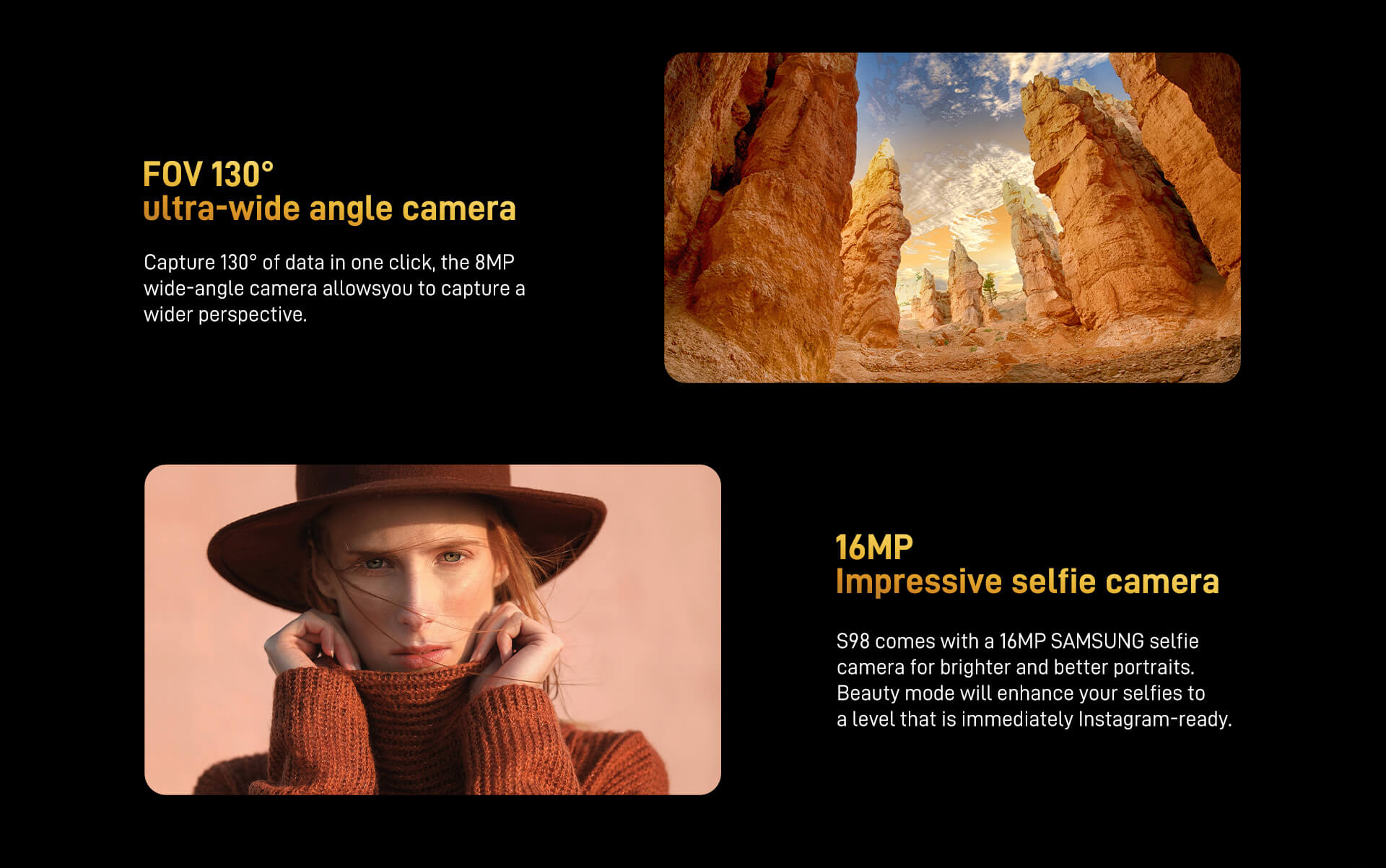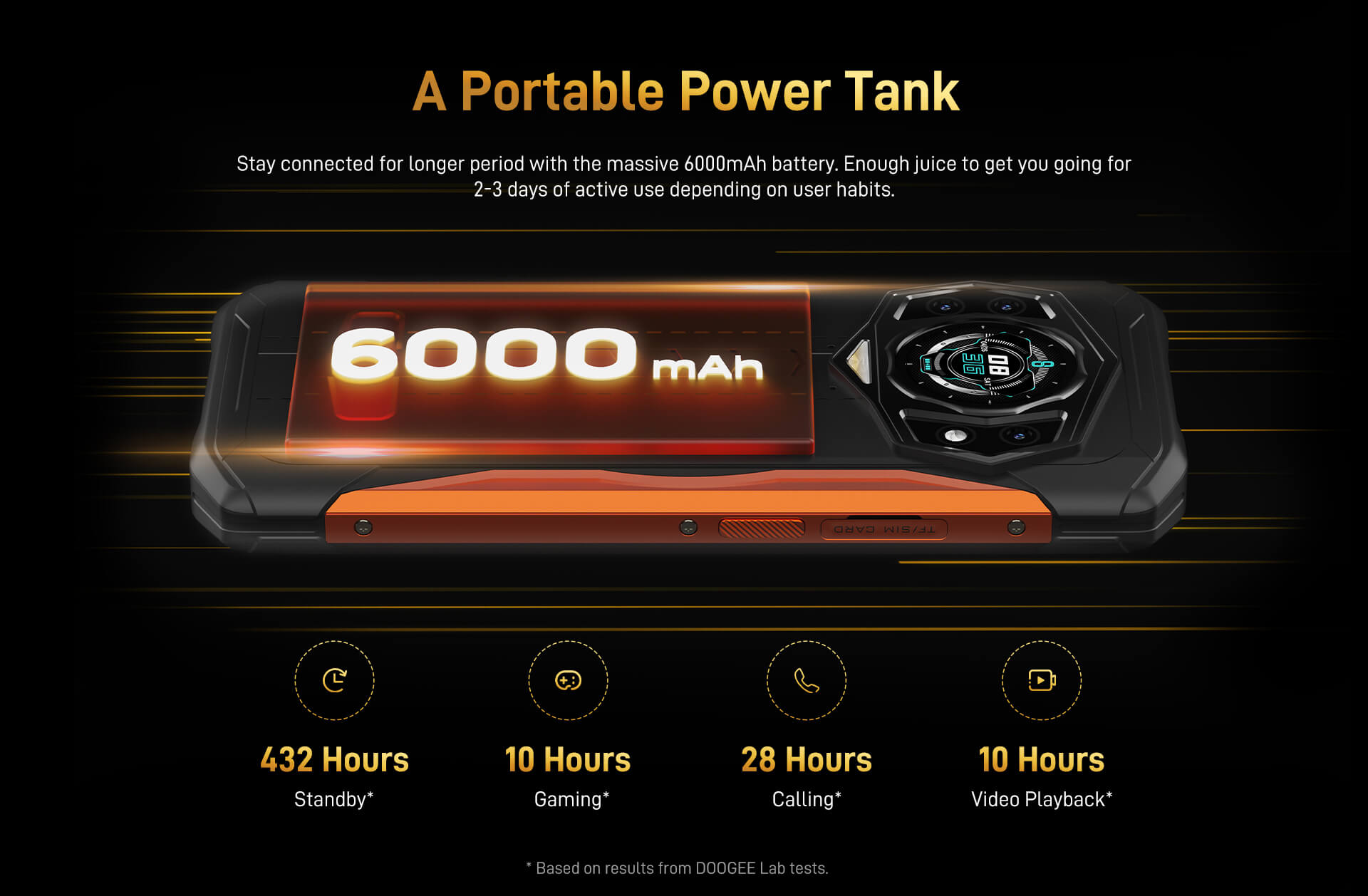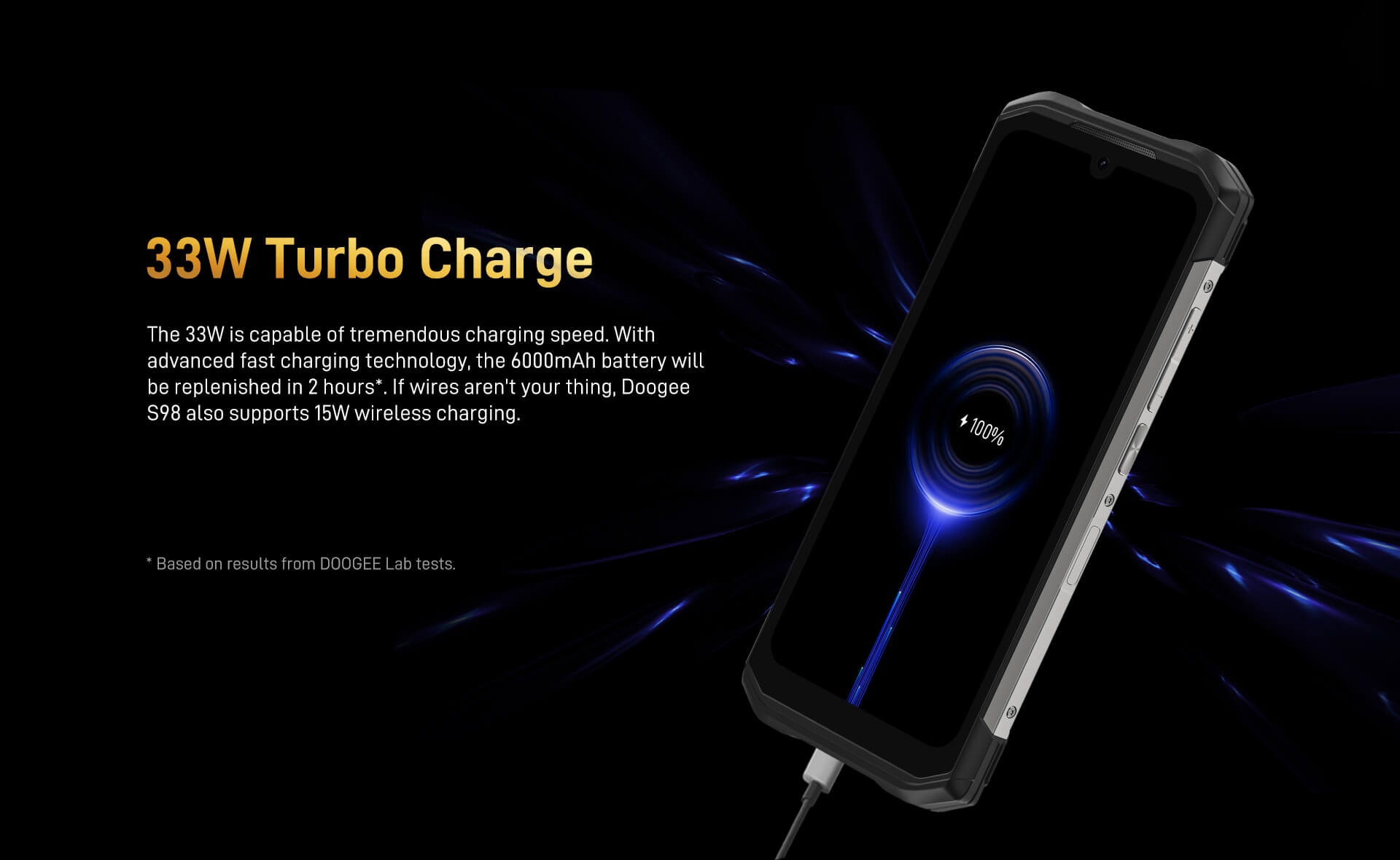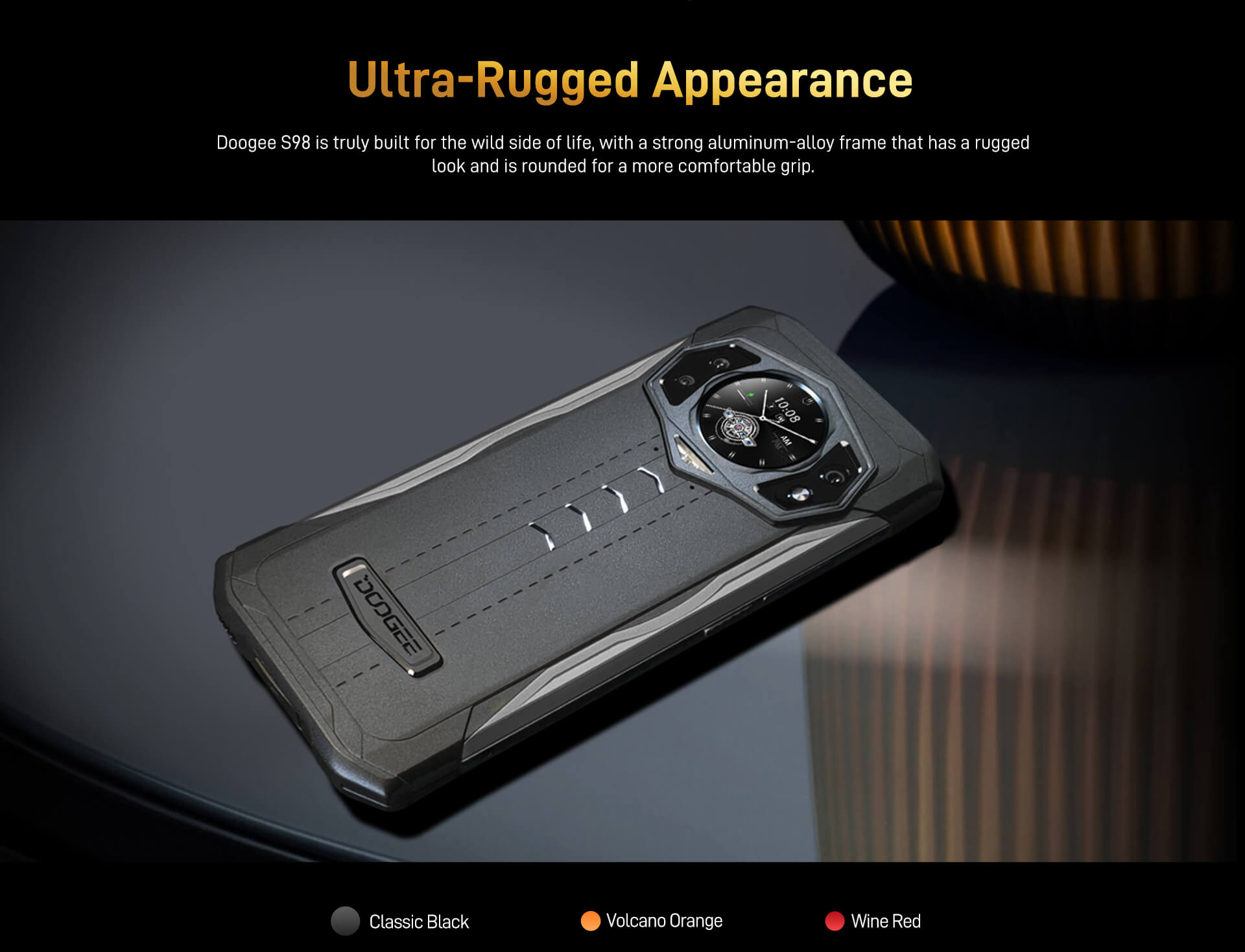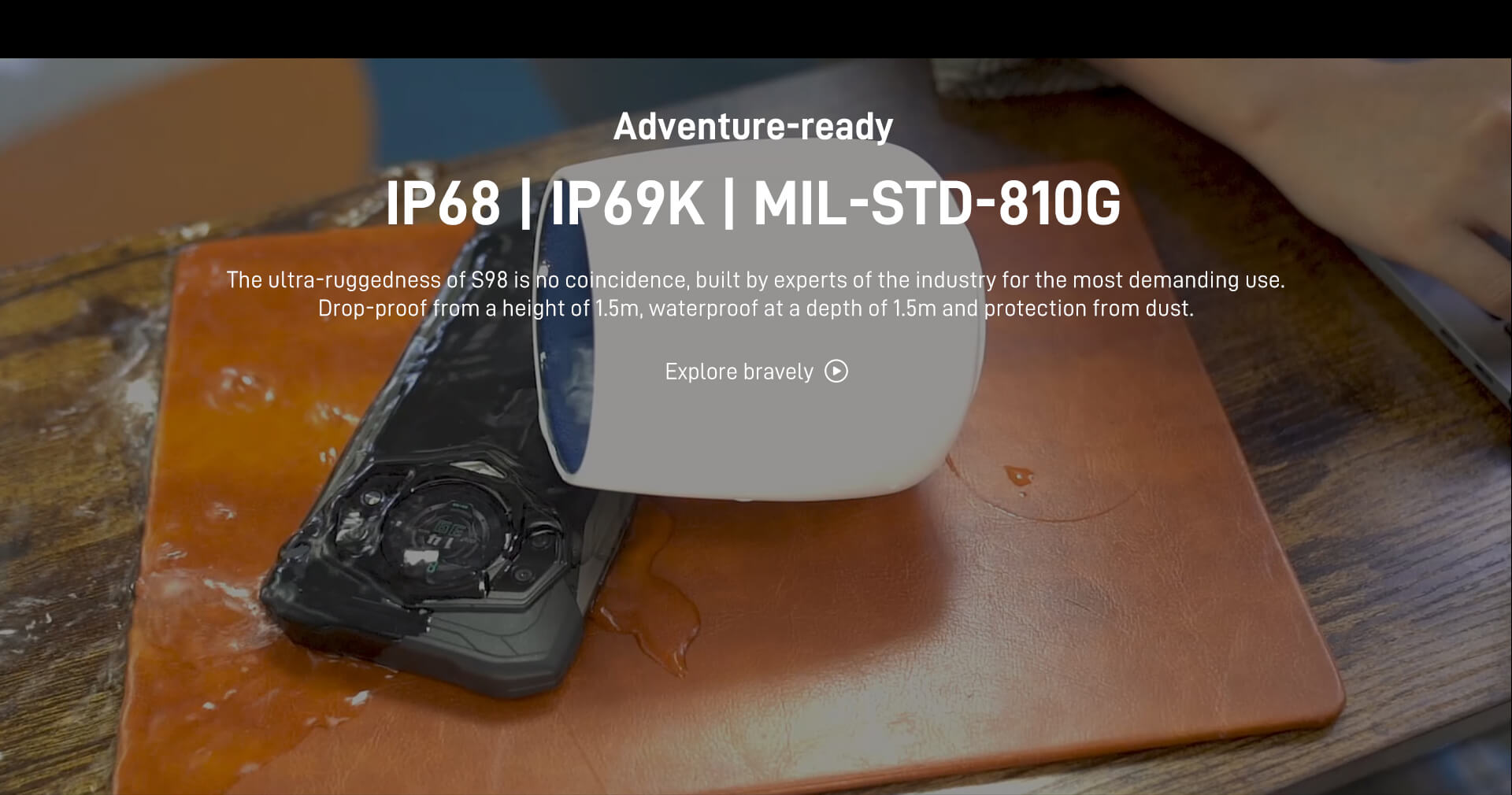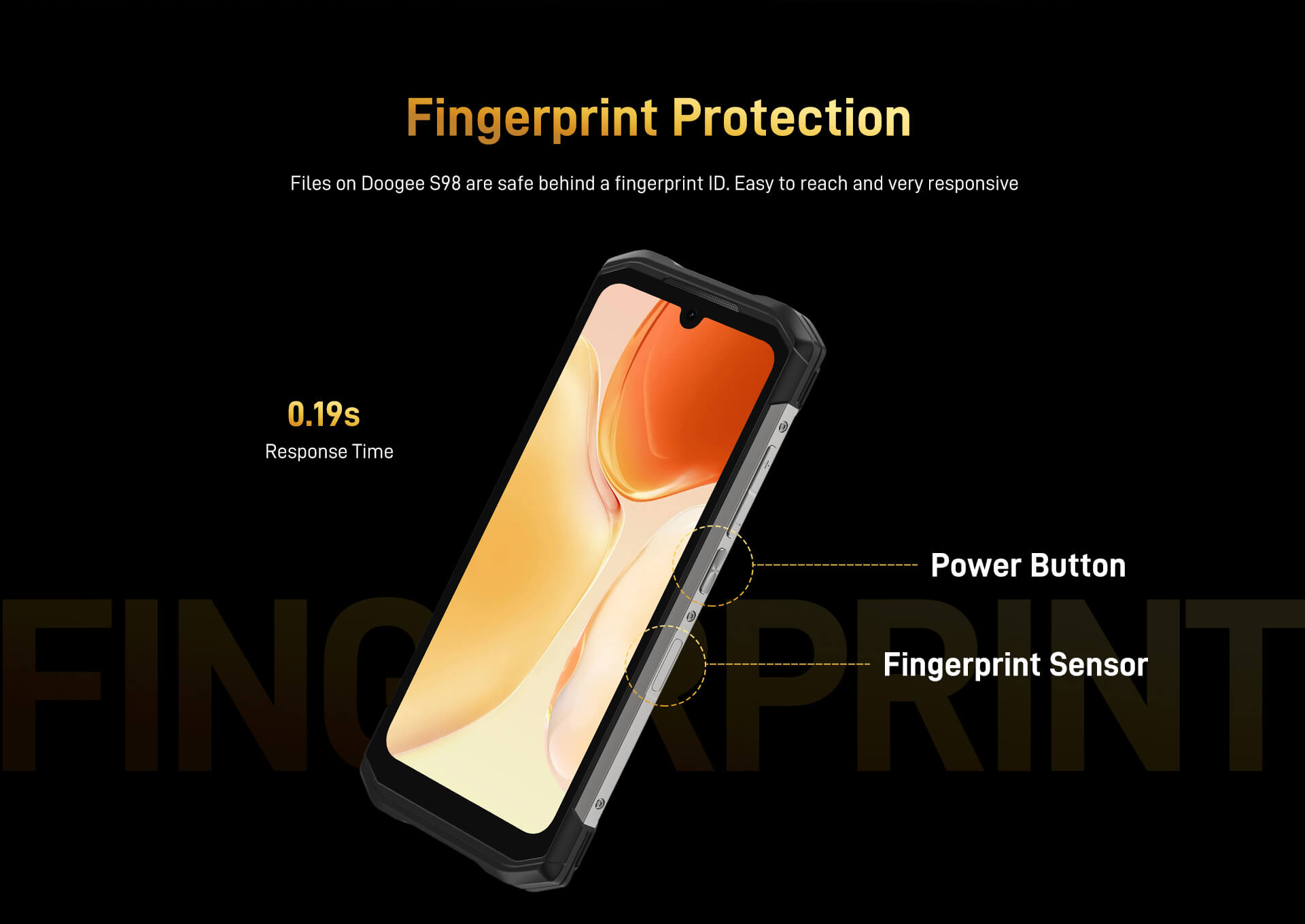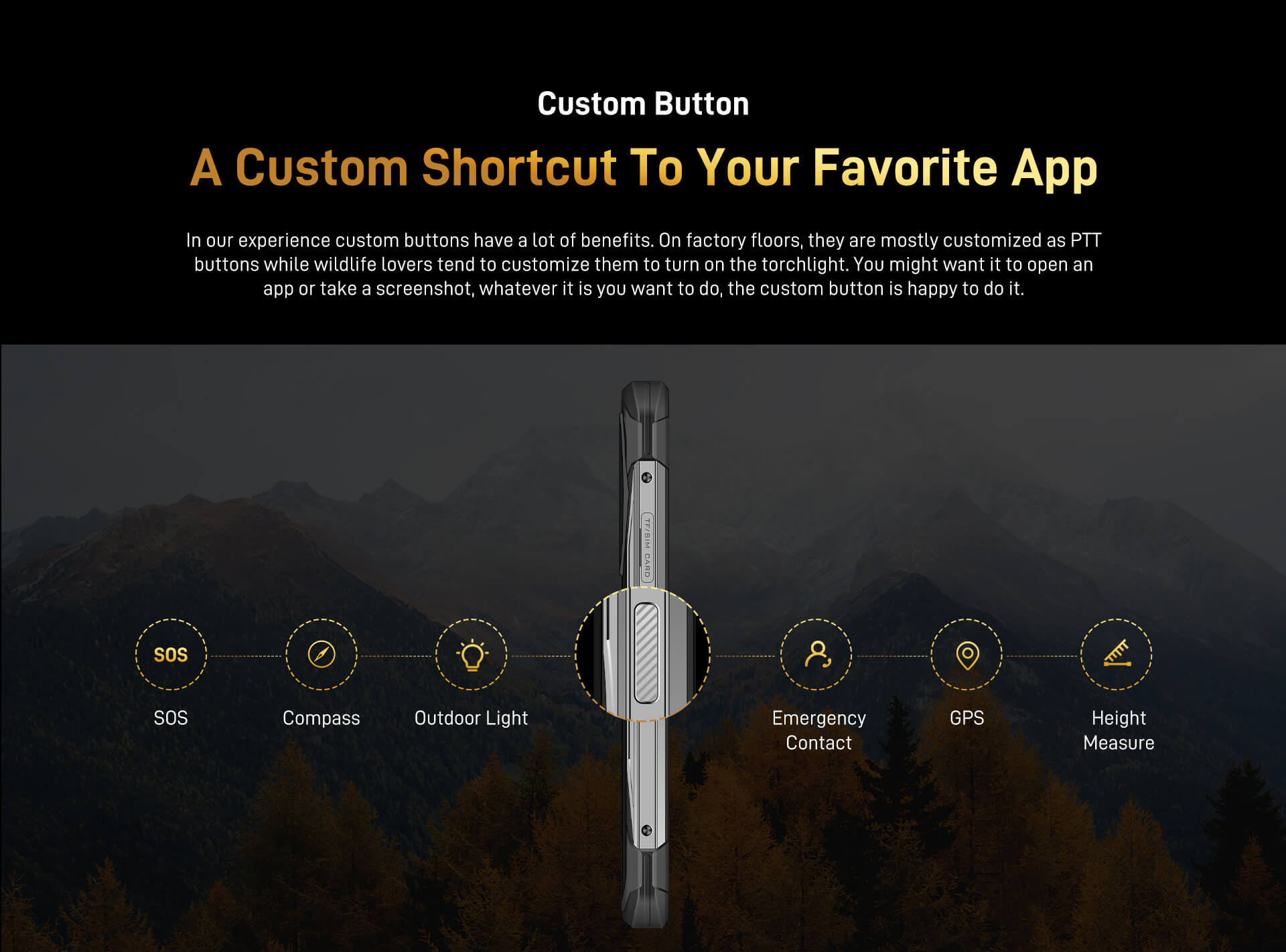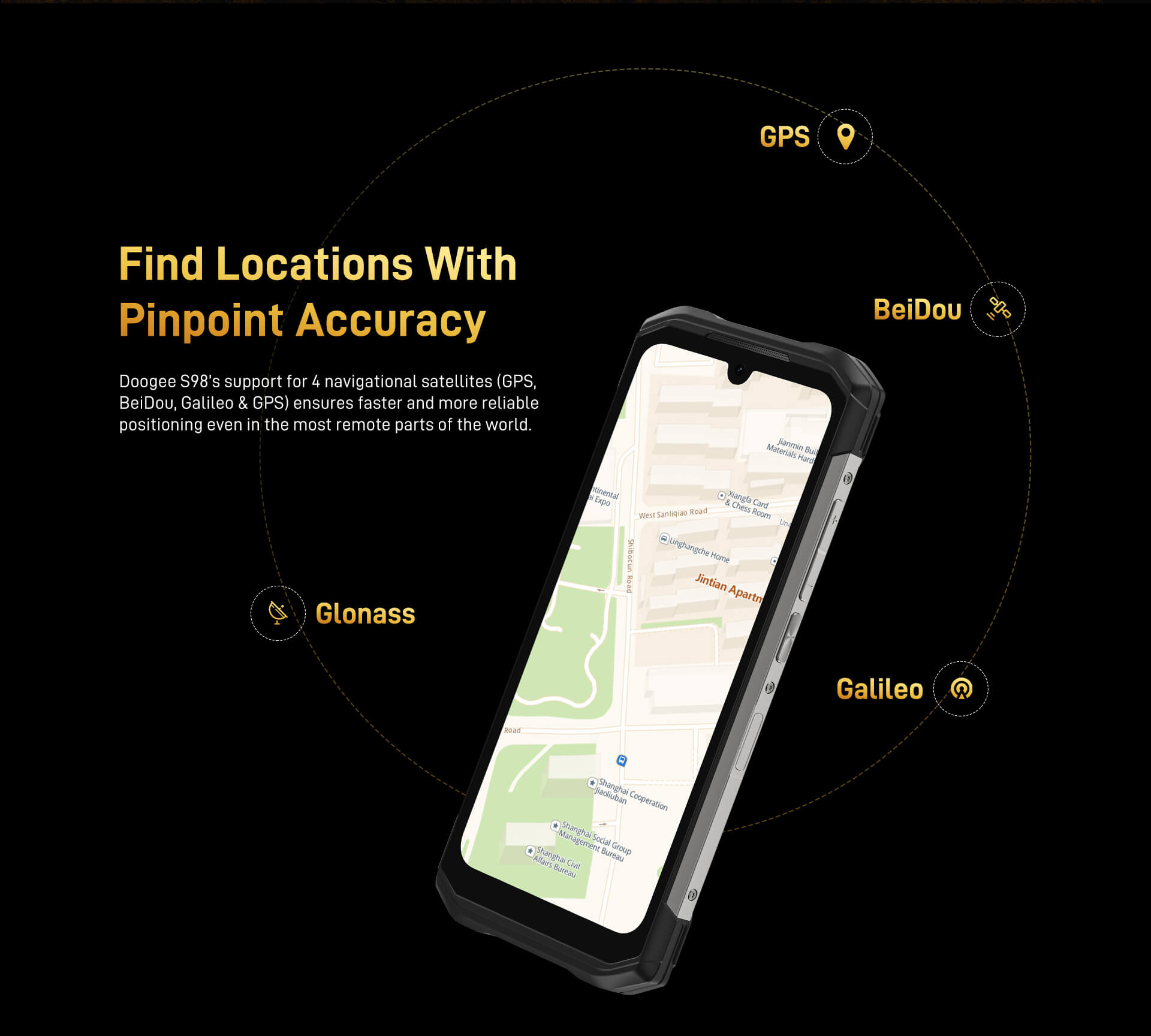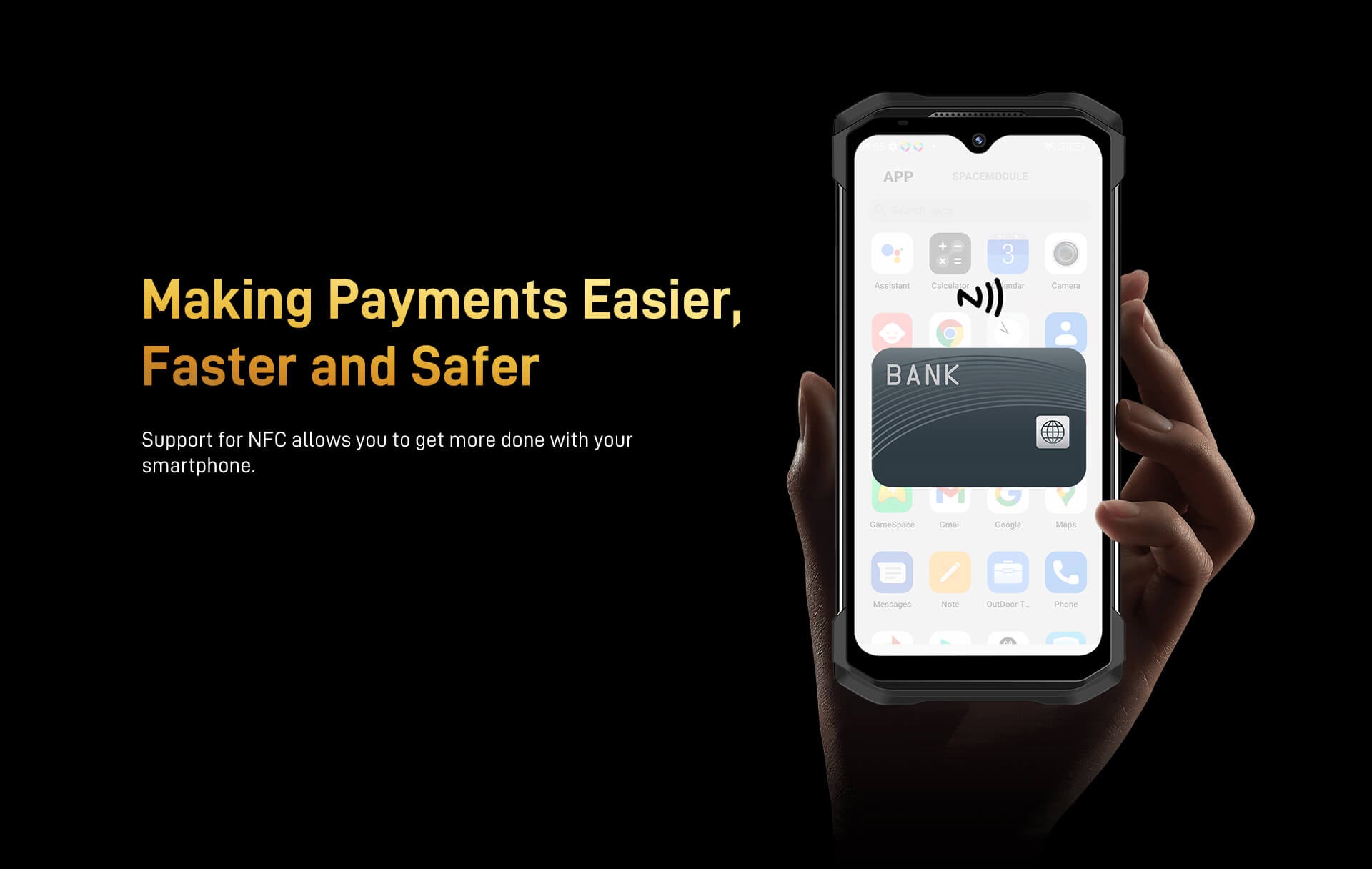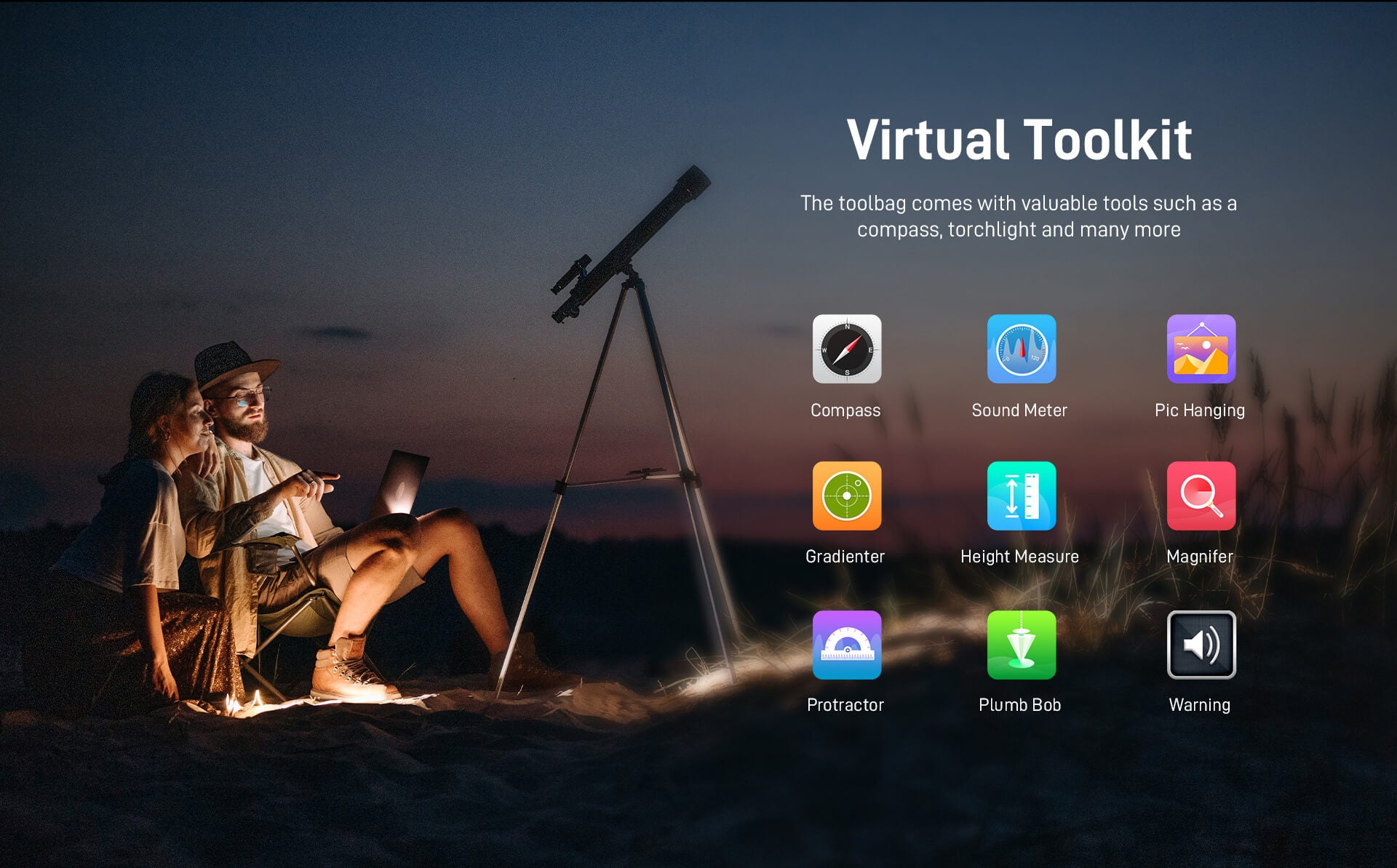 tough shockproof unlocked Rugged smartphone  S98 Frequency:
network
Network
GSM/WCDMA/CDMA/FDD/TDD
Frequency
GSM(B2/3/5/8)
WCDMA(B1/2/4/5/6/8/19)
CDMA:BC0/BC1/BC10
FDD:B1/2/3/4/5/7/8/12/13/17/18/19/20/25/26/28A/28B/66
TDD:B34/38/39/40/41
EDGE/GPRS
SUPPORT
Wireless network
WIFI: 2.4G/5G (802.11ac/a/b/g/n)
Bluetooth: BT5.1
FM: Support
NFC: Support
OTG: Support
Navigation GPS | Glonass | Galileo | Beidou
Dimensions
Height: 172 mm
Width: 82 mm
Thickness: 15.5 mm
Weight (including battery): 320 g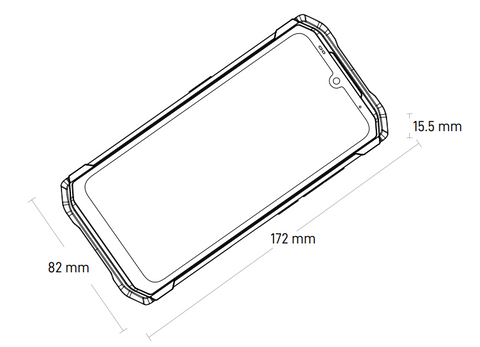 ip68  rugged smartphone Doogee S98 Camera Specs:
64MP AI main camera
· F/1.8 ± 5% Aperture
· 90° FOV · Support PDAF
· Supports 2 Rear Flashes
· Supports 2 Rear Flashes
SONY® 20MP Night vision camera
· SONY® IMX350 Sensor chip
· F/1.8 ± 5% Aperture · 80° FOV
· Supports 2 infrared night vision lights
8MP Wide angle Camera
· Samsung® S5K4H7 Sensor chip
· F/2.2 ± 5% Aperture
· 130° FOV
Samsung ® 16MP Front camera
· Samsung ® S5K3P9SP Sensor chip
· 80° FOV
· F/2.0 ± 5% Aperture
Battery & Charging
6000mAh Large battery
· Support 15W wireless charging
· 33W Type-C fast charge
· Normal use 2-3 days
· Standby 18 days
· Calling 28H
· 4.4V Voltage
Package Contents
1 x Cellphone
1 x Type-C to Type-C Cable
1 x Charger (11V/3A)
1 x Anti-explosion film(pre-applied)
1 x Anti-explosion film
1 x Card Slot Opener
1 x Packing Box
1 x Manual
1 x Warranty Card
Languages
English, Spanish, Portuguese (Brazil), Portuguese (Portugal), Italian,German, French, Russian, Arabic, Malay, Thai, Greek, Ukrainian,Croatian, Czech,Simplified Chinese, Traditional Chinese. (It has up-dated 48 languages)
NOTE
* The outer box of the product is yellow and black, and now it is sent randomly
* There are now 3 versions of the phone
1.EU 27 countries- please select the EU Version
2.Russia -please choose RU Version
3.Other countries-Please select the OTHER Version
*Tax & Import Duties
Orders over 150 euros require the buyer to pay VAT + customs duties at the time of customs clearance.
This price is tax-exclusive
Dear friends, please read me before purchase
Import duties and taxes are the buyer's responsibility, our price does not include any custom taxes. If the parcel get strict inspected by custom. You still need to pay tax to clear custom. We won't bear the customs taxes. The cost of return would be on customer due to reject customs clearance.
* If you have any problem with the product, delivery, service, please feel free to contact with us, we will response in the first time and try our best to help you solve it. Please do not leave negative feedback or open dispute without communication
* Please be sure to open the parcel and check the items before signing for the package, open the parcel in post officer's presence, If the parcel damaged, or empty (stolen), please ask the post office to provide official document, especially the claim request paper. take photos / unpack video and contact us first, we will response in time.
* If you feel satisfied with the product, please kindly give us 5 star feedback, your encouragement is our motivation.
Additionally, you can use this website to learn more about your preferred movie actors. Various types of movies are available on the Fmovies names website, including thrillers, action movies, horror movies, and more. https://fmovies6.com
We got this for my daughter to use overseas.Her current phone will not work on the network there and we need to travel quite a bit in the near future.It arrives in a gift worthy box.It comes with a gorilla glass to protect the screen.It also comes fully charged, ready to install the sim card.It has directions that are clear and easy to understand.It is very well designed.It's waterproof as well as dustproof, shatterproof and drop proof.It does not need for a case because it is encased in an already very rugged casing.The buttons are very responsive.The screen reads easily.The fingerprint reader is also very responsive and easy to use.To test it out we used my husbands android sim chip.It booted up right away.We made a phone call to my cell phone and the sound was great.It was easy to hear and be heard.We tried out the camera to take some pictures.The picture quality was really unexpected.The camera quality is as good as our expensive digital camera.I know it can be used for much more useful things, but this was a fun way to test it out.The night vision is a fun feature that we have played with a lot.We did not get to test out the water camera feature.We would buy this again.
Ero estremamente titubante prima che arrivasse. Quando l'ho visto e preso in mano mi sono dovuto ricredere. Il peso c'ė e si sente abbastanza ma essendo un rugged non si può fare diversamente, almeno per ora.La qualità costruttiva sembra bella alta, da una sensazione di forza, a livello software pare funzionare bene anche li.... Potrebbe sembrare il telefono perfetto se non per il peso.Esteticamente è molto bello....maaaa veniamo ai ma.... Lo schermino posteriore è bello ma totalmente inutile, lo si una qualche minuto giusto per curiosità poi ci si dimentica della sua esistenza se non quando lo si deve appoggiare su una superficie e allora ci accorgiamo che è fastidioso. I rugged si usano per lo più in ambienti sporchi, con polveri e superfici abrasive, a furia di poggiarlo sicuramente si graffierà ed è un peccato, se proprio ce lo volevano mettere avrebbero dovuto incassarlo maggiormente.A livello sw posso dire che manca...e a me manca tanto il doppio tocco per spegnerlo e accenderlo, almeno lo schermo principale, mentre per il secondario vi è la funzione di solo sblocco. Il perché non si capisce. Sarebbe una funzione estremamente comoda.Per il resto tutto ok ma arrivando da xiaomi mi manca la funzione per spegnere lo schermo quando sto ascoltando qualcosa su YouTube. Ci sono escamotage ma xiaomi aveva la funzione apposita.Le foto sono decenti, non ad altissimi livelli ma gradevoli.Diciamo che è promosso ma non a pieni voti, con piccole accortezze avrebbero potuto realizzare qualcosa di maggiormente pratico per chi, come me ha sempre le mani "in pasta".
Il prodotto è buono, performante e resistente. Non proprio leggerissimo ma essendo un rugged è più che normale.Per quanto riguarda il software... è abbastanza spartano e "crudo".Peccato che dopo aver fatto alcuni filmati sott'àcqua in piscina il microfono del telefono è diventato sordo.Se non gli urlo dentro dall'altro capo non mi sentono.Forse è possibile sistemare le cose regolando i filtri antirumore, ma non vi è alcun supporto ufficiale a riguardo.Per cui ho chiesto il rimborso visto che non è stato possibile sostituirlo se non acquistandolo di nuovo.Peccato perchè al prezzo a cui lo avevo pagato era ottimo.
Gekauft um ein älteres Outdoor-Handy auf der Baustelle zu ersetzen.Optisch finde ich das Smartphone in orange echt schick. Bislang kann sich auch die Technik und die Benutzung sehen lassen.Vorteile:+ solide verarbeitet+ gut funktionierender Fingerabdrucksensor+ gute Kamera für ein China-Outdoor-Smartphone, die Infrarot-Einstellung ist der Burner, die Weitwinkel-Kamera ist brauchbar aber nicht überragend+ Benachrichtigungs-LED+ aktuelles Android+ gute Empfangsleistung+ gutes GPS+ echte Dualsim-Nutzung (kein Hybrid-Slot)+ lange Akku-Laufzeit+ Schnell-Ladung und kabelloses Laden möglich+ flüssige, problemlose BedienungNeutral:o Sound ausreichendNachteile:- fehlender Kopfhöreranschluss (Betrieb über Adapter möglich)- Display etwas zu dunkel (was in meinem Fall auf der Baustelle eher weniger wichtiger ist)Alles in allem ein schickes, gut funktionierendes und robustes Gerät!