DOOGEE® S98 Pro 8+256GB Thermal Imaging Camera Rugged Smartphone
EU countries ship from European warehouses.
EU/US delivery time 2-7
Add to cart to get 20% off automatically.
In stock
Feature Highlights
Next-Gen Thermal Imaging Camera

MediaTek Helio G96

8GB+256GB

6.3" 2340x1080 Display

20MP Night Vision Camera

48MP Main Camera

16MP Selfie Camera

6000mAh Battery

33W Fast Charging / 15W Wireless Charging

Custom Button

Global Band

IP68 | IP69K | MIL-STD-810H

Android 12

Side Fingerprint Sensor

GLONASS | BeiDou | GPS | Galileo
| | |
| --- | --- |
| Brand | DOOGEE |
| Model Name | DOOGEE S98 Pro |
| Wireless Carrier | Everything Everywhere |
| Operating System | Android 12.0 |
| Cellular Technology | 4G |
| Memory Storage Capacity | 256 GB |
| Connectivity Technology | Wi-Fi, USB, NFC, Bluetooth |
| Color | Black |
| Screen Size | 6.3 Inches |
| Wireless network technology | GSM |
DOOGEE First Thermal Imaging Camera Phone -- DOOGEE S98 PRO

The design of the DOOGEE S98 Pro is heavily influenced by the fictitious visitors from outer space.The camera bump serves as the alien's head, the cameras as the alien's eyes, and the lines on the case round out the alien ensemble. Like aliens, the S98 Pro's thermal imaging feature allows you to see creatures and objects by their heat signatures even in pitch darkness.
DOOGEE S98 Pro Does NOT work with AT&T OR Cricket OR CDMA Carriers such as Verizon, Sprint, Boost Mobile, Straight Talk or U.S.Cellular, Xfinity and TracFone!
It CAN work with GSM Carriers like T-Mobile,Metro PCS, MVNO and Others!
FDD: B1/2/3/4/5/7/8/12/13/17/18/19/20/25/26/28A/28B/66
TDD: B34/38/39/40/41
WCDMA: B1/2/4/5/6/8/19
CDMA: BC0/BC1/BC10
Support EDGE/GPRS
Please Confrim Your SIM Bands Compatibility Before Purchasing!
You can check whether it matches on the website through our parameter frequency band https://www.kimovil.com/en/frequency-checker/SG
The following are our recommended frequency band operators:

America: Suggest T-Mobile
Australia: Optus / Telstra /Virgin Mobile/ Vodafone
Germany: E-Plus/ O2 / T-Mobile/Vodafone
France: Bouygues Télécom/ Free /Orange /SFR
Spain: Movistar/Orange/Vodafone / Yoigo
Italy: 3 (Tre) /Telecom Italia Mobile (TIM) /Vodafone /Wind
UK: 3 (Three) /EE (Everything Everywhere) /O2 /Virgin Mobile /Vodafone
SG : M1, Singtel ,StarHub ,TPG Mobile (support 3G,4G (5G V10,V20))

You can check whether it matches on the website through our parameter frequency band https://www.kimovil.com/en/frequency-checker/SG
DOOGEE S98 Pro
The Most Powerful Rugged Phone with Thermal Imaging

Advanced Thermal Imaging Than Ever
Alien-Inspired Design
Drawing inspiration from the fictitious visitors to earth, the Doogee S98 back cover pays homage to aliens through the positioning of the cameras and the lines. They represent the eyes and bodies of aliens.
The Best Camera Setup For Outdoor
Thermal Imaging Camera | 20MP Night Vision Camera | 48MP Main Camera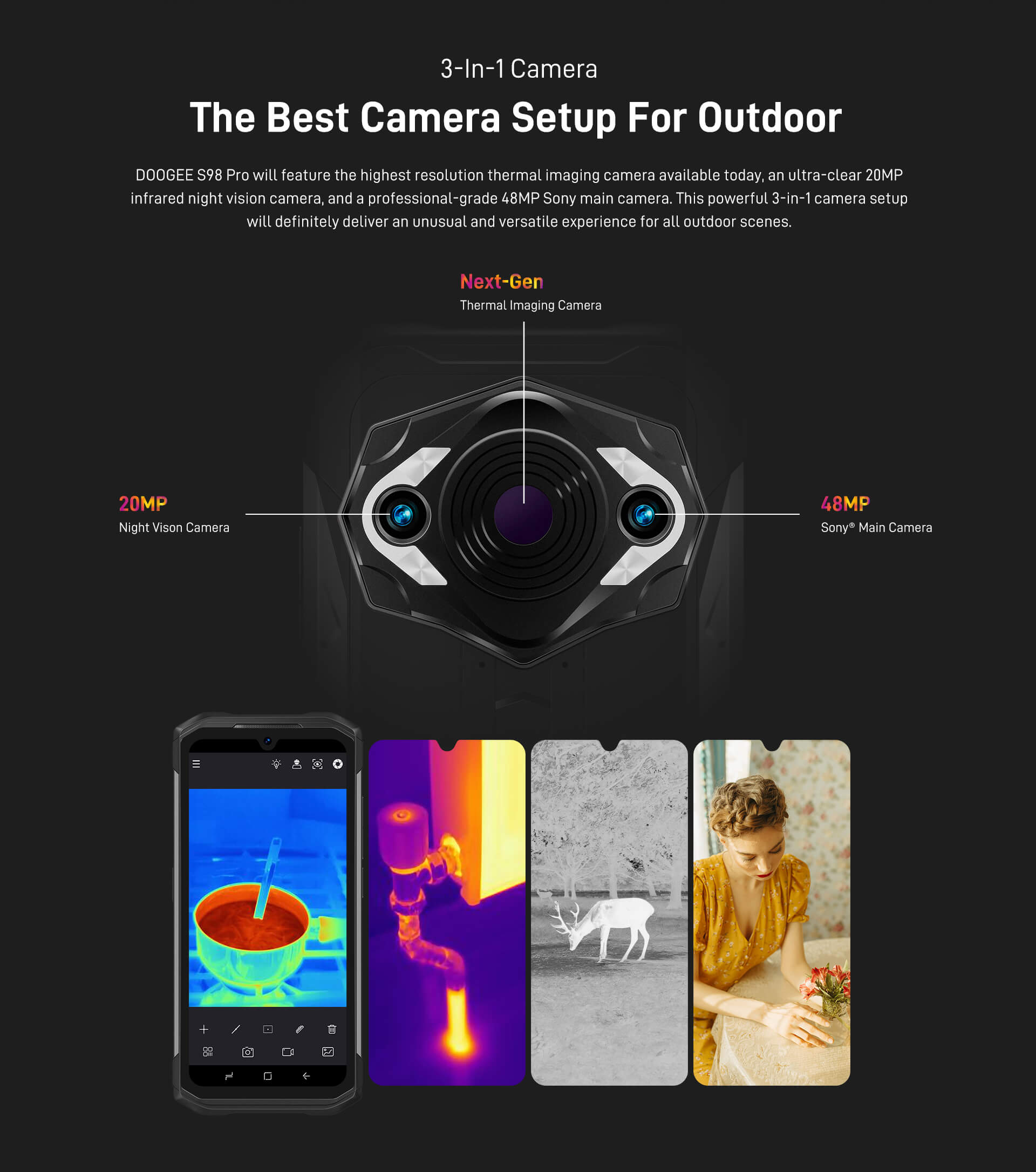 Advanced Thermal Imaging Than Ever
The DOOGEE S98 Pro integrates a professional-grade 
InfiRay® 256x192
 resolution thermal imaging sensor, which brings a huge 
2.5x
 increase in the number of thermal pixels than others.
Combined with a 
25Hz
 higher frame rate, it delivers smoother images to help accurately detect draught, dampness, leaks, electric short, blockages, or elevated temperatures.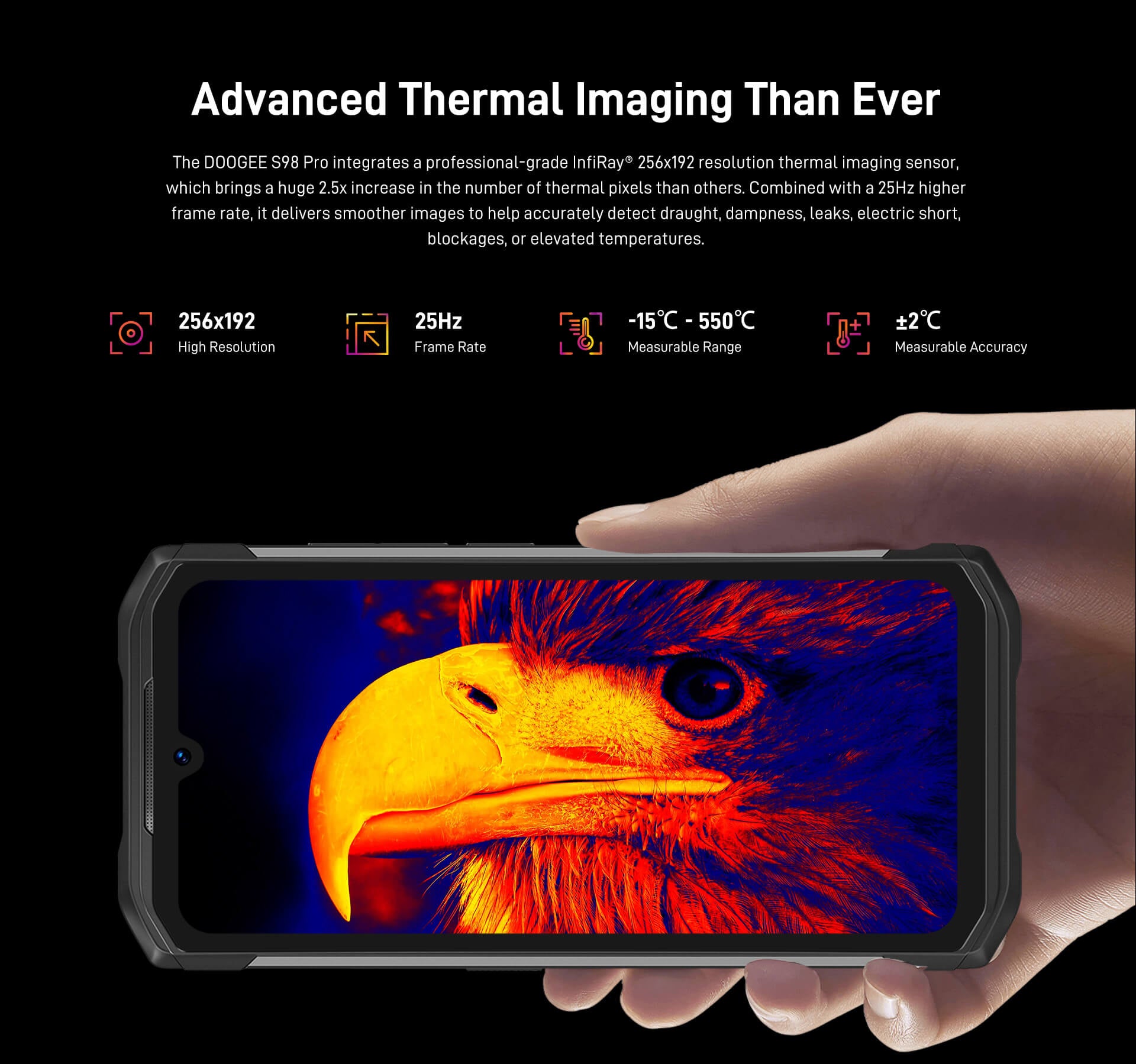 Unlock The Most Powerful Imaging Experience
DOOGEE S98 Pro will feature the highest resolution thermal imaging camera available today, an ultra-clear 20MP infrared night vision camera, and a professional-grade 48MP Sony® main camera.
This powerful 3-in-1 camera setup will definitely deliver an unusual and versatile experience for all outdoor scenes.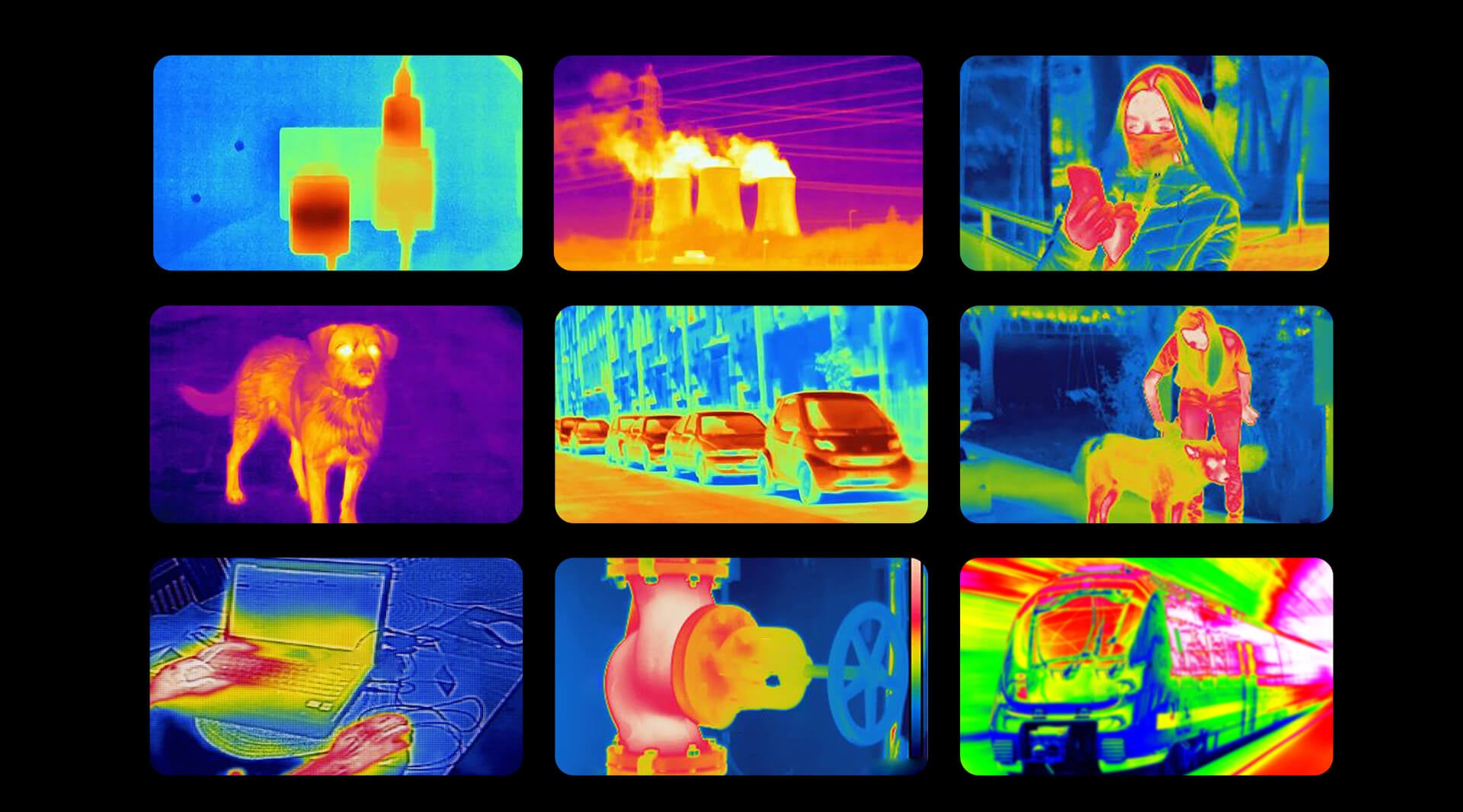 Dual Spectrum Fusion Algorithm
Doogee S98 Pro's dual-spectrum fusion algorithm can incorporate details such as outline
and texture captured by the 48MP visible light camera into the thermal image,
greatly improving its resolution to the actual scene and target while completely preserving the original infrared image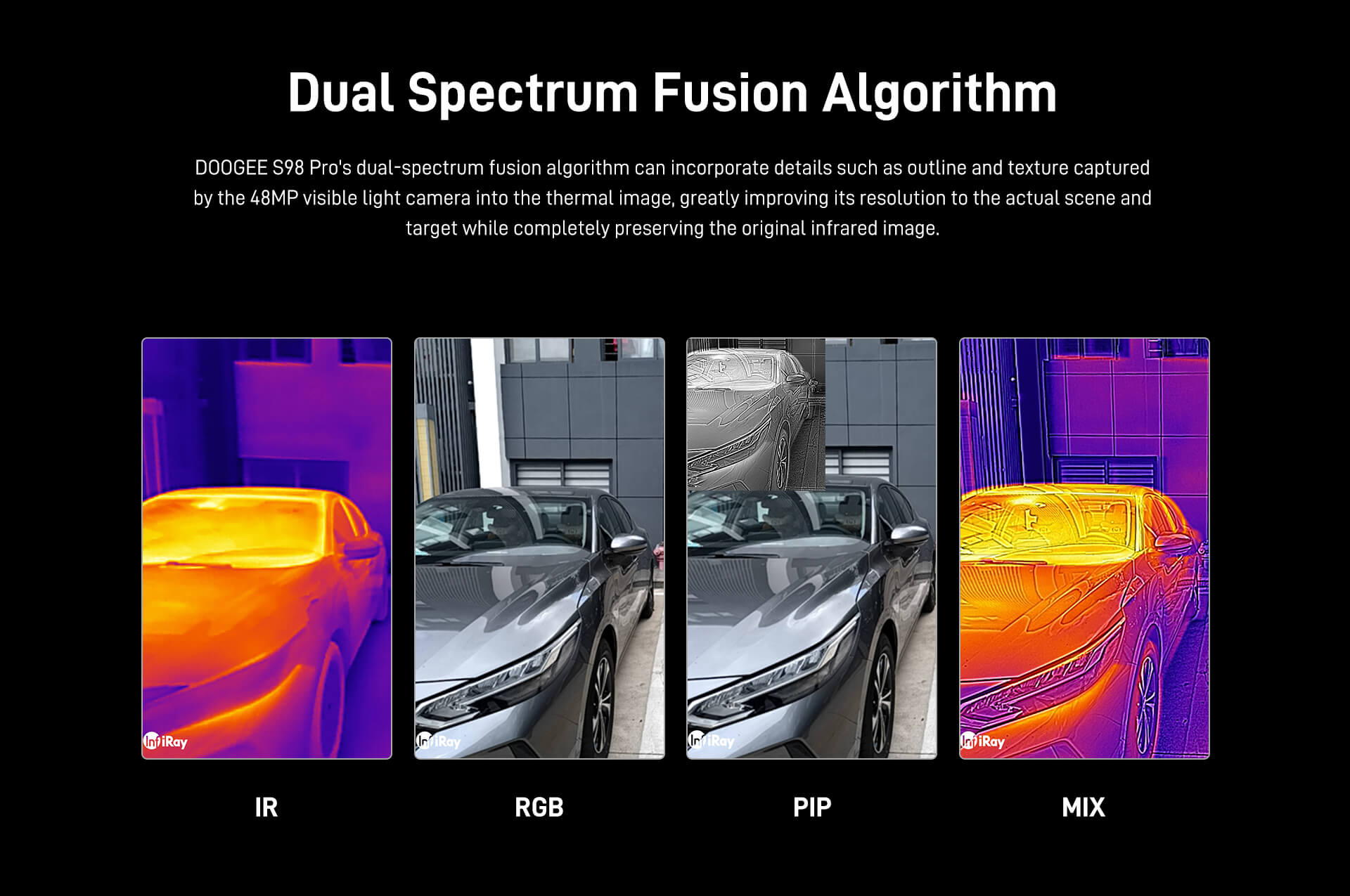 Tell Your Story Through Pictures
The primary sensor is a 48MP Sony® sensor. Photos captured with a maximum resolution of 8000*6000 are sharper and clearer, with a lot more details.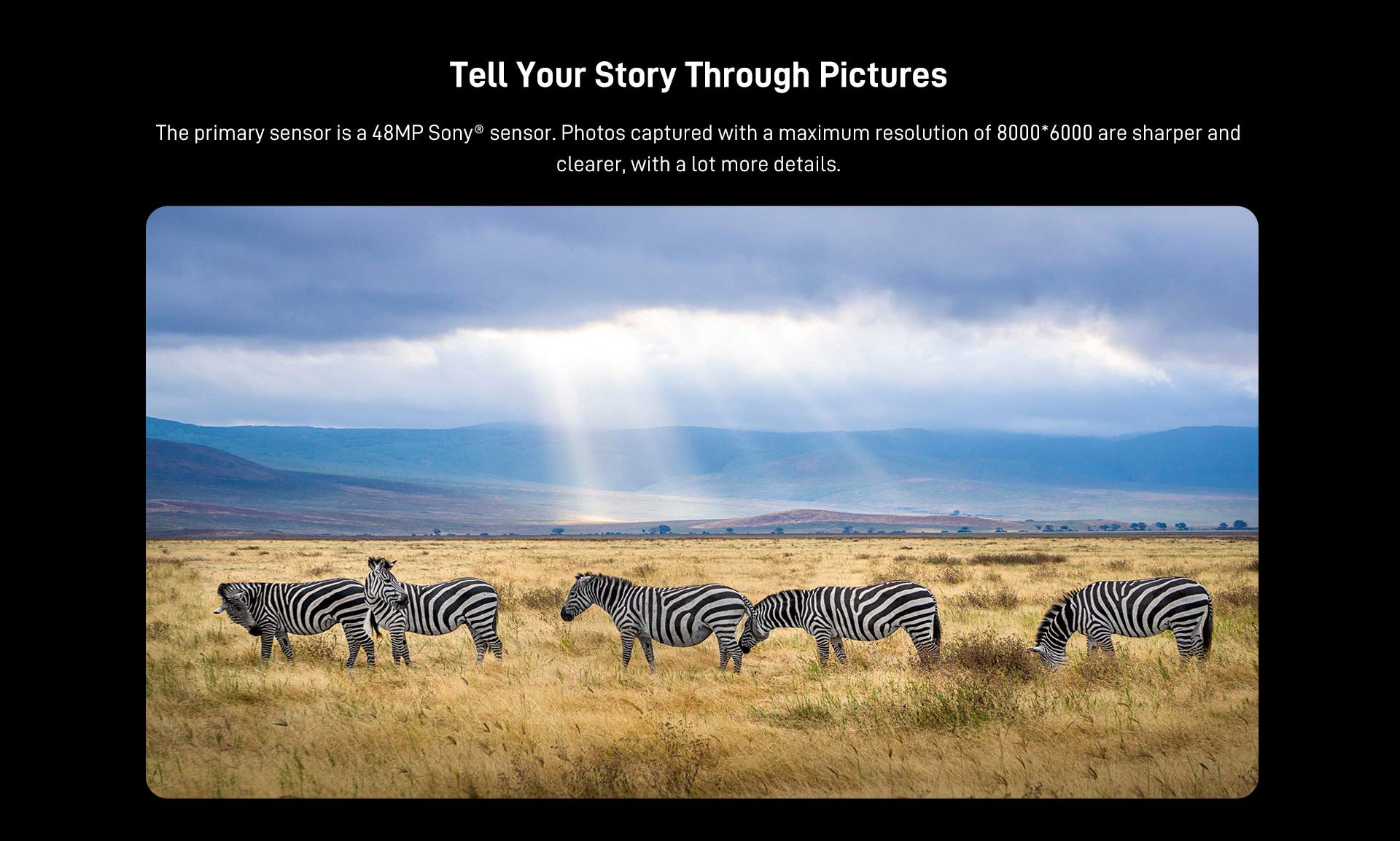 20MP Infrared Night Vision Camera
The Doogee S98 Pro features a 20MP night vision with 2 infrared lights to capture perfect monochrome pictures in pitch darkness. It also records black and white 2K videos at 30fps.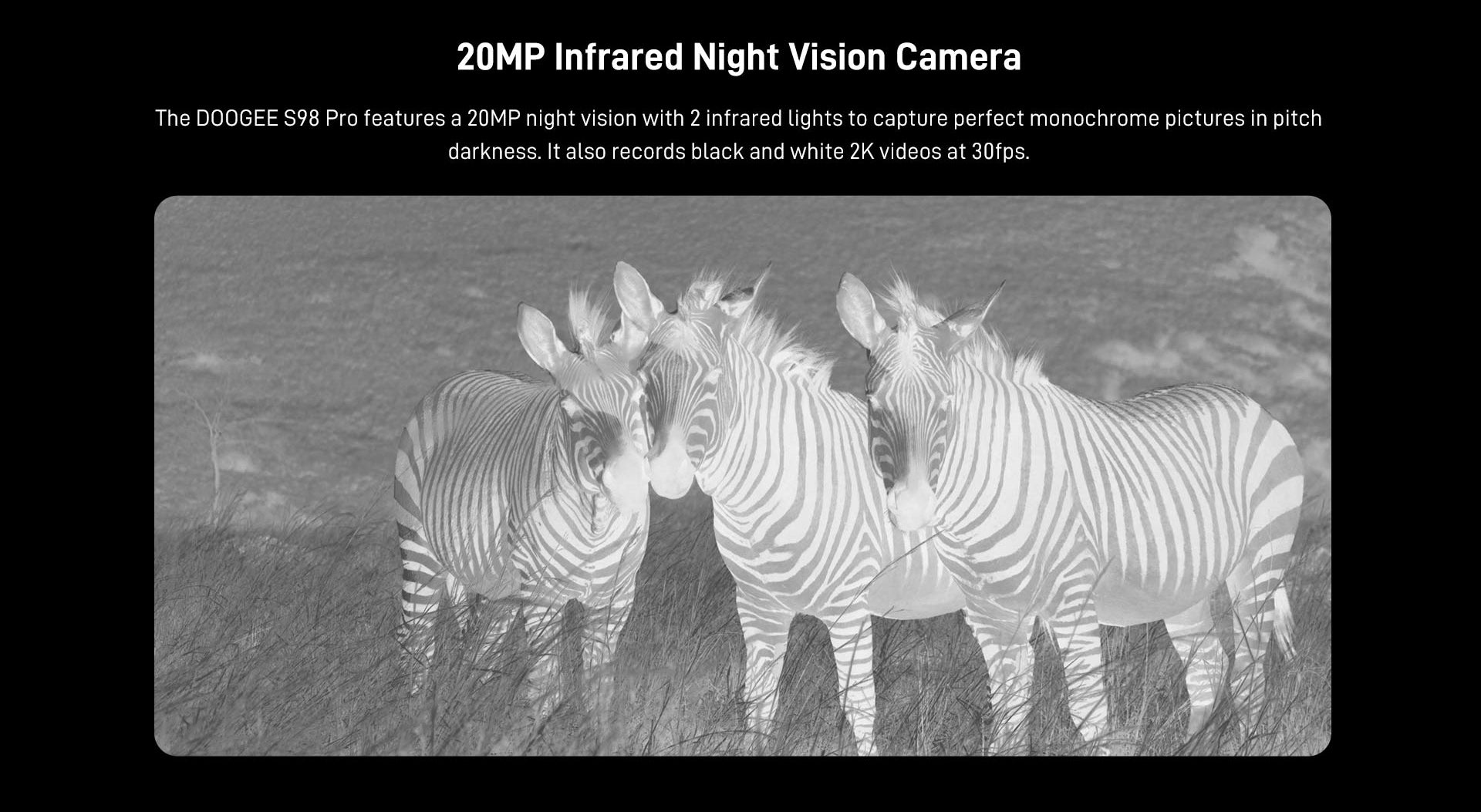 16MP Samsung® Selfie Camera
The front camera is a 16MP Samsung® S5K3P9SP sensor optimized for the best selfies. It comes with features such as beauty, portraits, and many others that will make your self-portraits stand out.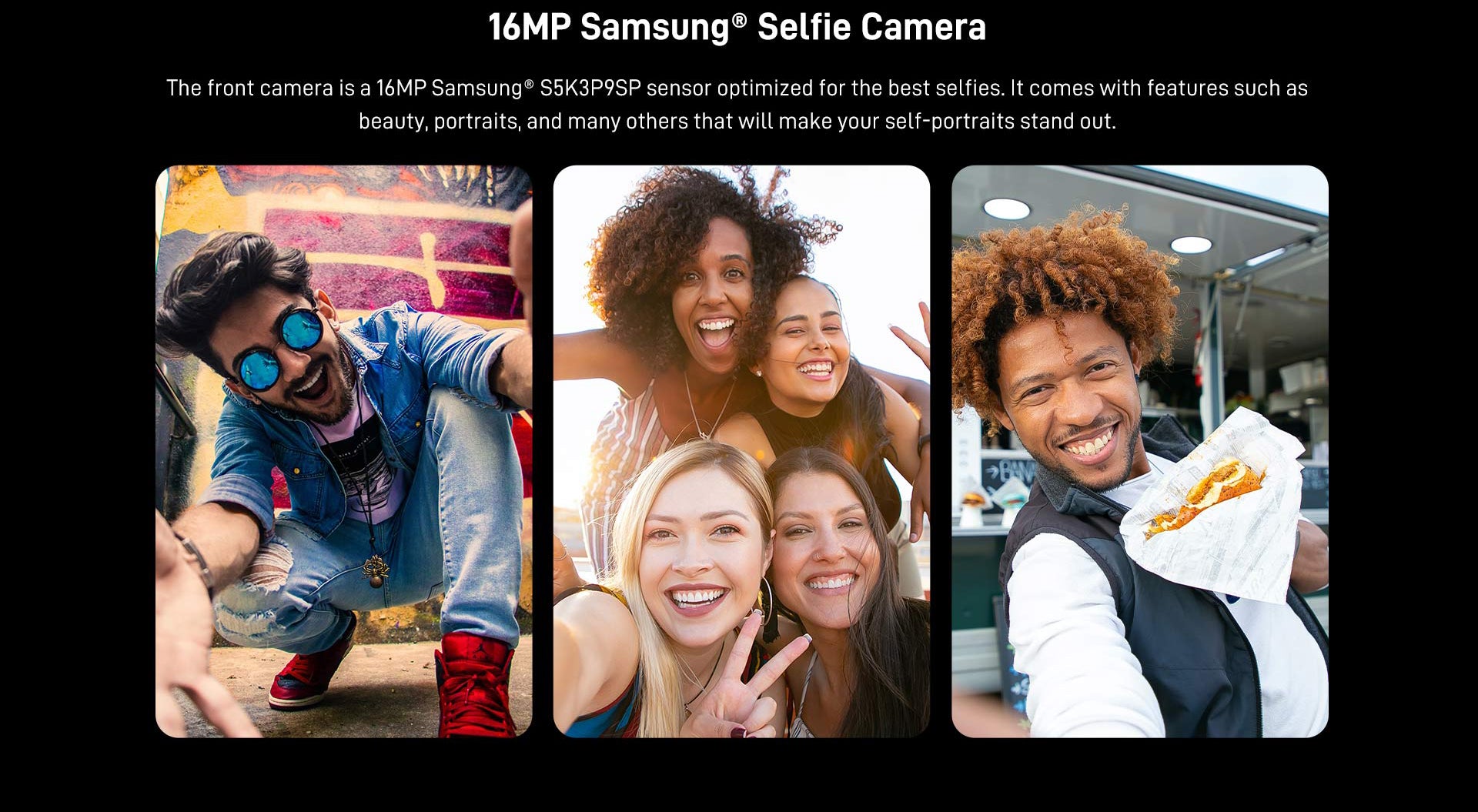 Feel Unprecedented Power And Speed
The MediaTek Helio G96 chipset is a very capable processor with 8 cores
Built on a powerful CPU architecture and hyper engine 2.0 lite gaming technology, the Doogee S98 Pro offers powerful performance in multitasking, gaming, and demanding applications.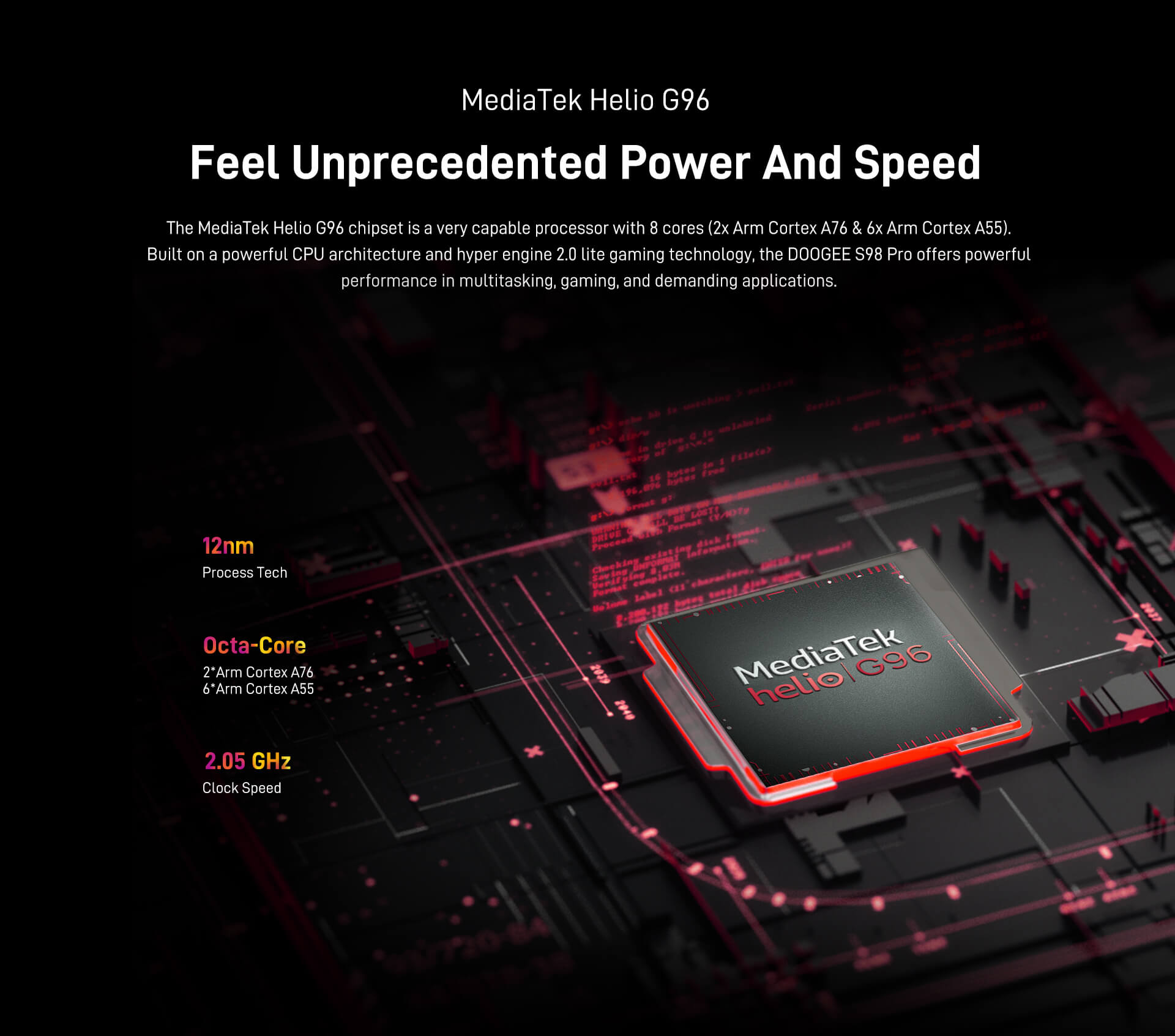 Advanced Gaming Performance
Doogee S98 Pro comes with a powerful 8GB LPDDR4x RAM capable of running the most demanding games flawlessly.
Paired with Arm Mali-G57 MC2 GPU, you are guaranteed high-level performance.
For storage, the 256GB UFS2.2 on board is not only fast but is also expandable up to 512Gb using a microSD card.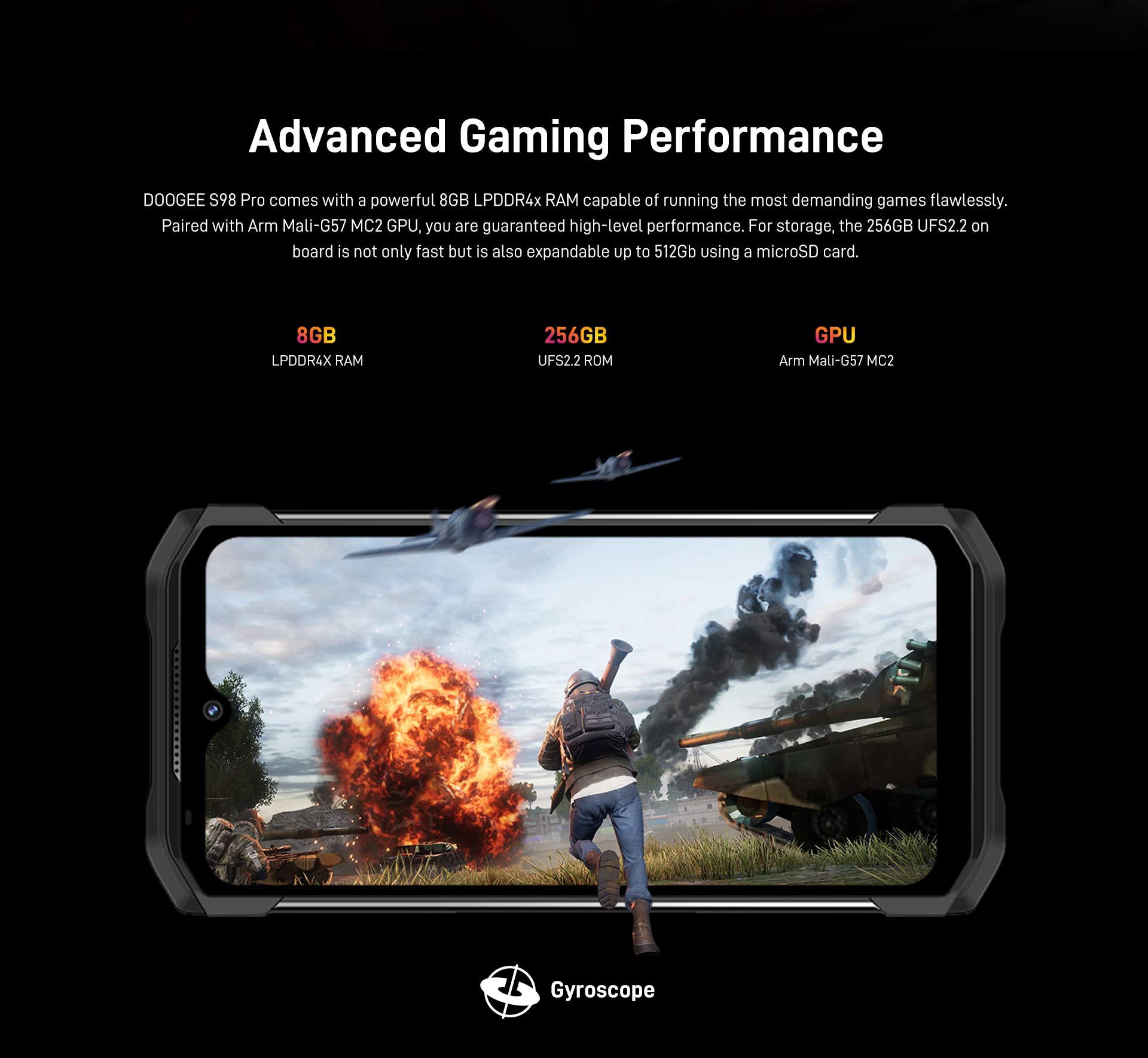 Runs Android 12 out of the box with the latest security and system updates. It also brings other conveniences such as complete personalization and security control, improved UI design, improved messaging, and more.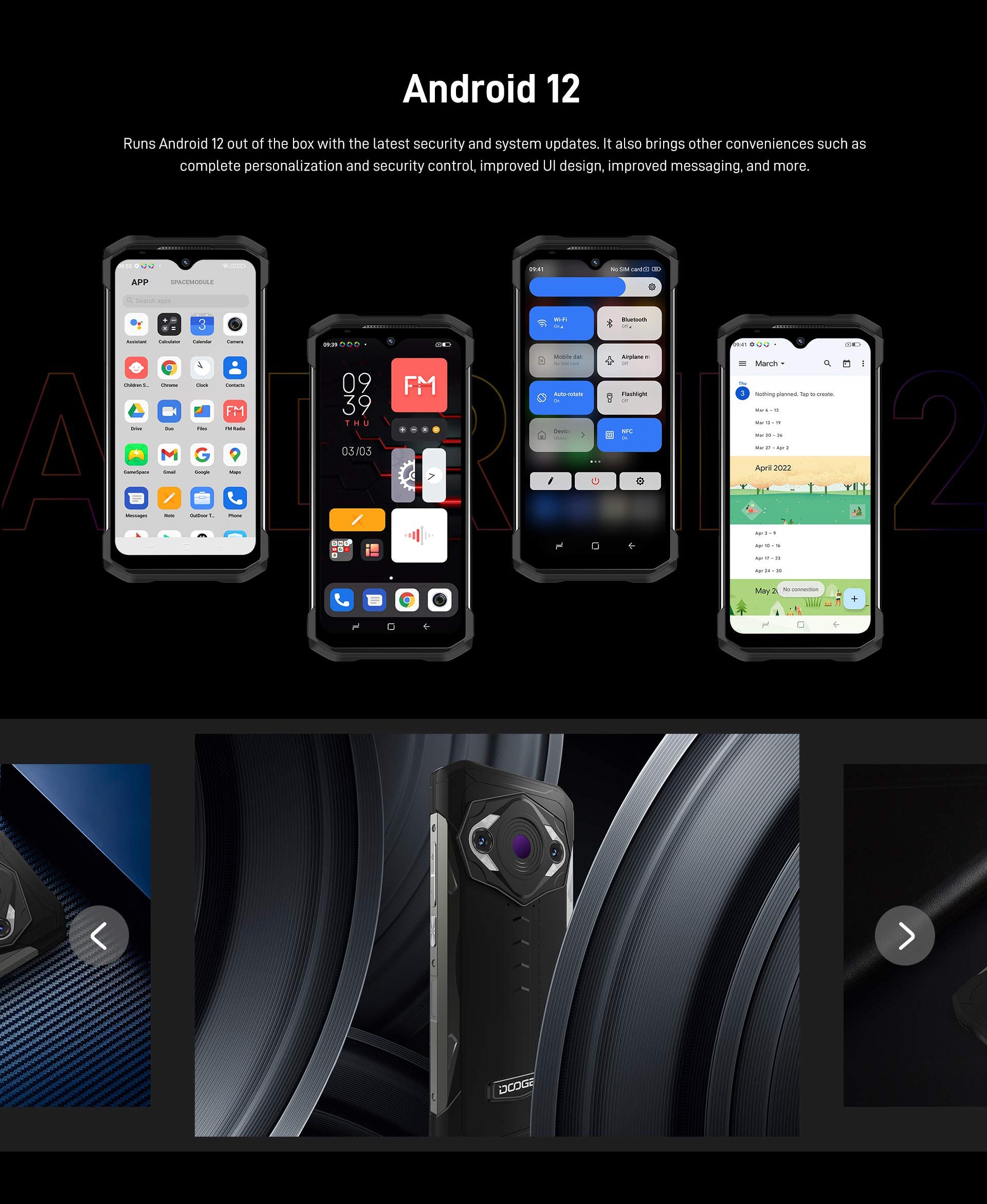 Large Battery, Less Power Anxiety
Sports a 6000mAh battery that is capable of long hours of interrupted power supply. The power-efficient processor and AI-optimized software, the battery can last for up to 3 days of active use on a single charge.
Normal Use 2-3 Days | Gaming 10 Hours | Streaming Movies 10 Hours | Calling 28 Hours | Standby 18 Days
* Based on results from DOOGEE Lab tests.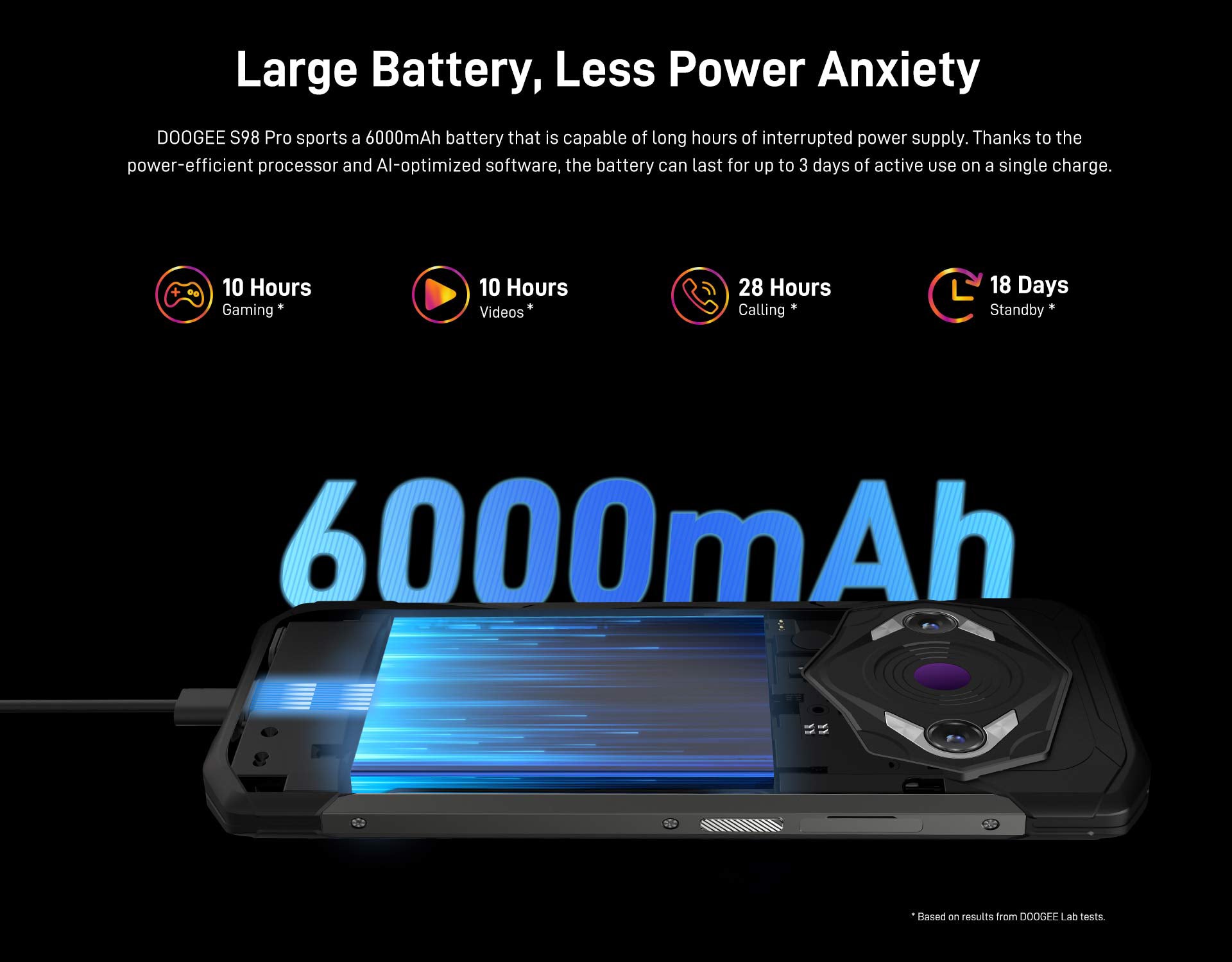 The Doogee S98 Pro comes with a 33W USB-C fast charger. This charger is capable of charging at breakneck speeds. Able to charge the entire 6000mAh battery in under 2 hours.
Charging with wires is not for everyone, so can just drop the S98 Pro onto a wireless charger and watch it charge. It is compatible with a 15W fast charger.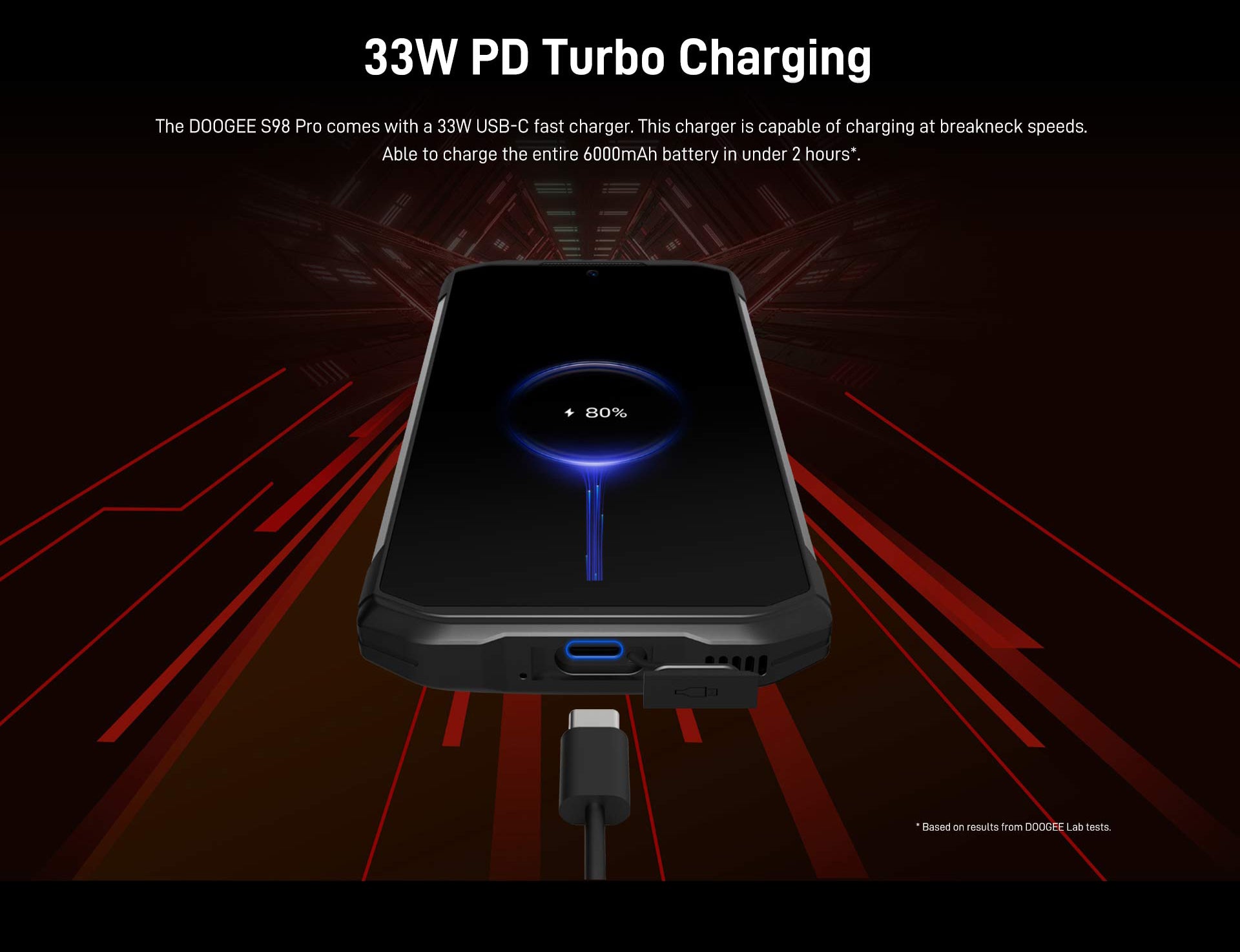 Experience Visual Immersion
The Doogee S98 Pro sports a responsive 6.3-inch FHD+ waterdrop display. With an aspect ratio of 19:9 and a 15000:1 contrast ratio, you are assured of a great experience while gaming or watching your favorite movie.
There is also a protection from a layer of Corning Gorilla Glass
19:9 Aspect Ratio | 16.7 Million Colors | 15000:1 Contrast Ratio | 500nit Peak Brightness
IP68 | IP69K | MIL-STD-810H
Engineered For Adventurers
The Doogee S98 Pro is built from an aluminum-alloy frame and TPU material for sturdy construction. Extra attention was paid to the joints to create a complete seal to prevent the ingress of fine particles and water when submerged.
It was then put through a series of tests including extreme weather tests and drop testing in compliance with MIL-STD-810H.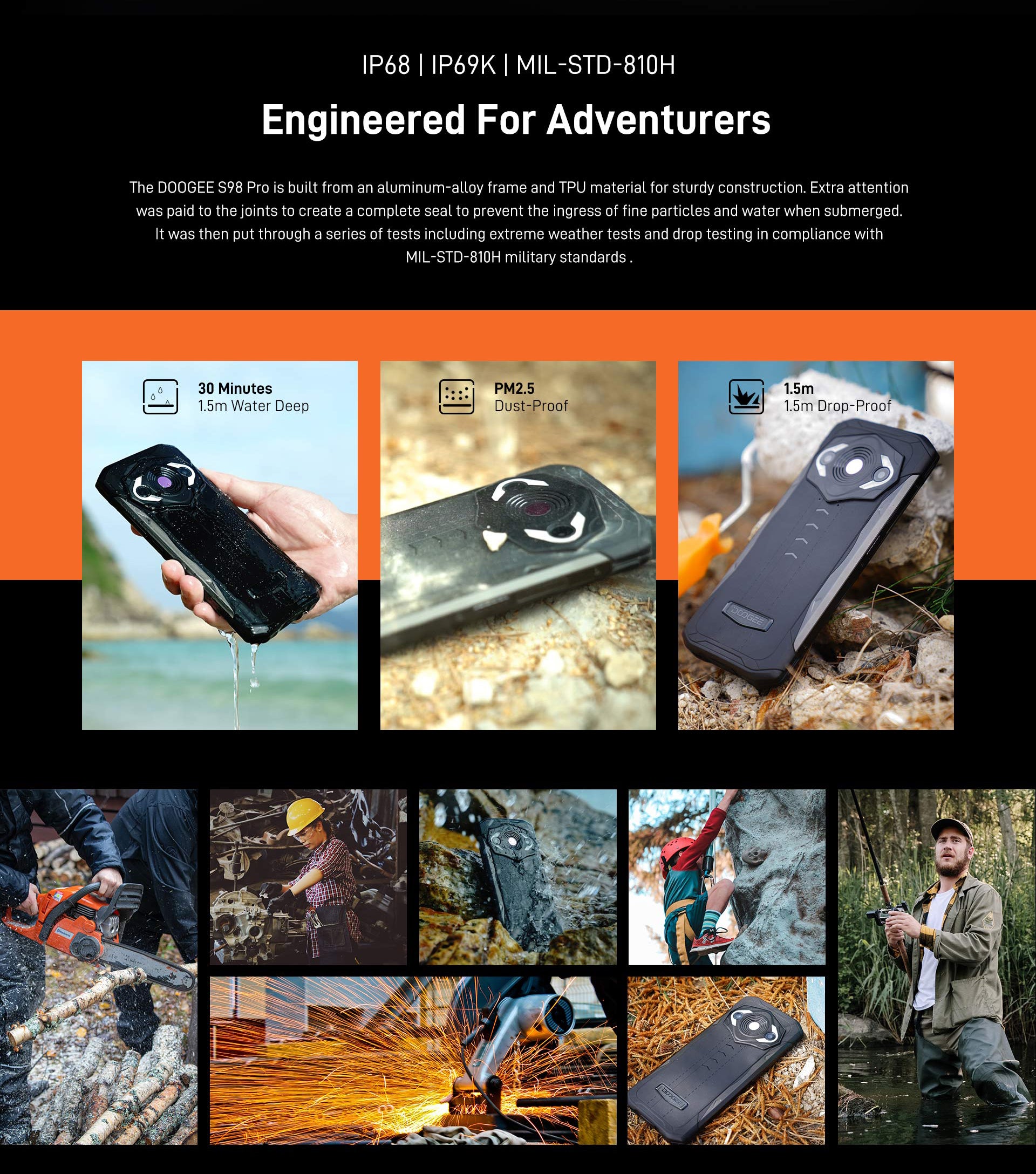 Side-Mounted Fingerprint Scanner
Biometric security includes a fingerprint scanner which has a response time of just 0.19s.
Side-Mounted Fingerprint Scanner
Biometric security includes a fingerprint scanner which has a response time of just 0.19s.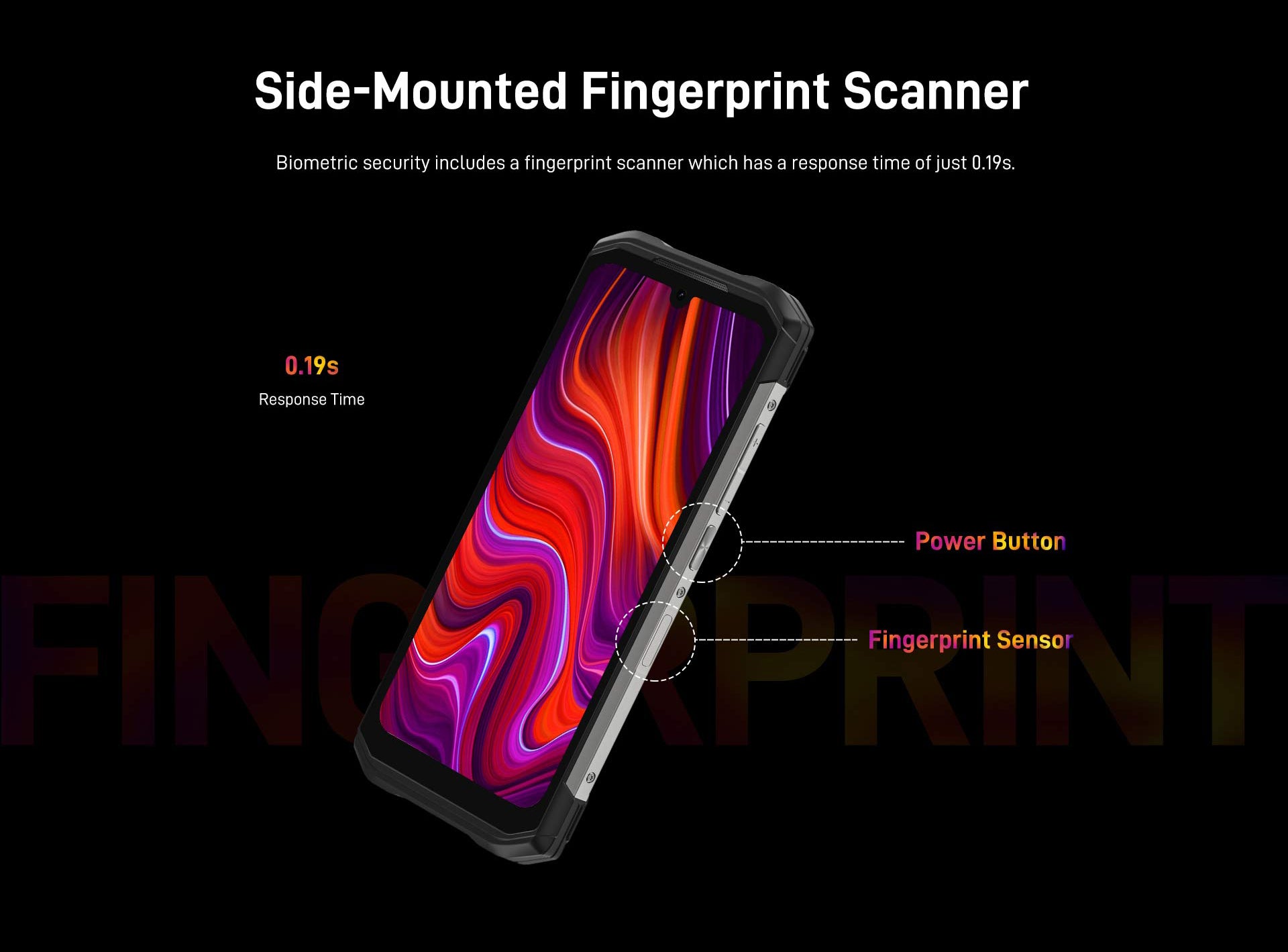 NFC With Support For Google Pay
The Doogee S98 Pro comes with NFC and is compatible with Google pay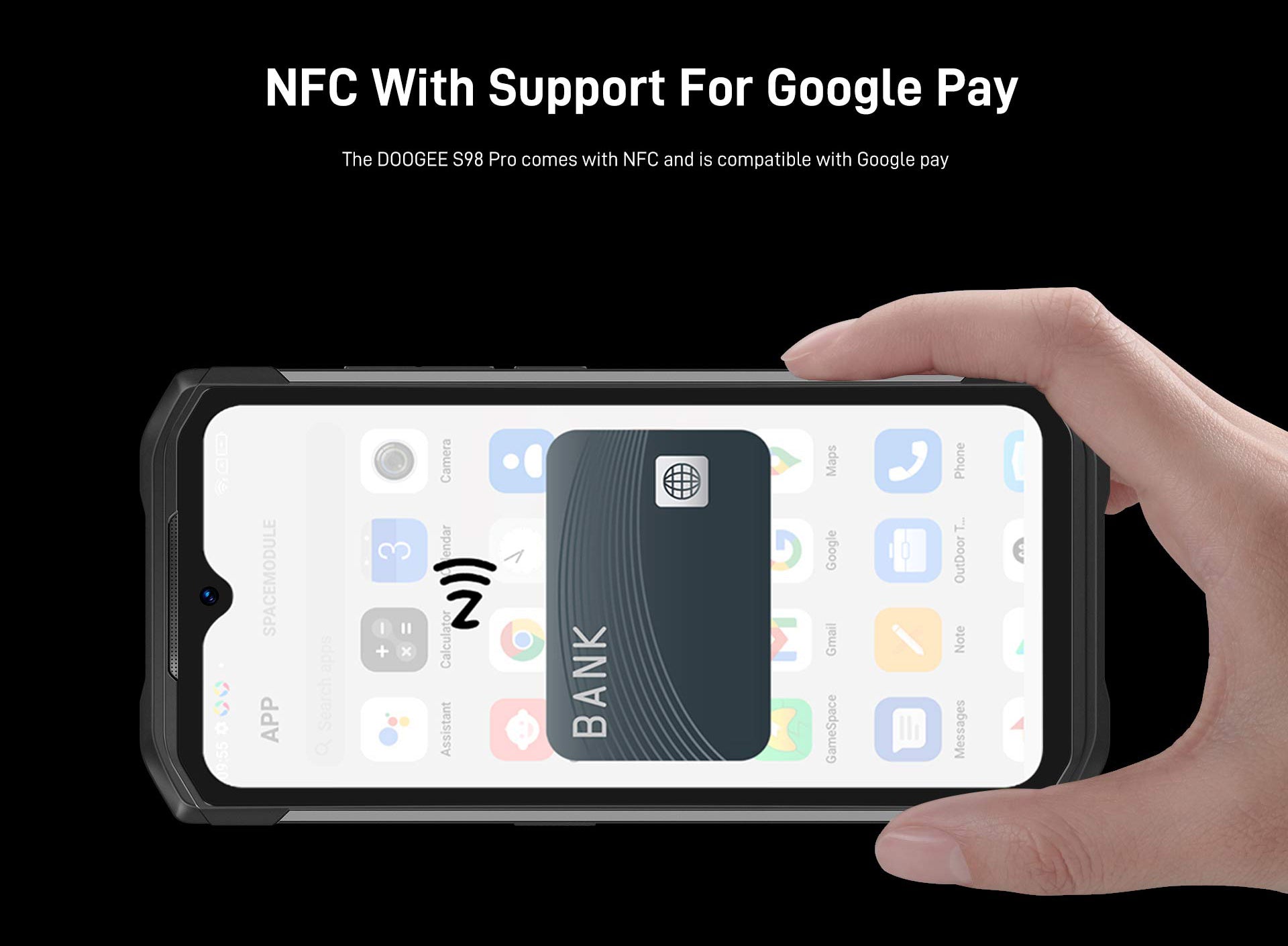 Created for tough environments, S98 Pro is designed to help get the job done. To make this possible, the hardware was built to be tough while the software contains the necessary tools to accomplish a task.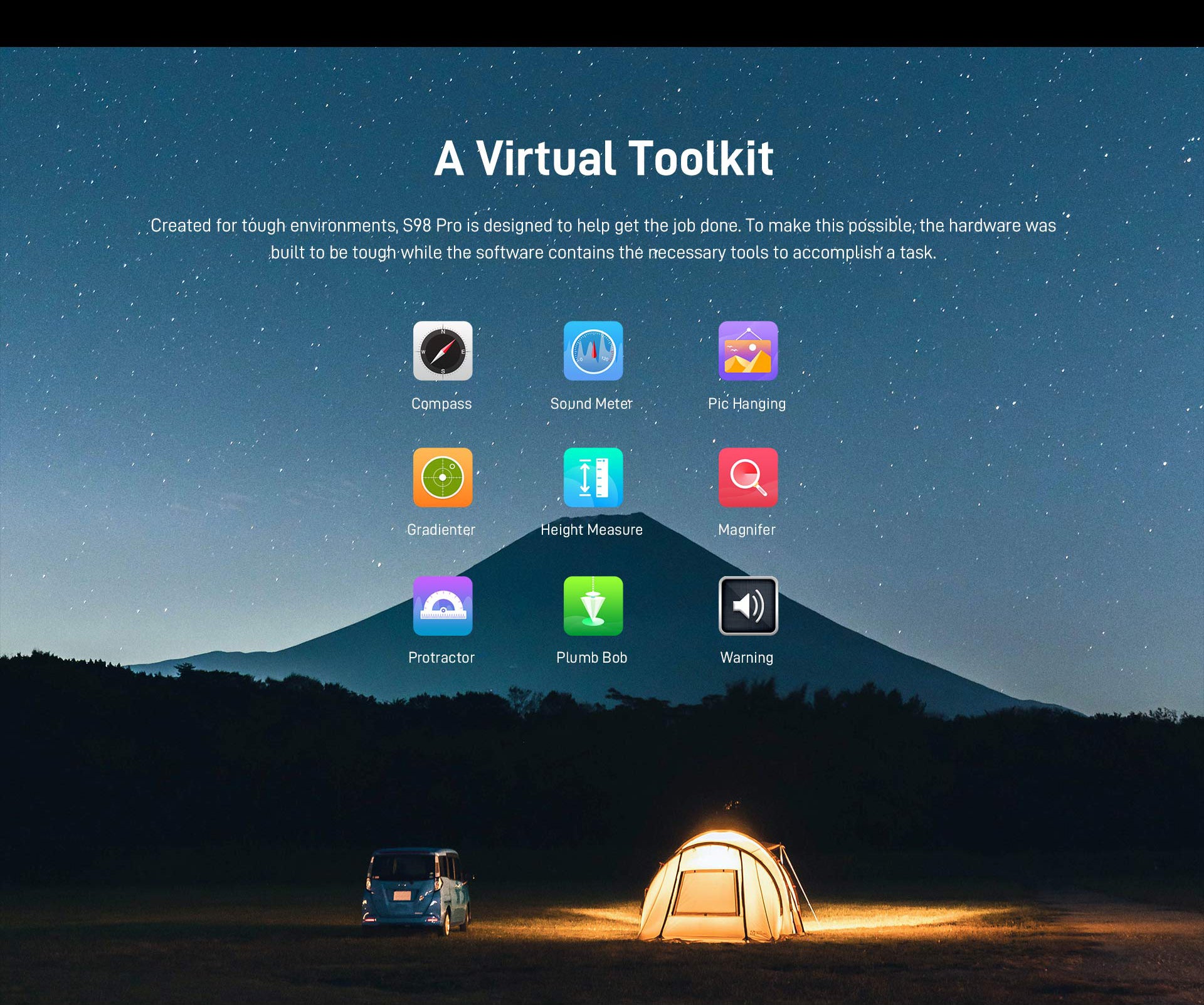 With the custom button comes greater control over the device. A long press, double-tap, and single tap can all have different actions assigned to them.
Dimensions:
Height: 172 mm
Width: 82 mm
Thickness: 15.5 mm
Weight (including battery): 320 g
Display:
6.3" LCD FHD+ Waterdrop Screen
Corning Gorilla Glass
1080*2340 Resolution
409 PPI Pixel density
16.7 million colors
LCD Screen
19:9 Aspect Ratio
480cd/m2 Brightness
15000:1 Contrast
Package Contents:
1 x Cellphone
1 x Type-C to Type-C Cable
1 x Charger (11V/3A)
1 x Anti-explosion film(pre-applied)
1 x Anti-explosion film
1 x Protective Case
1 x Card Slot Opener
1 x Thermal Imaging User Manual
1 x Packing Box
1 x Manual
1 x Warranty Card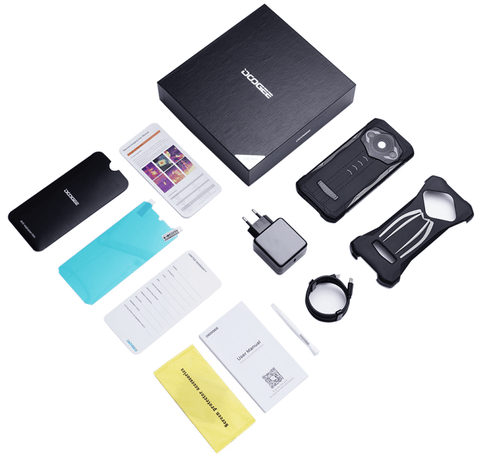 Solid and cool
Yeah, i am pleased. It look cool, it works well, and I really like the heat camera. Picks up my footsteps even:) Recommend it!
DOOGEE s98pro
Powiem krótko. Jest to bardzo pancerny telefon. Wszystko uruchamia się tak jak powinno. Bezbłędnie i szybko odczytuje linie palców. Kamera podczerwienią jak i kamera "night vision" działają nawet na spore odległości. Jeśli chodzi o mikrofon to trzeba odpowiednio ułożyć przy twarzy, bo jak jest inaczej to tak jakby uciekał dźwięk. Bateria trzyma bardzo długo, przy moim użytkowaniu około 3-4 dni.
Mega mini komputer z dużymi możliwościami.
Doogee s98 is top rugged phone
Night view and thermo cameras work really well
A lot better than my black view 9900 pro
queridos clientes
Gracias por su carta
S98PRO no tiene actualización de Android 13 por el momento, y las actualizaciones posteriores se anunciarán en el sitio web oficial
Por favor, preste atención a la información de nuestro sitio web oficial.
te deseo una vida feliz
atentamente
Excellent compagnon de travail !
Utilisé dans ma vie de tout les jours, il est largement suffisant pour l'utilisation que je fait d'un smartphone et il capte bien mieux que mon précédent Doogee (S97 Pro).
Seul bémol que je lui trouve : la qualité photo que je trouve faible vis-à-vis des possibilités que les capteurs peuvent proposer chez d'autres marques (en même temps, ce n'est pas un photophone...)
Dans le cadre de ma vie professionnel (technicien de maintenance), il est tombé (parfois de plus de 2m), il a connu la fine de bois (comme de la farine mais avec du bois), de l'eau, de l'huile hydraulique, et même un burin qui lui a fait un bisou (j'ai un écran en verre trempé au-cas où...) et.... Il est comme neuf !
Le capteur infrarouge est la raison de mon achat pour ce téléphone et j'ai l'occasion de le comparer à une caméra Flir professionnel et je dois dire qu'il est extrêmement précis (+/- 2°C max). Détection de départ de feu (je travail dans le bois), roulement chaud, détection de température diverses (huile, frottements, etc...).
En bref, un bien meilleur téléphone que j'imaginais mais sans être exempte de défauts non plus (caméra nocturne d'une utilité relative, le poids, l'épaisseur et la qualité photo). Plus solide qu'un Crosscall (concurrent direct en france) notamment sur la solidité et la résistance du micro.
Je le recommande vivement mais avec une application plutôt professionnel.
J'attends le prochain Doogee SXXX Pro avec caméra thermique avec la plus grande impatience !
chers clients
Merci pour votre message!
Nous remonterons vos suggestions à notre service R&D
Merci pour vos précieux conseils !
je te souhaite une vie heureuse
bien à vous