DOOGEE S98 Pro 8+256GB Thermal Imaging Camera Rugged Smartphone
EU countries ship from European warehouses.
EU/US delivery time 2-7
In stock
Feature Highlights
Next-Gen Thermal Imaging Camera

MediaTek Helio G96

8GB+256GB

6.3" 2340x1080 Display

20MP Night Vision Camera

48MP Main Camera

16MP Selfie Camera

6000mAh Battery

33W Fast Charging / 15W Wireless Charging

Custom Button

Global Band

IP68 | IP69K | MIL-STD-810H

Android 12

Side Fingerprint Sensor

GLONASS | BeiDou | GPS | Galileo
Delivery time to some remote areas approx. 15-20 days
Out of stock products may be transferred from other warehouses and logistics will be extended
| | |
| --- | --- |
| Brand | DOOGEE |
| Model Name | DOOGEE S98 Pro |
| Wireless Carrier | Everything Everywhere |
| Operating System | Android 12.0 |
| Cellular Technology | 4G |
| Memory Storage Capacity | 256 GB |
| Connectivity Technology | Wi-Fi, USB, NFC, Bluetooth |
| Color | Black |
| Screen Size | 6.3 Inches |
| Wireless network technology | GSM |
DOOGEE First Thermal Imaging Camera Phone -- DOOGEE S98 PRO

The design of the DOOGEE S98 Pro is heavily influenced by the fictitious visitors from outer space.The camera bump serves as the alien's head, the cameras as the alien's eyes, and the lines on the case round out the alien ensemble. Like aliens, the S98 Pro's thermal imaging feature allows you to see creatures and objects by their heat signatures even in pitch darkness.
DOOGEE S98 Pro Does NOT work with AT&T OR Cricket OR CDMA Carriers such as Verizon, Sprint, Boost Mobile, Straight Talk or U.S.Cellular, Xfinity and TracFone!
It CAN work with GSM Carriers like T-Mobile,Metro PCS, MVNO and Others!
FDD: B1/2/3/4/5/7/8/12/13/17/18/19/20/25/26/28A/28B/66
TDD: B34/38/39/40/41
WCDMA: B1/2/4/5/6/8/19
CDMA: BC0/BC1/BC10
Support EDGE/GPRS
Please Confrim Your SIM Bands Compatibility Before Purchasing!
You can check whether it matches on the website through our parameter frequency band https://www.kimovil.com/en/frequency-checker/SG
The following are our recommended frequency band operators:

America: Suggest T-Mobile
Australia: Optus / Telstra /Virgin Mobile/ Vodafone
Germany: E-Plus/ O2 / T-Mobile/Vodafone
France: Bouygues Télécom/ Free /Orange /SFR
Spain: Movistar/Orange/Vodafone / Yoigo
Italy: 3 (Tre) /Telecom Italia Mobile (TIM) /Vodafone /Wind
UK: 3 (Three) /EE (Everything Everywhere) /O2 /Virgin Mobile /Vodafone
SG : M1, Singtel ,StarHub ,TPG Mobile (support 3G,4G (5G V10,V20))

You can check whether it matches on the website through our parameter frequency band https://www.kimovil.com/en/frequency-checker/SG
DOOGEE S98 Pro
The Most Powerful Rugged Phone with Thermal Imaging

Advanced Thermal Imaging Than Ever
Alien-Inspired Design
Drawing inspiration from the fictitious visitors to earth, the Doogee S98 back cover pays homage to aliens through the positioning of the cameras and the lines. They represent the eyes and bodies of aliens.
The Best Camera Setup For Outdoor
Thermal Imaging Camera | 20MP Night Vision Camera | 48MP Main Camera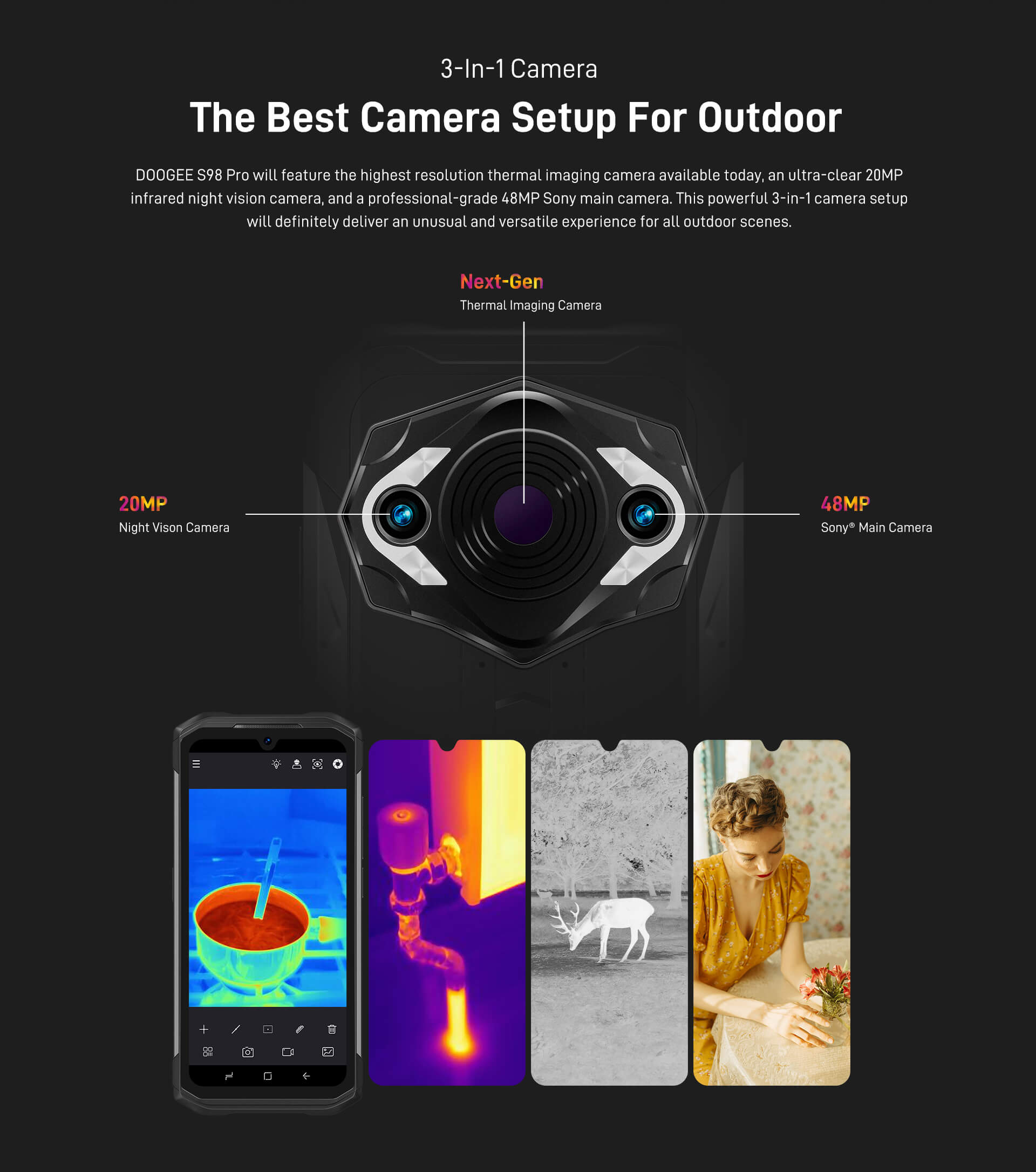 Advanced Thermal Imaging Than Ever
The DOOGEE S98 Pro integrates a professional-grade 
InfiRay® 256x192
 resolution thermal imaging sensor, which brings a huge 
2.5x
 increase in the number of thermal pixels than others.
Combined with a 
25Hz
 higher frame rate, it delivers smoother images to help accurately detect draught, dampness, leaks, electric short, blockages, or elevated temperatures.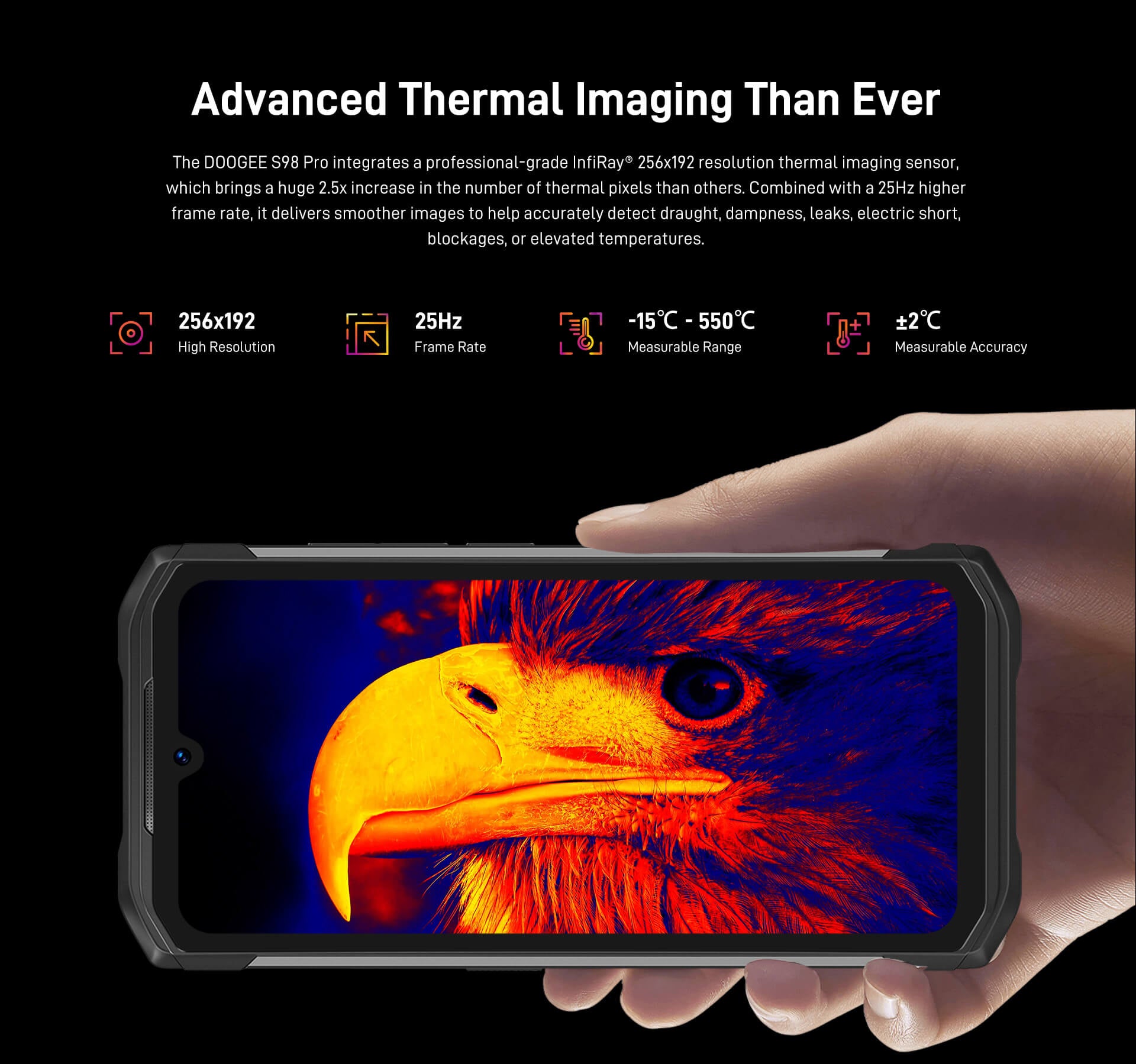 Unlock The Most Powerful Imaging Experience
DOOGEE S98 Pro will feature the highest resolution thermal imaging camera available today, an ultra-clear 20MP infrared night vision camera, and a professional-grade 48MP Sony® main camera.
This powerful 3-in-1 camera setup will definitely deliver an unusual and versatile experience for all outdoor scenes.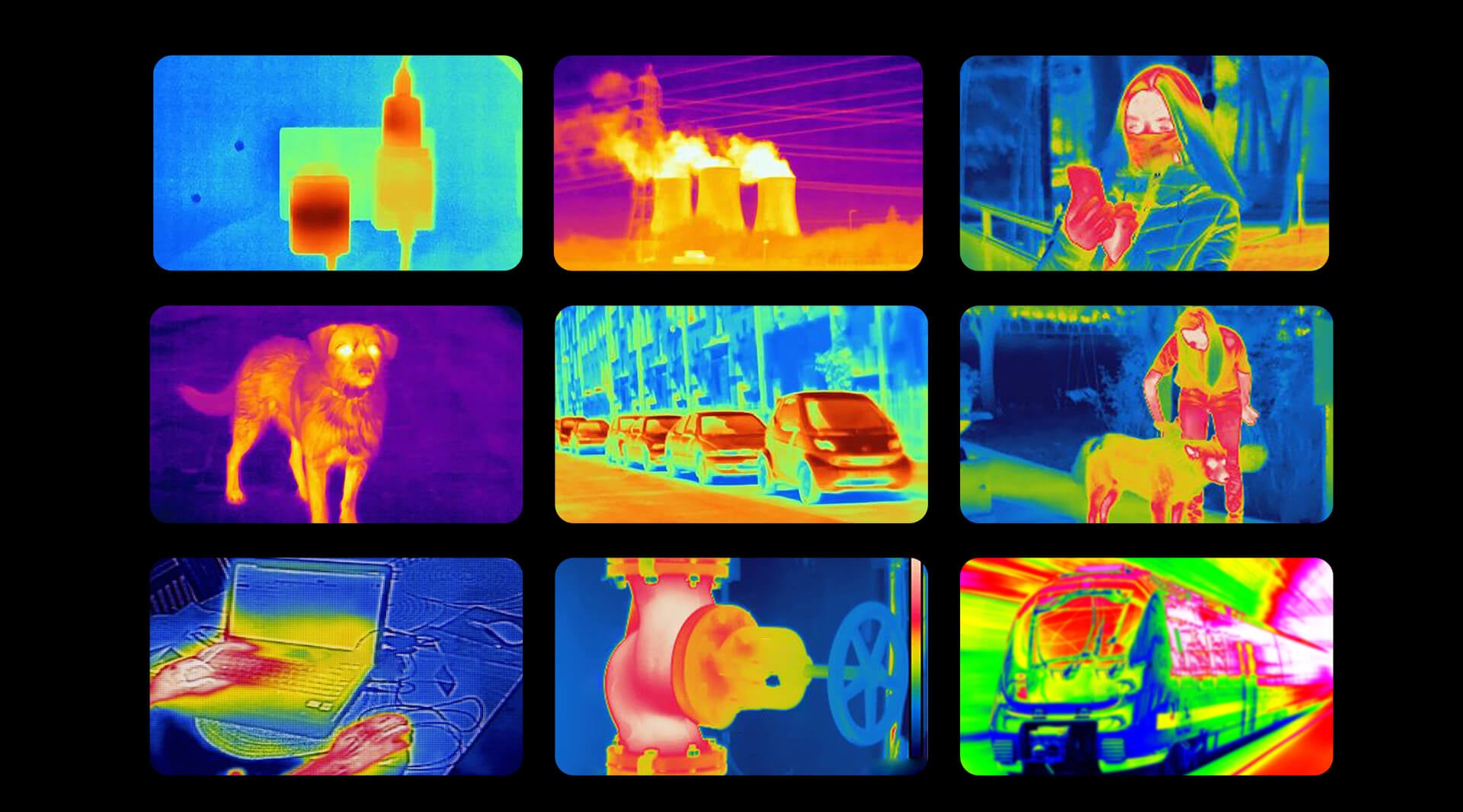 Dual Spectrum Fusion Algorithm
Doogee S98 Pro's dual-spectrum fusion algorithm can incorporate details such as outline
and texture captured by the 48MP visible light camera into the thermal image,
greatly improving its resolution to the actual scene and target while completely preserving the original infrared image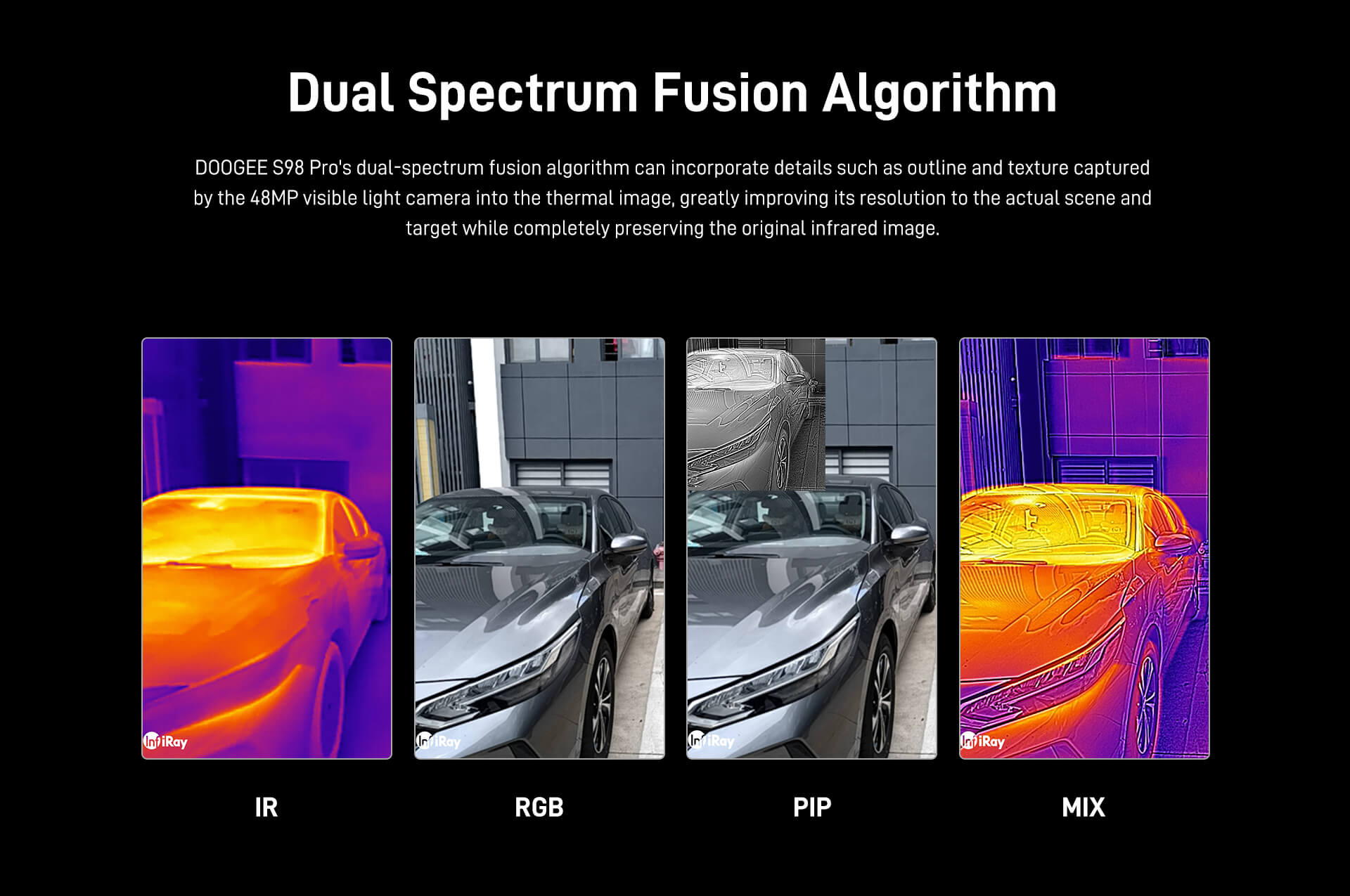 Tell Your Story Through Pictures
The primary sensor is a 48MP Sony® sensor. Photos captured with a maximum resolution of 8000*6000 are sharper and clearer, with a lot more details.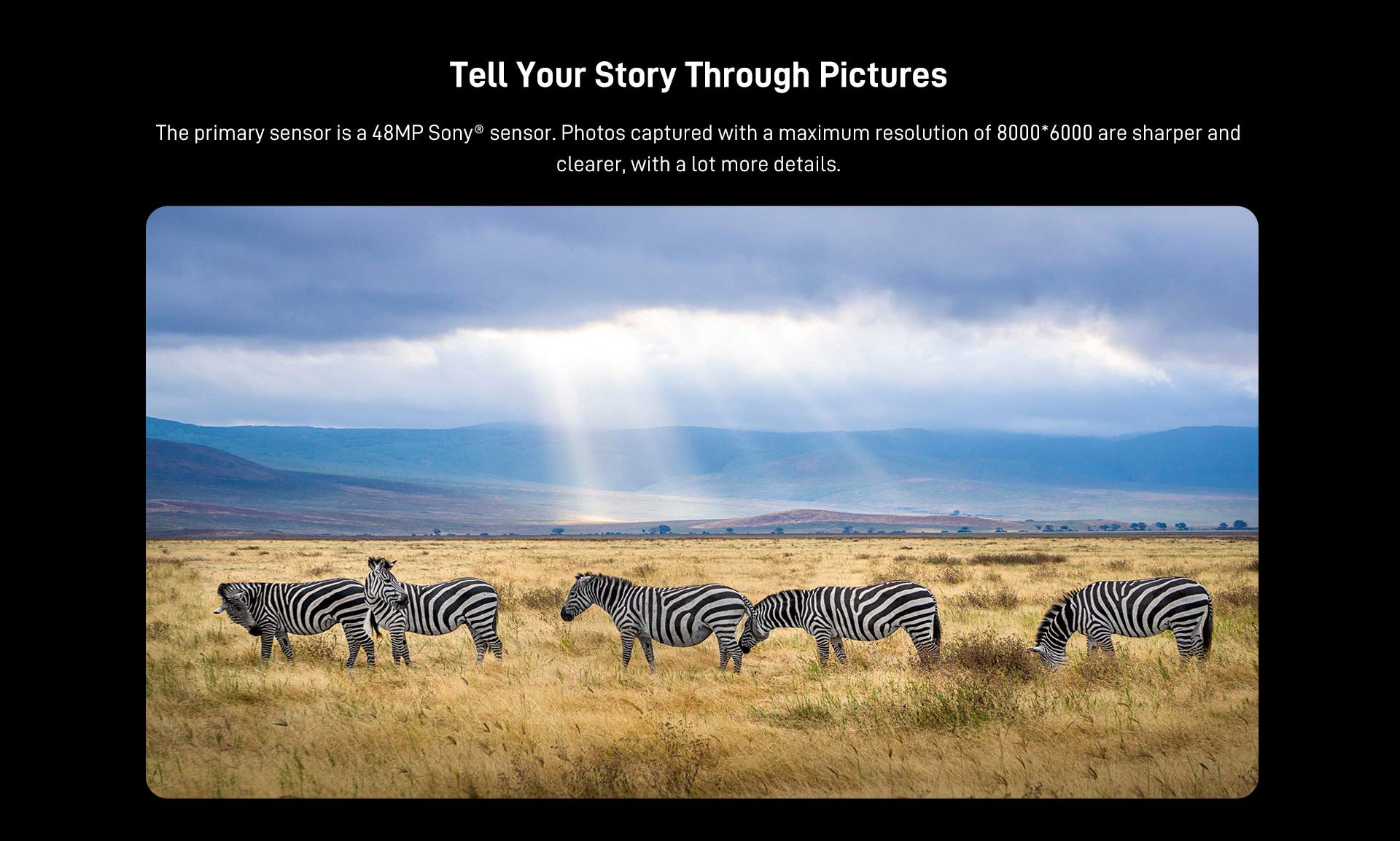 20MP Infrared Night Vision Camera
The Doogee S98 Pro features a 20MP night vision with 2 infrared lights to capture perfect monochrome pictures in pitch darkness. It also records black and white 2K videos at 30fps.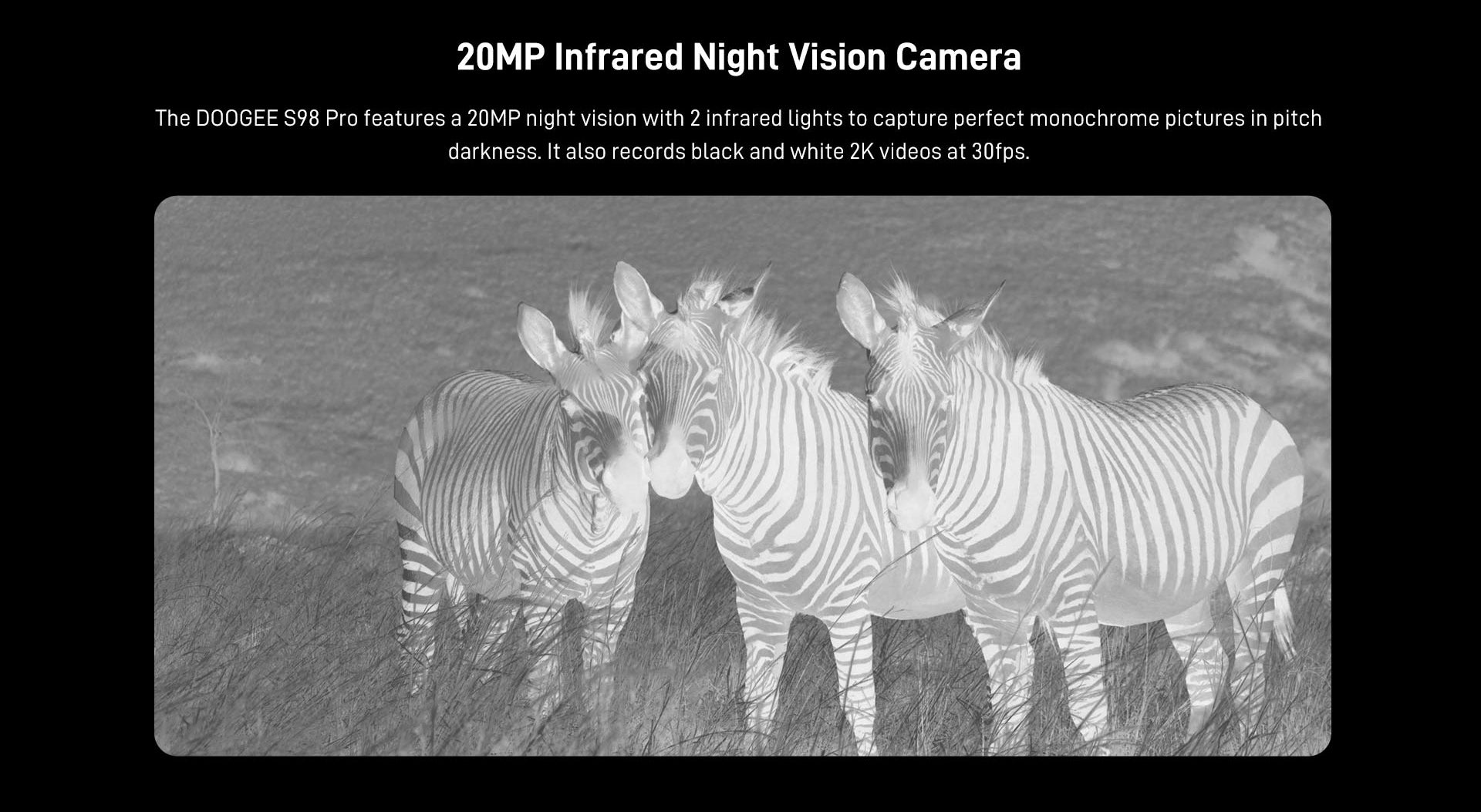 16MP Samsung® Selfie Camera
The front camera is a 16MP Samsung® S5K3P9SP sensor optimized for the best selfies. It comes with features such as beauty, portraits, and many others that will make your self-portraits stand out.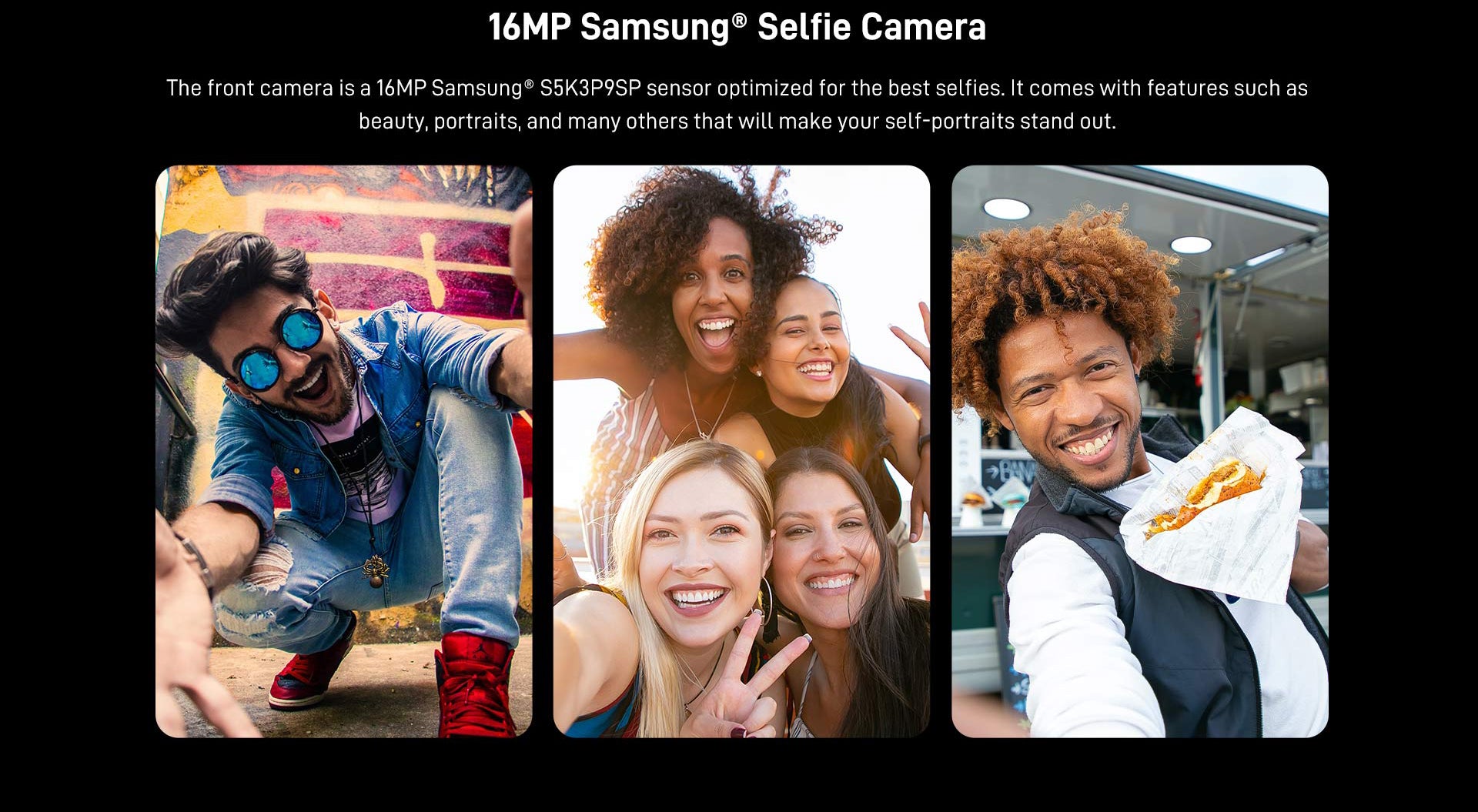 Feel Unprecedented Power And Speed
The MediaTek Helio G96 chipset is a very capable processor with 8 cores
Built on a powerful CPU architecture and hyper engine 2.0 lite gaming technology, the Doogee S98 Pro offers powerful performance in multitasking, gaming, and demanding applications.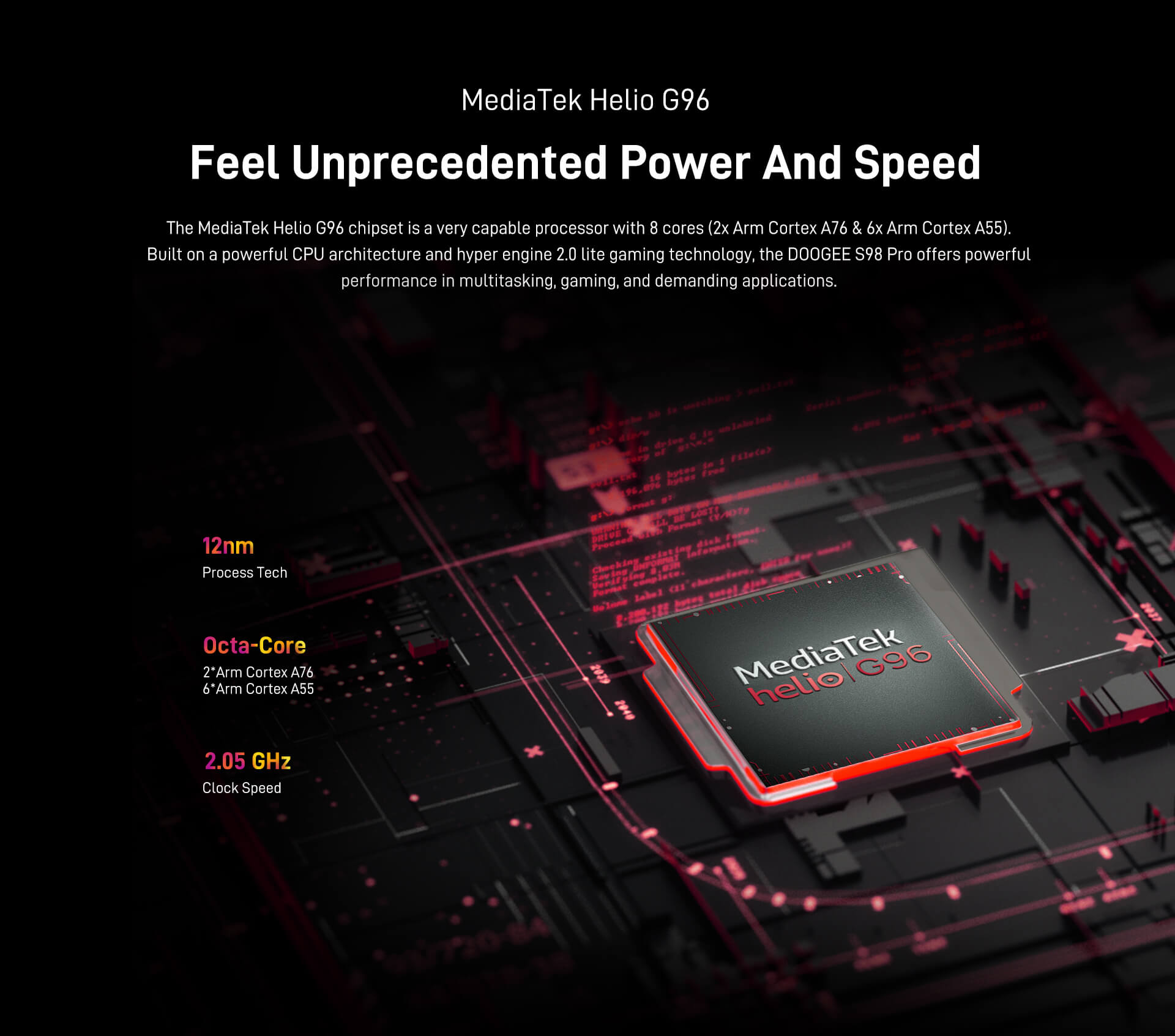 Advanced Gaming Performance
Doogee S98 Pro comes with a powerful 8GB LPDDR4x RAM capable of running the most demanding games flawlessly.
Paired with Arm Mali-G57 MC2 GPU, you are guaranteed high-level performance.
For storage, the 256GB UFS2.2 on board is not only fast but is also expandable up to 512Gb using a microSD card.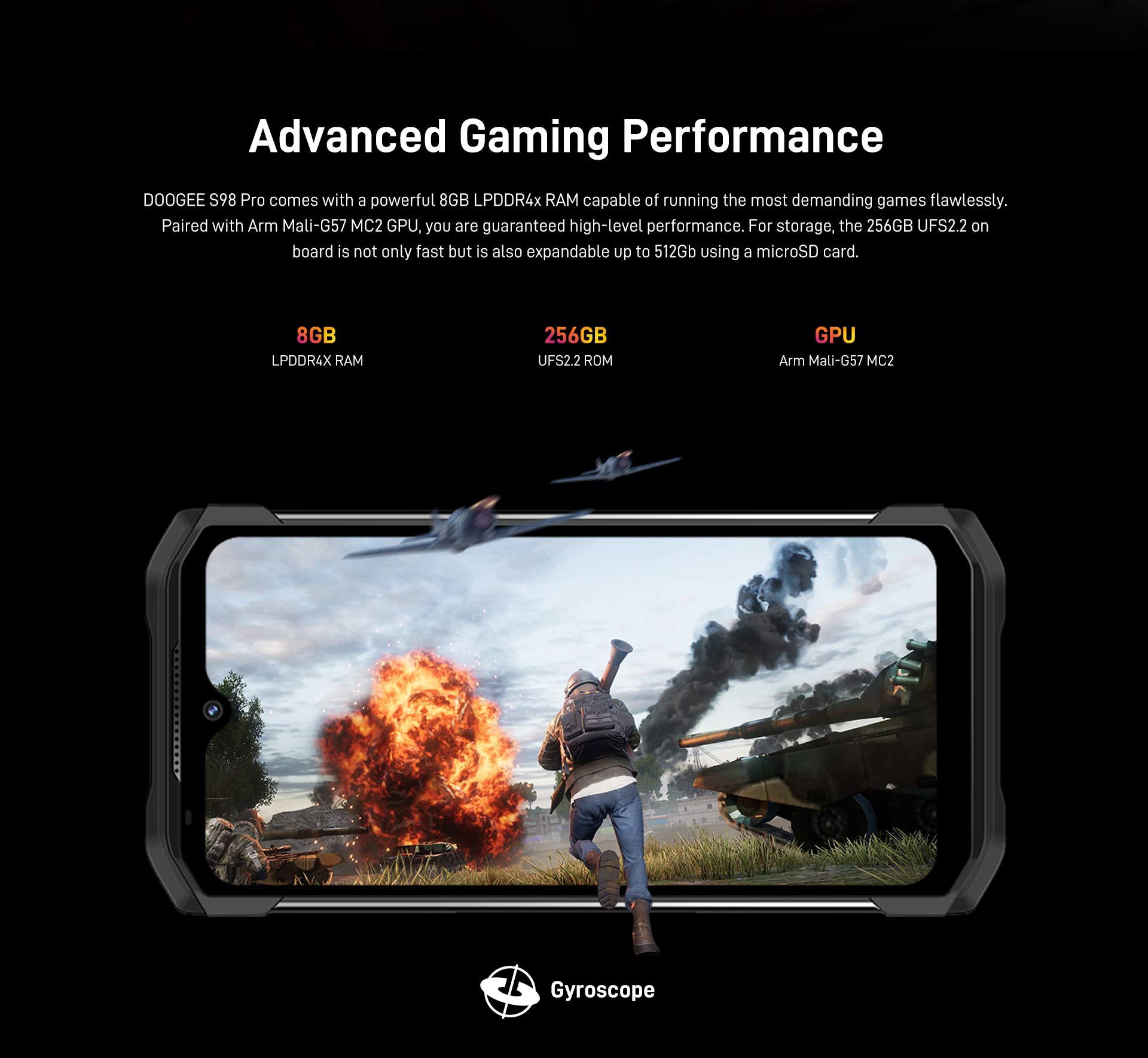 Runs Android 12 out of the box with the latest security and system updates. It also brings other conveniences such as complete personalization and security control, improved UI design, improved messaging, and more.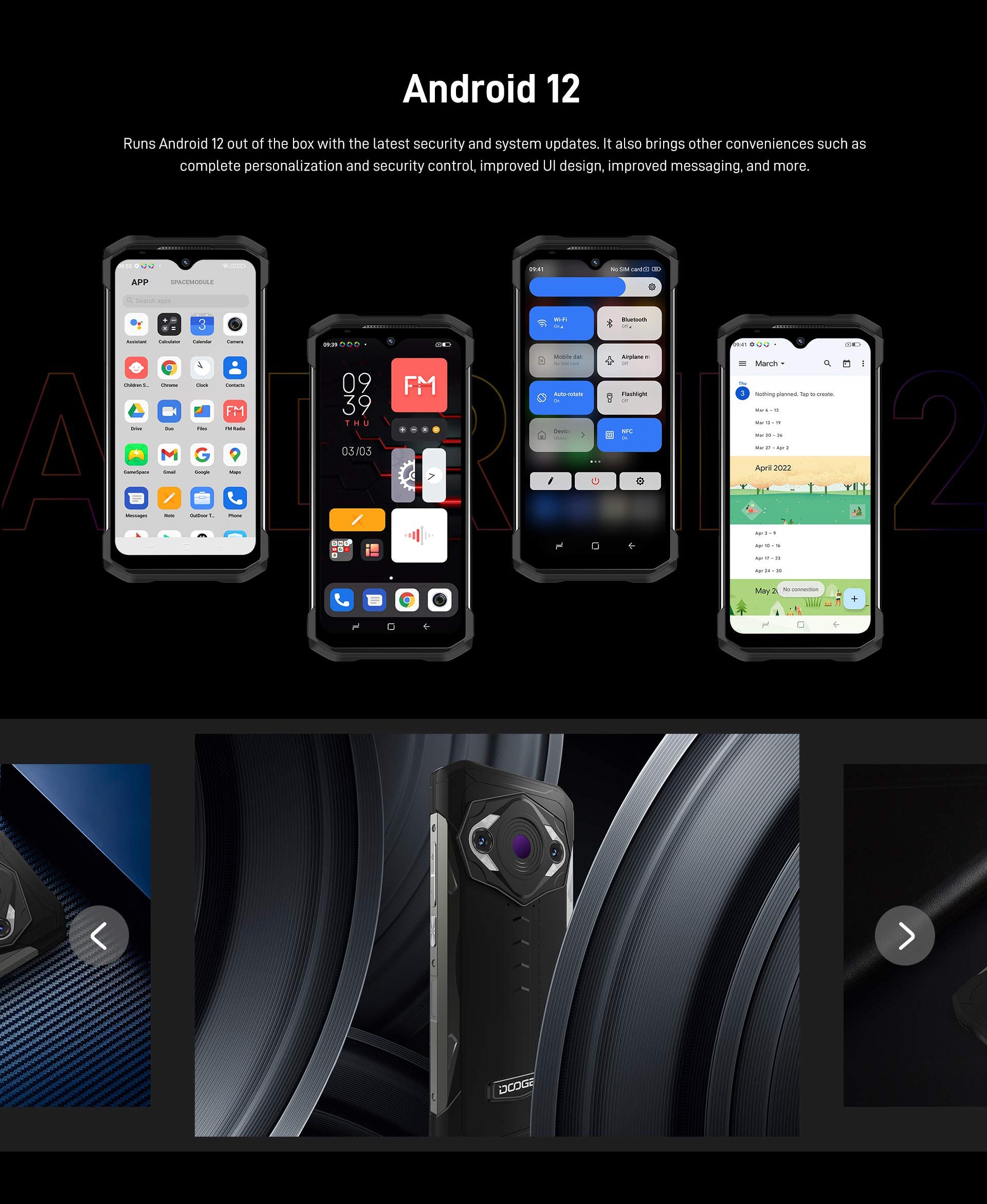 Large Battery, Less Power Anxiety
Sports a 6000mAh battery that is capable of long hours of interrupted power supply. The power-efficient processor and AI-optimized software, the battery can last for up to 3 days of active use on a single charge.
Normal Use 2-3 Days | Gaming 10 Hours | Streaming Movies 10 Hours | Calling 28 Hours | Standby 18 Days
* Based on results from DOOGEE Lab tests.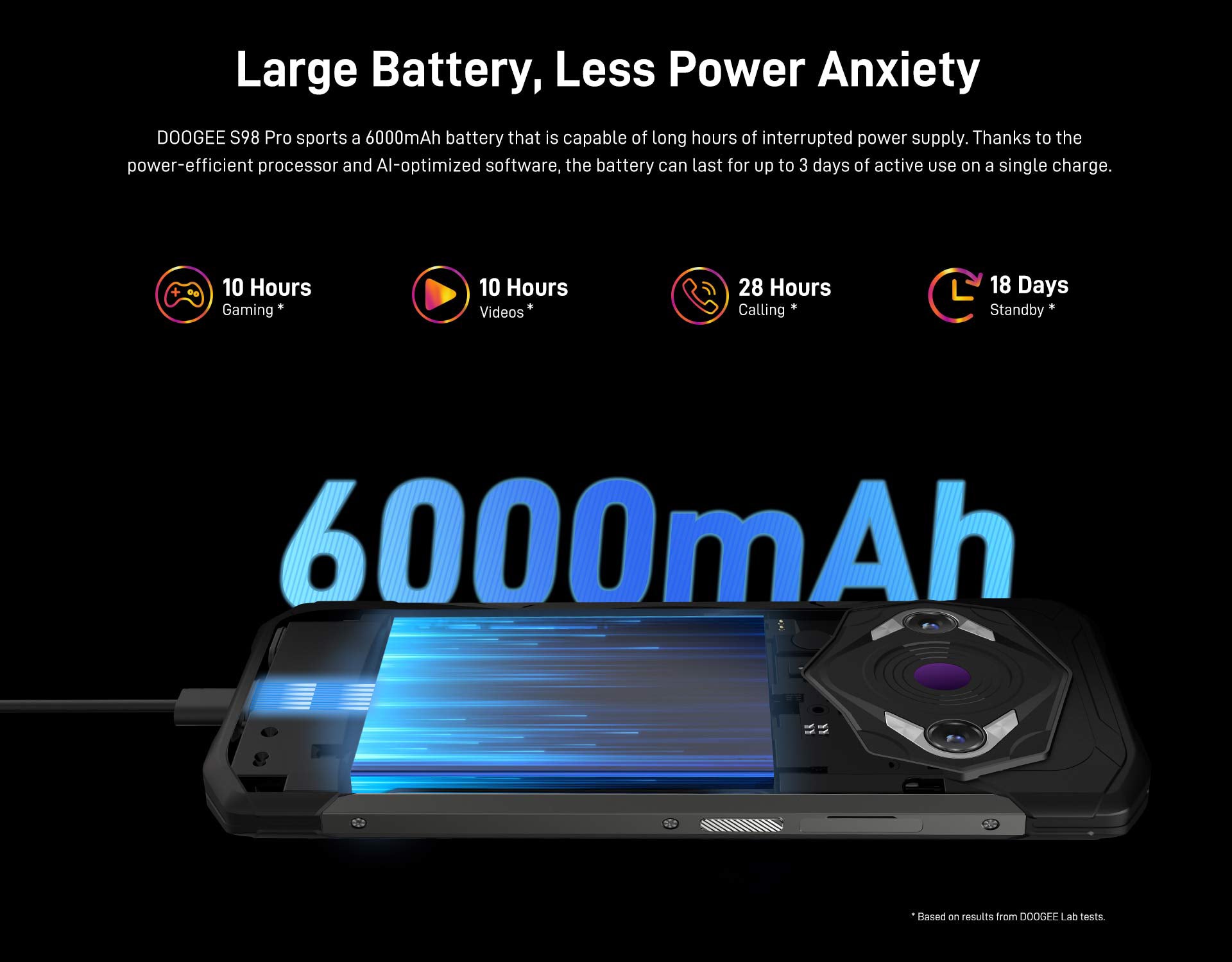 The Doogee S98 Pro comes with a 33W USB-C fast charger. This charger is capable of charging at breakneck speeds. Able to charge the entire 6000mAh battery in under 2 hours.
Charging with wires is not for everyone, so can just drop the S98 Pro onto a wireless charger and watch it charge. It is compatible with a 15W fast charger.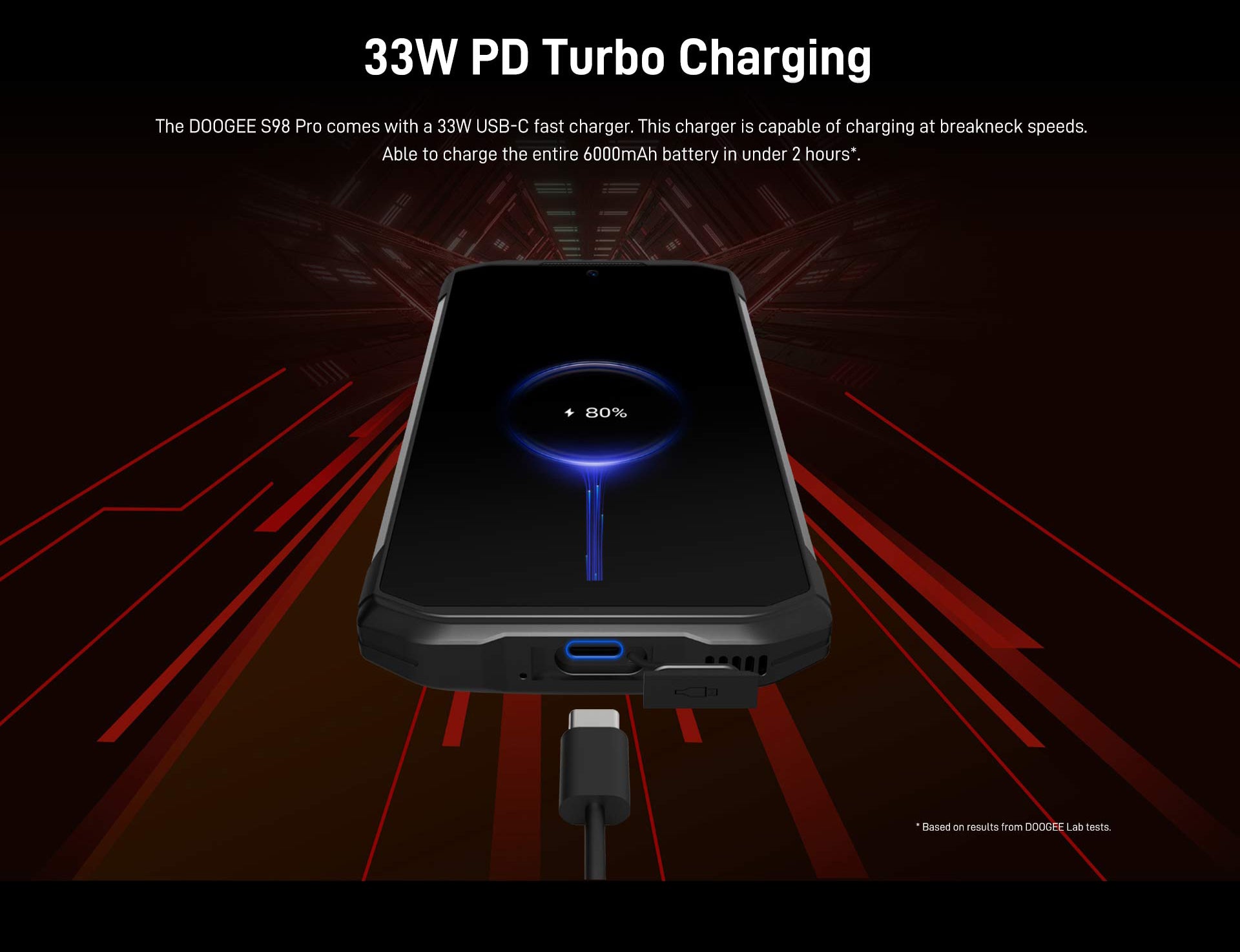 Experience Visual Immersion
The Doogee S98 Pro sports a responsive 6.3-inch FHD+ waterdrop display. With an aspect ratio of 19:9 and a 15000:1 contrast ratio, you are assured of a great experience while gaming or watching your favorite movie.
There is also a protection from a layer of Corning Gorilla Glass
19:9 Aspect Ratio | 16.7 Million Colors | 15000:1 Contrast Ratio | 500nit Peak Brightness
IP68 | IP69K | MIL-STD-810H
Engineered For Adventurers
The Doogee S98 Pro is built from an aluminum-alloy frame and TPU material for sturdy construction. Extra attention was paid to the joints to create a complete seal to prevent the ingress of fine particles and water when submerged.
It was then put through a series of tests including extreme weather tests and drop testing in compliance with MIL-STD-810H.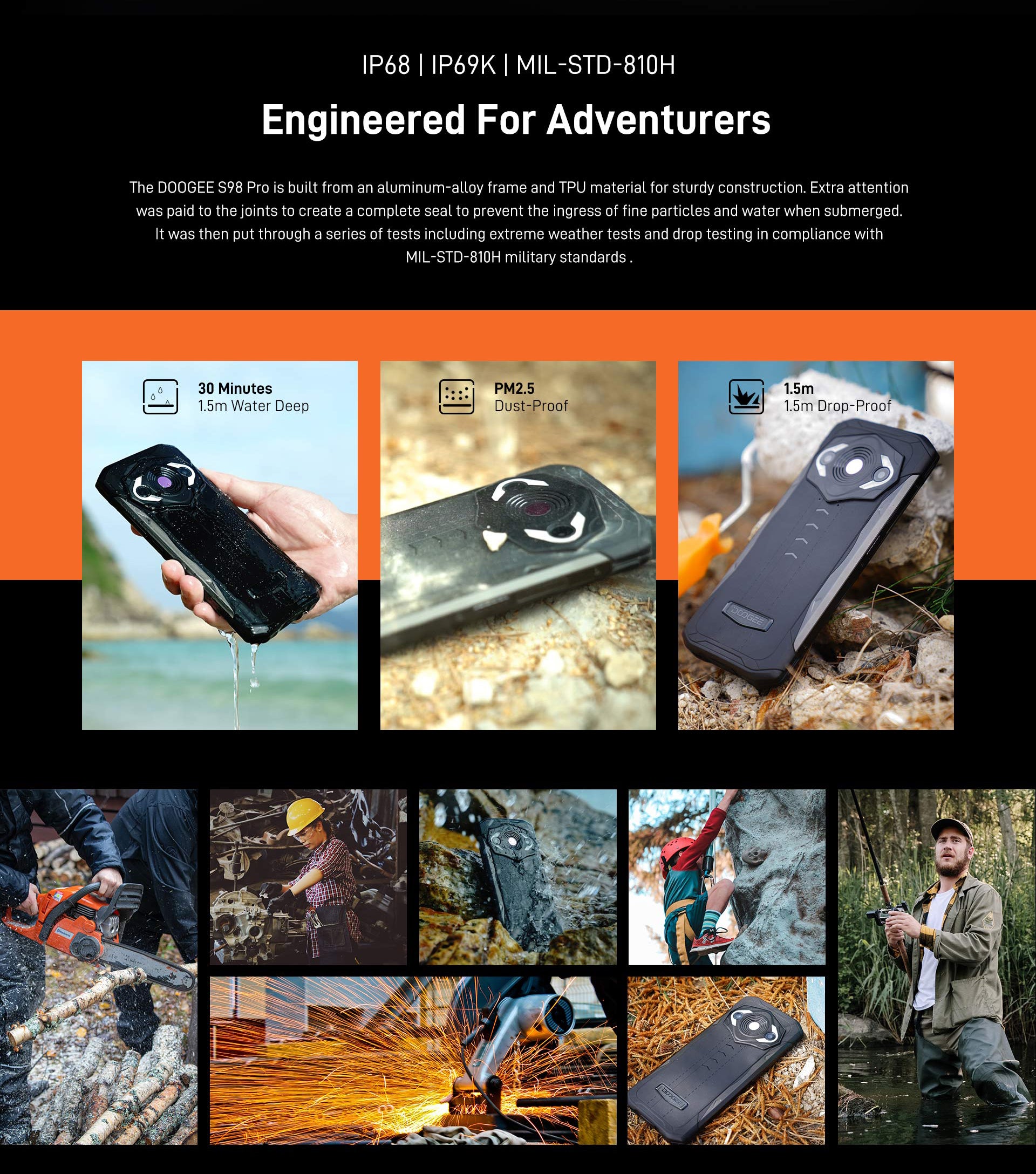 Side-Mounted Fingerprint Scanner
Biometric security includes a fingerprint scanner which has a response time of just 0.19s.
Side-Mounted Fingerprint Scanner
Biometric security includes a fingerprint scanner which has a response time of just 0.19s.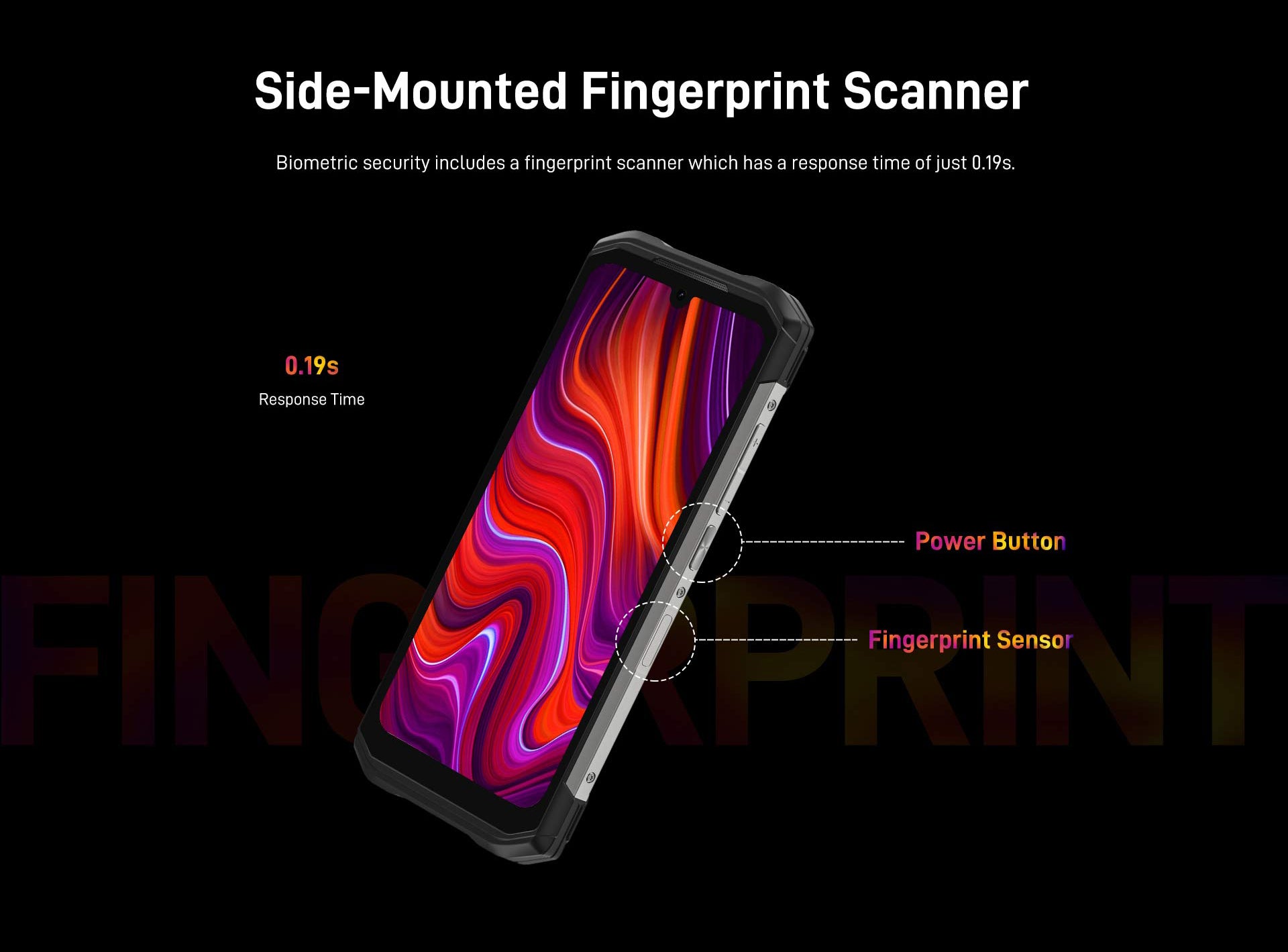 NFC With Support For Google Pay
The Doogee S98 Pro comes with NFC and is compatible with Google pay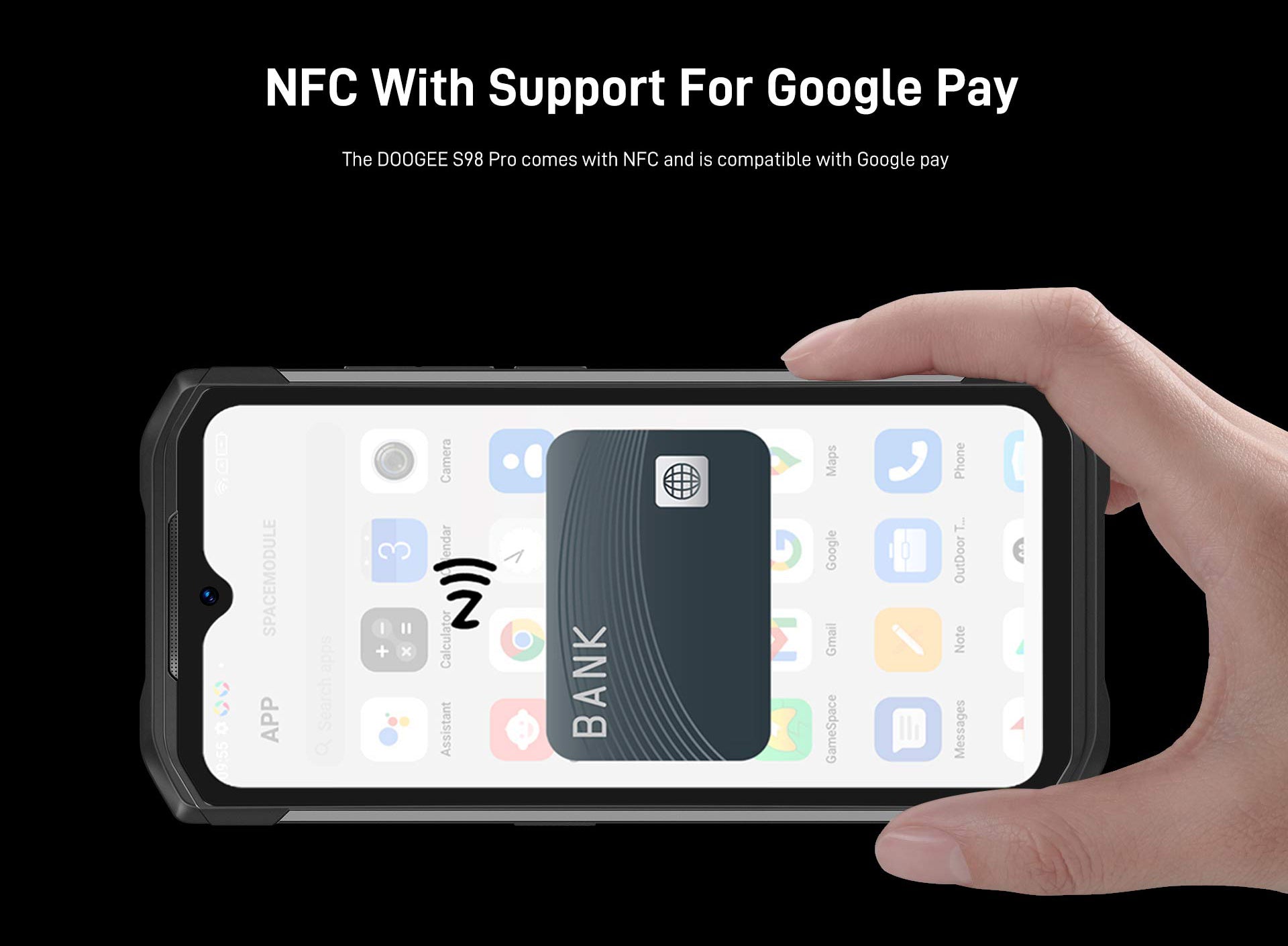 Created for tough environments, S98 Pro is designed to help get the job done. To make this possible, the hardware was built to be tough while the software contains the necessary tools to accomplish a task.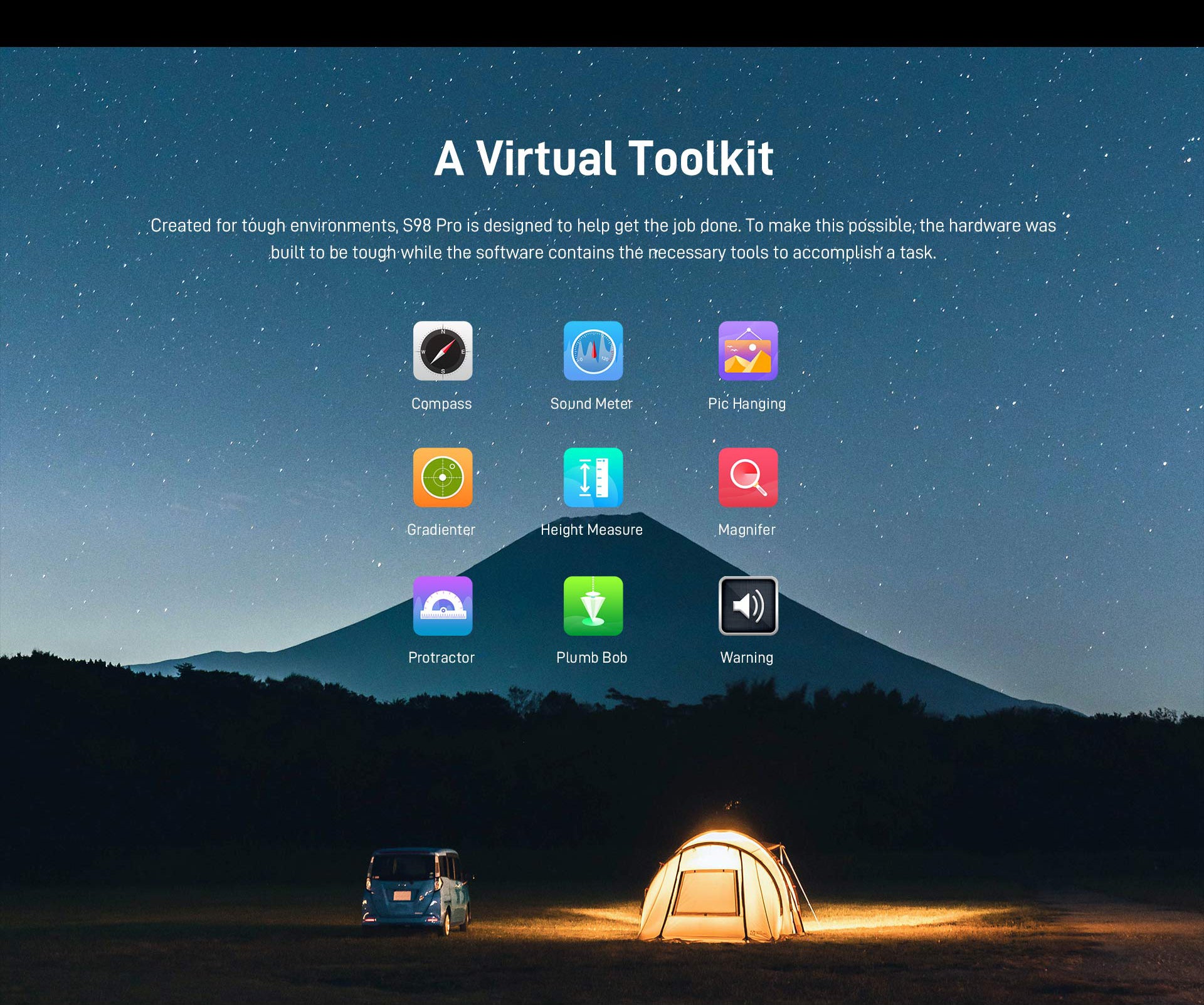 With the custom button comes greater control over the device. A long press, double-tap, and single tap can all have different actions assigned to them.
Dimensions:
Height: 172 mm
Width: 82 mm
Thickness: 15.5 mm
Weight (including battery): 320 g
Display:
6.3" LCD FHD+ Waterdrop Screen
Corning Gorilla Glass
1080*2340 Resolution
409 PPI Pixel density
16.7 million colors
LCD Screen
19:9 Aspect Ratio
480cd/m2 Brightness
15000:1 Contrast
Package Contents:
1 x Cellphone
1 x Type-C to Type-C Cable
1 x Charger (11V/3A)
1 x Anti-explosion film(pre-applied)
1 x Anti-explosion film
1 x Protective Case
1 x Card Slot Opener
1 x Thermal Imaging User Manual
1 x Packing Box
1 x Manual
1 x Warranty Card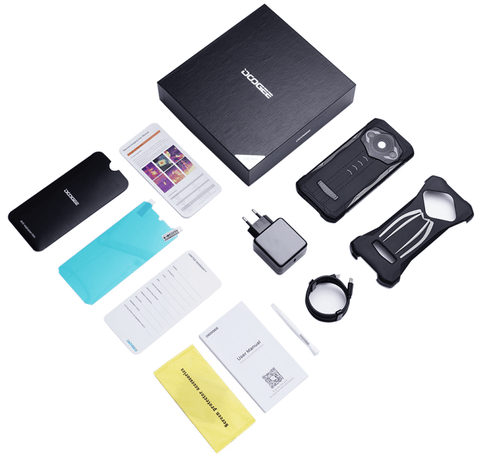 Buen trato y rapidez
Me ha gustado y es una buena herramienta táctica
Rugged beyond belief
I ordered this to replace an old Android phone as I needed to run a newer app that wasn't compatible with my old device, what drew me to this was the promise of a long lasting battery and its rugged build.The device performs well and is easy to set up using the inbuilt Android features. The only downside for me is the weight of the phone itself its quite heavy. I like that it came with 2 screen protectors and one was already applied so one less task when you receive the phone. Also included is a fast charger - it may not seem as fast as some others but most phones don't have such a huge battery to charge. So far I'm really pleased with this phone and it has performed well for everything I need in a second handset. I will defiantly consider DOOGEE value for money going forward.
Great, sturdy and waterproof phone for the price!
 DOOGEE S59 Pro Rugged Smartphone Android 10, 10050mAh Battery, 4GB + 128GB, 16MP Quad Camera, Powerful 2W Speaker, 5.71inch, 4G LTE Dual SIM IP68 Waterproof Unlocked Mobile Phones, NFC, Black*The Good*PriceHuge batteryVery robust and waterproofVery loud soundDual SIM*The not so good*Considering the price at sub £200, nothing of noteMy last Android phone was a Nexus 5X, so quite a while ago, and since then I have been using iPhone 7 and iPhone 11. I was not expecting a huge amount from this phone, but I was so wrong. You only have to look at the feature list to see what you are getting. It includes the following and I have not mentioned them all:Screen protector includedSim card hatch removal ToolWrist strapHeadphone portCharge and Headphone ports both covered with rubber plugsLoud speaker volumeMetal and rubber constructionNotification LED!Wireless chargingNFC google play etcIp68 ratedShockproof, it's really sturdyBluetooth 5Face IDFingerprint sensor on sideHuge 10050 MAH batteryDual simThe camera is quite acceptable (see attached comparison pictures with IP11), the call quality is good, and the sound is really loud (up to a remarkable 100dB apparently). It came fully charged and with light use it is using 15-20% battery a day.The phone uses Android 10 and is quite pleasant to use. No, it's not high end smartphone speed, but for calling, messaging, music and general use it's absolutely fine. The OS is prey stock Android with only a few Doogee specific customisations in the status bar and settings etc. It's not like other phones that include so much stuff you never use, it's very plain, and for that I applaud it.Being critical the phone is pretty heavy due to the battery size, the torch is a bit dim and it can be slightly slippery to hold but these are minor criticisms.For a tradesman working outside, or for carrying around from job to job where it did not matter if it was dropped, got wet, or in a noisy environment this phone would be ideal.In all I was really impressed with this phone, 5 stars!
Great phone
Best I've had in years , so happy with it I'll be buying a spare before they stop making them . I dropped it getting into the car and nothing happened . Great battery life, great for on site work great for a work phone .stop messing about with Samsung's for your work force get these . A very happy customer.
Para gente muy activa o como móvil de trabajo
Smartphone potente tanto en CPU como capacidad, con características ruguerizadas de grado militar y además con la inclusión de la cámara termográfica.En la caja encontraremos, a parte del terminal, un cargador multivoltaje de 33W, un cable de carga/datos USB C, una herramienta para extraer la bandeja de las SIM y además un protector de pantalla adicional, herramientas para colocarlo, manuales de instrucciones y una carcasa adicional para evitar que las lentes se ensucien o dañen con el uso diario.Encendido el teléfono por primera vez, observamos que tenemos un Android 12 limpio, sin personalización ni oscuras aplicaciones que quieran sustituir las aplicaciones oficiales de Google. Si nos hemos encontrado con una actualización del sistema nada más encenderlo y un apartado con aplicaciones específicas para el uso de todos los sensores incluidos así como de la cámara termográfica.Probado con el software Antutu, hemos obtenido un valor de 320444 puntos, un valor moderadamente alto que nos permitirá hacer uso muy rápido de aplicaciones de diario e incluso jugar en el móvil con cierta soltura.Como CPU tiene un Mediatek Helio G96 de 8 nucleos, GPU Mali-G57 MC2, acompañado de 8 Gb de RAM y 256 Gb de almacenamiento.Externamente tenemos un móvil muy compacto, duro al tacto, resistente, con un peso de 322 gramos, con un tamaño similar a mi actual Motorola G100 con una carcasa dura.Recorriendo el terminal tenemos, en la parte izquierda, los botones de subida y bajada de volumen, botón de encendido y lector de huellas independiente, también perfiles de aluminio.En la parte derecha, la bandeja SIM y el botón programable, además de los perfiles de aluminio.En la parte inferior, el puerto USB C para carga y datos, micrófono y altavoz.Y en la parte trasera, el conjunto de las cámaras y sensor térmico.Como cámara principal tendremos un sensor Sony IMX582 Exmor RS de 48 Mpix y como cámara de visión nocturna una Sony IMX350 Exmor RS de 20 Mpix. Como cámara selfie tendremos una Samsung S5K3P9 de 16 mpix, todo gestionado por la aplicación de cámara oficial de Google.Además tenemos el sensor térmico "InfiRay" con una resolución térmica de 256×192, y velocidad de 25 Hz, que hace posible detectar el calor que deja nuestro dedo en una mesa nada más pasarlo.Todo esto lo podremos ver en la pantalla de 6,3" IPS con resolución: 1080 x 2240 px y una tasa de refresco de 60hz, no es infinity y la cámara selfie es de tipo gota, invadiendo la parte superior.En el resto de las características del equipo, destacaremos la batería de 6000 mAh, en parte responsable del sobrepeso, la conexión Wifi Dual 2,4 y 5 Ghz, la carencia de conexión 5G, la batería de sensores poco comunes, como el barómetro de presión atmosférica, el sensor magnético (brújula o detector de metales), acelerómetro y giroscopio, etc.. que agradecerán ciertos entornos de trabajo o deportes.La carga inalámbrica que nos permitirá no tener que destapar el conector de carga, el sistema NFC para pagos o lecturas de etiquetas que usen esta tecnología. Hasta radio FM.Un teléfono muy completo para gente muy activa o bien para entornos de trabajo hostiles